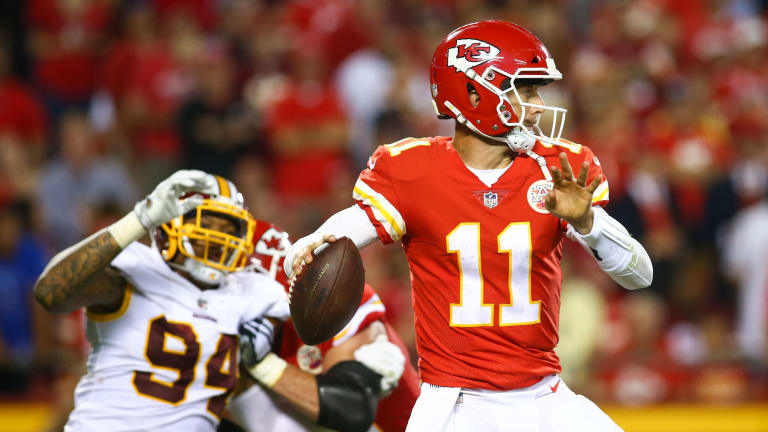 Williams: Better chance of Redskins trading down than up
--- NFLDraftScout.com ---
--- NFLDraftScout.com ---
The Washington Redskins lost Kirk Cousins in free agency and now will rely on a starting quarterback who will be 34 when the 2018 season kicks off.
So with the team holding the No. 13 overall pick in a quarterback-rich NFL Draft, the obvious question for Redskins vice president of personnel Doug Williams is how good he feels with recently acquired Alex Smith under center.
"You know, the thing about Alex Smith, I say we got the best third-round pick in the draft," said Williams, who sent a third-round selection to the Kansas City Chiefs in exchange for Smith. "I don't care what nobody says. You can't get a better third-round pick. And we feel pretty good from a stability standpoint in what he's meant to this building as a whole walking in here — in the quarterback room, in the dressing room, in the dining hall.
"His leadership is unquestionable. It speaks for itself. And what he's done as a player I think speaks volumes also."
Quarterbacks are expected to be taken early and often in the first round of Thursday night's draft.
NFLDraftScout.com senior analyst Rob Rang lists USC's Sam Darnold first and UCLA's Josh Rosen second in his most recent Big Board. Josh Allen (Wyoming) is ranked 10th by Rang, former Heisman Trophy winner Baker Mayfield (Oklahoma) is 14th, Lamar Jackson (Louisville) 15th and Mason Rudolph (Oklahoma State) is 55th.
Williams acknowledged that had Washington not made the deal for Smith, "we'd talk about moving up, but at this time, we just sit back and find out what's going to come to us if we stay at 13."
If anything, Williams said, rather than attempting to jump up in the draft to snag either a quarterback or any other player, he could envision the Redskins moving back in the first round.
"Well, let me say this, the chances of trading up might be a little slimmer than trading down, but at the same time, you've got to have somebody to trade with, and I don't think you go into it saying, 'I'm going to trade down,'" Williams said. "And we're not trying to recoup the third-round pick (for Smith). … I think at the same time, we've got phones that are in that room, if they ring, you've got guys calling all the time and want to know, 'Do you want to come up or do you want to go back?' But it all depends on who's there when they're calling you. They don't just call you to ask you.
"There might be a player that they want at that particular time that they're afraid that somebody else is going to pick and they might call you to ask you, 'Do you want to move back?' But we would have to call somebody to say we want to move up."
Williams offered up the "best player available" mantra when assessing his team needs, but did say running back is a possibility at No. 13 after the team had a revolving door in the backfield last season.
"Well, I feel pretty good about the running backs," said Williams. "We didn't do exactly the way we wanted to, and, yes, everybody wants to upgrade. We want to upgrade everywhere we could. Running back is place that we always say we need a little more help."
Williams pointed to last year's first-round pick, defensive tackle Jonathan Allen, as an example of the unpredictability of the draft. Allen was projected as a top-10 selection by some a year ago but fell to Washington at No. 17.
The first round could be more volatile this year with the possibility of five quarterbacks going within the top 15 picks.
"We're talking about this draft with six quarterbacks possibly can go in the first round. So you don't know how that run is going to go. You don't look at it from that standpoint," said Williams. "When you're in that seat at 13, number one, you sit there and you just watch the draft as it goes. And you've got your guys that you'd like to have. You've got about six or seven guys on that board that you're hoping is there when you get there.
"If you lose one, you put another one up. If you lose another one, you put another one up, so when you get to your turn, you know, a couple minutes out, what have you, you sit there and you have your little pow-wow and you come up with the player that you're going to pick out of that group."