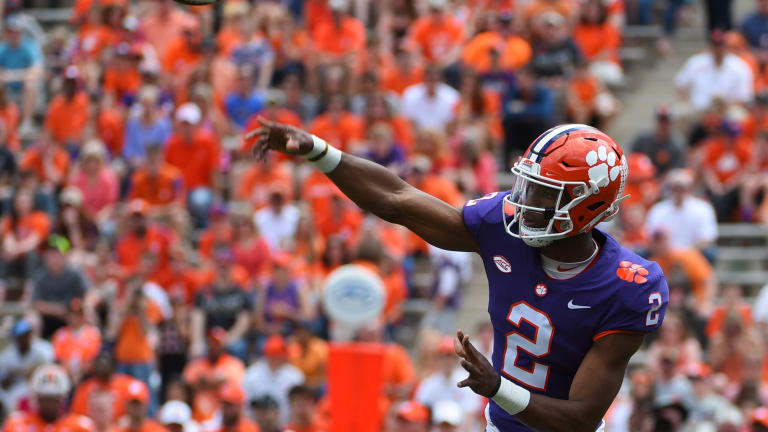 Furman faces line of fire at No. 2 Clemson
Clemson coach Dabo Swinney: "They were one of the most improved teams in the country last year."
CLEMSON, S.C. — It's a given that each of Clemson's eight returning starters on defense are a big concern for Furman coach Clay Hendrix, but none more so than the four returnees that comprise the Tigers' formidable foursome up front.
Tackles Christian Wilkins and Dexter Lawrence and ends Clelin Ferrell and Austin Bryant represent the entire preseason All-Atlantic Coast Conference defensive line, so Hendrix is well aware of the daunting task that awaits his team when Furman plays at No. 2 Clemson in the season opener for both teams on Saturday at Memorial Stadium.
Given that, he's attempted to simplify things for an offensive line relatively short on experience.
"I've told those kids already, 'Look, we're only going to ask you to block one of them,' " Hendrix said. "It's just a matter of getting your job done.
"But I think the toughest part is collectively — one or two guys winning is one thing, but trying to get five guys to win at the same time? That's probably the biggest task."
"Winning" against Clemson's defense has proven to be a daunting task for the majority of Clemson's opponents in recent years, let alone a Football Championship Subdivision team from a private liberal arts school in nearby Greenville, S.C., with an enrollment of less than 3,000.
The Tigers ranked second nationally in scoring defense (13.6 points per game) and fourth in total defense (276.7) last season, helping the program to a 12-2 record and a third consecutive College Football Playoff appearance.
Although Furman has won 10 games in the series, the Paladins' last victory came in 1936 — during Franklin D. Roosevelt's first term as president. Clemson has won 30 consecutive games in the series since and has never lost to a Southern Conference opponent since leaving to join the ACC in 1953, going 44-0 against the league.
Furman, the 1988 Division I-AA national champion, recaptured some of its past glory last season under Hendrix — a former offensive lineman for the Paladins — by winning seven straight games and qualifying for the FCS playoffs, finishing with an 8-5 record.
"They were one of the most improved teams in the country last year," Clemson coach Dabo Swinney said. "They had a heck of a run into the playoffs and got better and better.
"They have 10 or 11 starters back that are juniors or seniors and offensively, to be quite honest with you, it is stressful to watch them. They do a great job schematically with all the shifts and motions and option principles."
As an interesting side note, Furman quarterback Harris Roberts also is a Clemson student; he's enrolled in a joint engineering program that began with three years at Furman and is on track to complete his dual-program degree next May at Clemson.
"What a neat story that is," Swinney said. "That's pretty cool. I guess he can't lose."
While defense is expected to be Clemson's calling card this season, the Tigers' offense has prolific potential as well. Quarterback Kelly Bryant, who staved off a stiff challenge from highly regarded freshman Trevor Lawrence to retain his job, accounted for 3,467 yards and 24 touchdowns last season.
He'll be flanked by a talented receiving corps that "has more depth than we've ever had," according to Swinney, and a stable of running backs led by sophomore Travis Etienne, who's coming a freshman season that saw him lead the team with 766 yards and 13 touchdowns.
Etienne averaged 7.2 yards per carry as a rookie, the fourth-best rushing average in school history and the most by a Clemson freshman since C.J. Spiller in 2006.
Eteinne will be backed up by Adam Choice, a fifth-year player who had the best fall camp of his career, junior Tavien Feaster, who rushed for 669 yards in 2017, and J-Lin Dixon, a freshman who had the coaching staff raving in fall camp.
"The hardest thing is just simulating their size and speed, collectively, because we can't do that in practice," Hendrix said.
Despite being a heavy underdog, Hendrix has repeatedly told his team to relish the moment.
"It's a unique opportunity, just take advantage of it," he said. "All you can do is go prepare as best you can, and at the end of the day you'd better rely on what insight and wisdom you've gathered because it's not just going to show up that day."