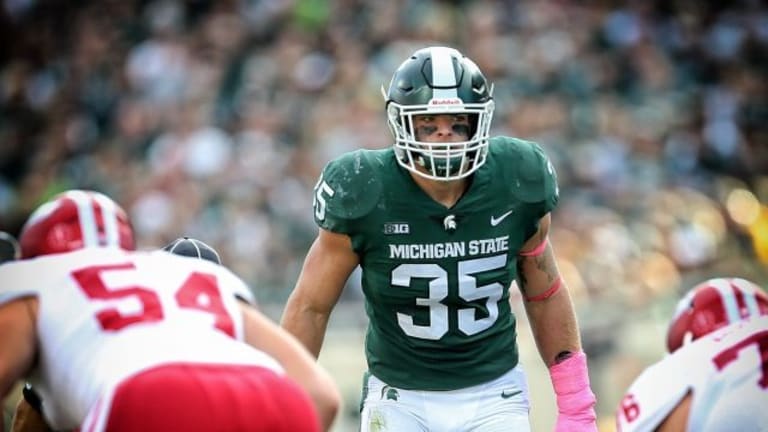 Michigan State relying on depth at linebacker
Michigan State coach Mark Dantonio: "Who plays, when they play, it's up to them how they perform in that football game."
EAST LANSING, Mich. — With 19 starters returning, there weren't a lot of position battles for Michigan State.
But with outside linebacker Chris Frey off to the NFL, the most hotly contested competition throughout preseason camp was who would step in on the strong side for the Spartans.
With junior Joe Bachie (100 tackles last season) manning the middle and senior Andrew Dowell (74 tackles) entering his third season as the starter on the weak side, it looks as if there will be more than one player joining the mix on the strong side for a group that enjoys as much depth as any on the team.
"There's some competition at linebacker," Michigan State coach Mark Dantonio said. "We'll travel with 10 linebackers (to away games). I really think that nine of them pretty much can play in and out. That's a good situation."
When Dantonio released the depth chart for Friday's opener against Utah State, junior Tyriq Thompson was listed as the co-starter with sophomore Brandon Randle.
"I think Tyriq has had a good camp. I think Brandon Randle is much improved," Dantonio said.
"Who plays, when they play, it's up to them how they perform in that football game. They've both had points in the summer where you say, 'That is special.' So I'm excited to watch them because they're both young players, and this is their first opportunity in that area."
The Spartans can also turn to fifth-year senior Byron Bullough, who is also backing up Bachie in the middle, as well as sixth-year senior Jon Reschke.
Reschke is the wild card in the rotation. He started 14 games in 2015 then missed most of the 2016 season with an ankle injury. He left the program in early 2017 after using a racial slur in reference to a former teammate but was welcomed back this season by the players.
He won't start right away, but he'll have a role.
"We're going to play him as we play all of our players really," Dantonio said. "He's been out of football for two years. I think he'll show up on some special teams, different areas. He's done what he's needed to do. Our football team feels as they do about him.
"I sort of continue to watch that situation. It sort of is what it is. The other two guys deserve an opportunity to play. … I'm sure he'll see the field."
Michigan State finished 2017 seventh in the nation in total defense and second in rushing defense.
"Defensive side of the ball, didn't lose anybody in the secondary, all our linebackers are back with the exception of Chris Frey, we lost one player on the defensive front," Dantonio said.
"We have a lot of players back, a football team ranked No. 2 in the country against the run. Played pretty well against the pass as well. With all a said we need to tackle in space, do all the things we need to do."
NOTES
–QB Brian Lewerke spent the offseason working on becoming a more accurate passer after connecting for 59 percent last season as a sophomore. He'll have the benefit of throwing to a trio of receivers that caught 140 passes last season, led by senior Felton Davis (55 catches) and junior Darrell Stewart (50). Lewerke showed last season that he can make plays with his feet, running for 559 yards and five touchdowns.
–RB LJ Scott has led Michigan State in rushing in each of his first three seasons and surprised many when he decided to return for his senior season. He did so because he said he felt he needed to get much better, and the opener offers him the chance to prove he can finally become a 1,000-yard back.
–S Khari Willis earned his first start as a freshman back in 2015 and has steadily become Michigan State's most reliable player in the back end of the defense. He had 71 tackles last season along with a pair of interceptions while breaking up three passes.
–CB Josiah Scott, a sophomore who was injured early in preseason camp, will likely miss at least the first four games.