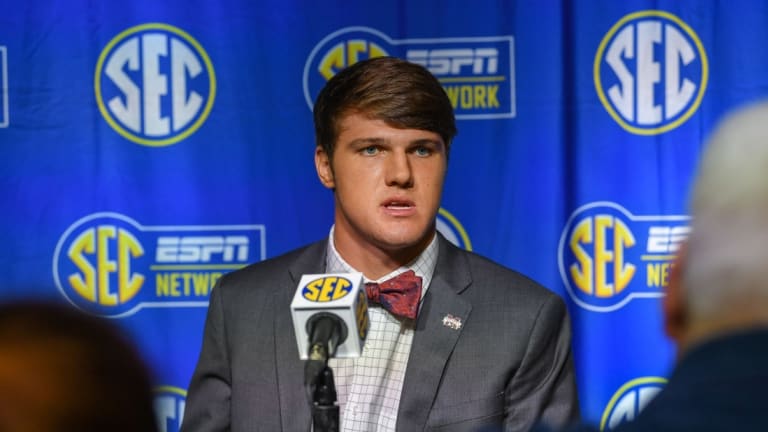 Mississippi State QB Fitzgerald suspended for opener
"Our guys certainly understand that we talk about choices and consequences and decision making and accountability."
Mississippi State's Nick Fitzgerald, who is considered one of the top quarterbacks in the Southeastern Conference, has been suspended for the Bulldogs' season opener.
First-year Mississippi State head coach Joe Moorhead made the announcement of the suspension, saying only that Fitzgerald had violated team rules. The violation occurred in March, but Moorhead did not expand on the incident.
As a result Keytaon Thompson will start Saturday's season opener against Stephen F. Austin, an FCS school.
Senior defensive tackle Cory Thomas also was suspended for the opener for a violation of team rules.
"Our guys certainly understand that we talk about choices and consequences and decision making and accountability," Moorhead said, according to the Clarion-Ledger of Jackson, Miss. "They understand that they're going to have to deal with the consequences of their choices."
Fitzgerald is expected to be reinstated for the Bulldogs' second game against Kansas State.
Last season Fitzgerald passed for 1,782 yards and 15 touchdowns and rushed for 984 yards and 14 touchdowns for the Bulldogs. He suffered an ankle injury in the final regular-season game against Mississippi.
Thompson appeared in 10 games last season, and completed 32 of 66 pass attempts for 388 yards and two touchdowns with two interceptions. Thompson also rushed for 446 yards and six touchdowns.