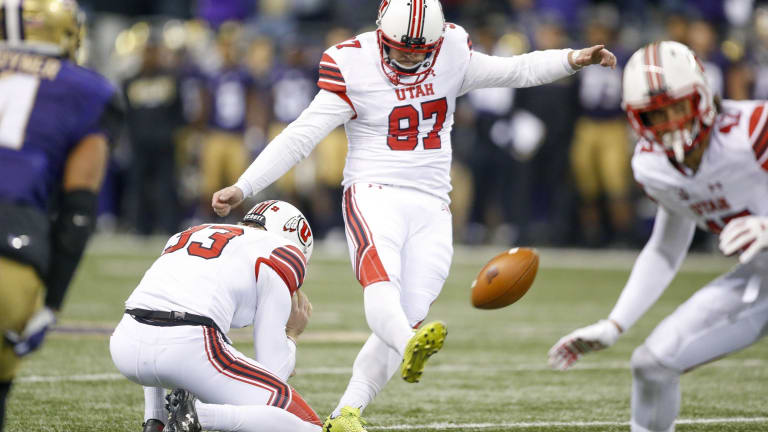 NFL Draft Profile: 10 Questions with Utah P Matt Gay
--- By Ric Serritella, NFLDraftScout.com ---
Considered one of the top kicker prospects in the land, Matt Gay of Utah nailed five field goals of 50-plus yards last season, setting a school record. He has connected from beyond 60 yards on a regular basis in practice and coaches swear he has the leg strength to make a 70-yarder!
The 2017 winner of the Lou Groza Award as the nation's best kicker was 2 of 3 in Utah's 2018 opener Thursday night against Weber State. He was good from 33 and 35 yards after his initial attempt, from 43 yards, was blocked.
Meet the man behind the leg, as Gay goes one-on-one and answers 10 questions with NFLDraftScout.com to discuss his playing career.
What is your official height and weight?
6-0, 230.
When a NFL scout pops in your game film, explain to us what type of player he should expect to see.
Someone who is focused and locked in. Cool and calm under pressure. A strong leg that has ability to hit a field goal from distance and a very accurate kicker.
What was your offseason like heading into 2018; what areas of your game did you work on to improve upon?
I worked a lot of building up leg strength in the weight room with our strength and conditioning staff. Tried to improve my technique in certain areas without taking away from my natural kicking style. Making sure I get better trajectory on my kicks and better flight of the ball. I worked a lot on my kickoffs and improving them. Also, I worked on the mental aspect of my game with mental imagery and building mental toughness.
What type of leadership intangibles do you bring to the table? Explain your leadership style.
I am a motivator. I like to get behind my teammates and push them and encourage them to be better and continue on. I like to lead by example, show by my own actions how and why things are done. I am a competitor, so I will hold people accountable to their duties as well.
Who has been the toughest opponent you have faced thus far in your career, either overall team or an individual? How did you fare?
I honestly feel like my toughest opponent is myself. At my position as a kicker, you obviously compete against other kickers and want to be the best. But kicking is such a mental game that you need to be mentally tough and be able to bounce back after a miss or handle yourself under high-pressure situations. So I battle with myself to be better than I was and constantly compete with myself. I have very high standards for myself.
Name a point during your college career when you had to overcome adversity. What did you learn from that experience?
I would say when I was in the process of transferring from soccer to football. My best friend, who pushed me to play football and supported me most, died suddenly in a car accident. That was an extremely tough time in my life that I had to make a decision, let it affect me and drag me down, or let it motivate and drive me forward. I fought through it and battled through fall camp against the other kicker. Even when he got the starting job at first, I was still mentally ready and preparing for when I got my shot. When my opportunity came, I took advantage of it. I learned that life you have to make choices, and we cannot change what happens to us or what decisions other people make. But it is how we react and respond to those events that will make us who we are.
What was it like growing up in Orem, UT? Did you live any other places?
Growing up in Orem was amazing, I loved it. A great community with lots of outgoing and friendly people and a family environment with lots of kids and friends. Our neighborhood was very tight knit and I had really close friends growing up. I have a big family as well, which made it so fun growing up with them.
When did you begin playing football and when did you realize that you have a passion for the game of football?
I played a bit of the season my senior year in high school back in fall of 2011 and then I didn't play it again until I came to Utah last year in 2017. I have a passion to compete and be the best. In all things I do, I have that mindset. When I started playing football again I set out to be the best and to be passionate about what I am doing. College football is such a fun environment to compete in and to compete against the best.
Have you had any major injuries during your playing career? If so, when and how did it impact you?
No major injuries, a few small knocks here and there but nothing that ever kept me out of playing.
What is something people might not know about you or something that separates you from other players?
This is a great question because my teammates are great people who do everything right! But I would say one thing that separates me is my ability to cancel out distractions and perform under pressure. To stay calm and collected at all times. Also my ability to learn and forget. When things don't go well I am able to learn from it and the move on to the next thing. I don't let a past mistakes affect my future. I learn quickly and love to compete. I hold myself to a very high level, which pushes me to be better every day.