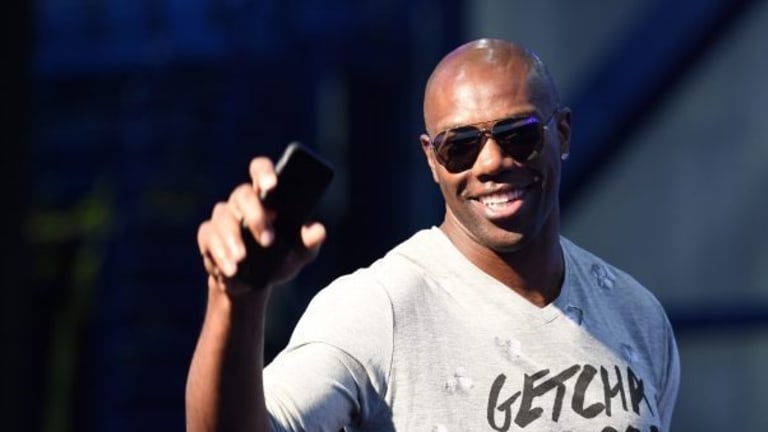 Owens, 44, expresses interest in playing for a contender
--- NFLDraftScout.com ---
Pro Football Hall of Fame wide receiver Terrell Owens is itching to get back on the field.
Owens said he could help a contending team in its ascent when talking on "The Pat McAfee Show" recently.
"Do I still have the ability to play? Absolutely," the 44-year-old Owens said, per the Kansas City Star. "Do I have the ability to come in right now and play at the level in which I left the game, being that No. 1, play-every-down type of guy? Absolutely not. But I can work myself, you know, into shape to get to that point.
"But I could obviously contribute to a team that's really on the cusp, that's a contender, that's one play or player away from making it to the Super Bowl, or winning the Super Bowl. I definitely feel like I still have that talent."
Owens' talent has never been debated, as he was voted into the Pro Football Hall of Fame in February. He hasn't played since suiting up for the Cincinnati Bengals in 2010, although he attempted a comeback in 2012 before being cut in training camp by the Seattle Seahawks.
When asked about what teams could be a good fit, Owens listened as the hosts rattled off a list of teams that included a return to the San Francisco 49ers as well as the Green Bay Packers, Pittsburgh Steelers and Seahawks.
"I like the way you guys are thinking," Owens said. "Again, you think about a guy like Andy Reid over in Kansas City. You think about what they just did last year. They are in the playoffs, they are up (21-3), and then they come out and they don't score any more. They only, they lack a big-play receiver, or they lack somebody to draw attention so other guys are able to operate and really move the chains. That's what really stifled them in really progressing in the playoffs.
"Not only last year but a couple years before that. There are teams like that are just maybe one player away from really extending their playoff hopes and even getting to the Super Bowl."
Owens played under Reid in Philadelphia, helping the Eagles advance to the Super Bowl XXXIX after the 2004 season. Starting for the Eagles only six weeks after he broke his leg, Owens caught nine passes for 122 yards and likely would have been the game's MVP, but the Eagles lost to the New England Patriots, 24-21.
In one instance, Owens is indeed making a return to football — as the cover boy of "Madden NFL 19."
EA Sports revealed that he will grace the cover of the latest edition of the popular EA Sports football video game.
Rather appropriately, Owens will be the headliner of the Madden NFL 19: Hall of Fame edition, which will be released on Aug. 7 — three days after Owens and the 2018 class will be inducted into the Pro Football Hall of Fame in Canton, Ohio.
Owens resides second in career receiving yards (15,934), eighth in all-time receptions (1,078) and fifth in total touchdowns (156).
He had a spectacular, three-year stretch (2000-02) in which he caught 290 passes for 4,163 yards and 42 touchdowns.
Owens played 16 seasons with the 49ers, Eagles, Dallas Cowboys, Buffalo Bills and Bengals.