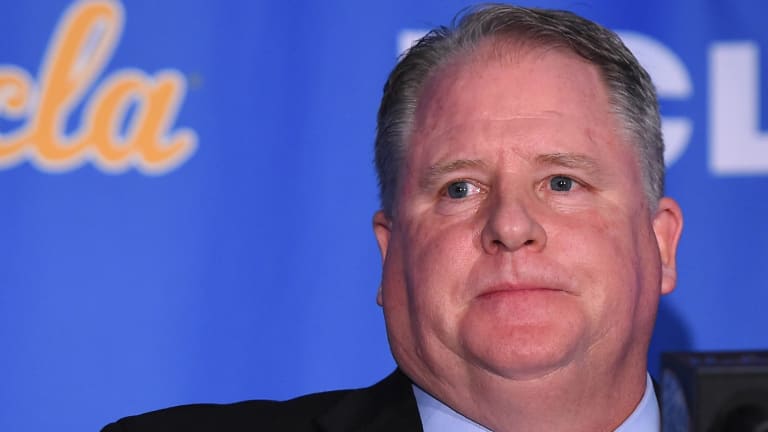 UCLA suspends six players for opener
Six Bruins players were suspended for Saturday's season opener against Cincinnati.
Chip Kelly will be shorthanded in his first game as UCLA coach after six Bruins players were suspended for Saturday's season opener against Cincinnati.
The suspensions were announced on Monday, and the reason was reported as a violation of athletic department policy.
The players suspended were tight end Devin Asiasi, running back Soso Jamabo, defensive linemen Osa Odighizuwa and Moses Robinson-Carr, defensive back Mo Osling, and offensive lineman Boss Tagaloa.
Kelly told the Los Angeles Times that Tagaloa's suspension is for three games and Jamabo's is for two.
Jamabo rushed for 446 yards and a team-high six touchdowns in 10 games last season for the Bruins.
UCLA released its depth chart Monday, and redshirt junior Joshua Kelley is atop the depth chart at running back. Kelley did not play in 2017 after transferring from UC Davis. Senior Bolu Olorunfunmi, last year's leading rusher for UCLA, is expected to get playing time as well.
Tagaloa started eight games for UCLA last season and had 32 tackles with one sack while playing defensive tackle. He was switched to center in the offseason, however.
Odighizuwa was not a starter last season, but played in 13 games and had 15 tackles with 5.5 tackles for a loss and a sack.
Osling was a backup defensive back who played in 13 games last season, and Robinson-Carr was a backup tight end last season who started one game and caught one pass for 4 yards. However, Robinson-Carr was switched to defensive end in the offseason.
Asiasi sat out the 2017 season after transferring to UCLA from Michigan.
UCLA did not announce a starting quarterback in the depth chart released Monday.