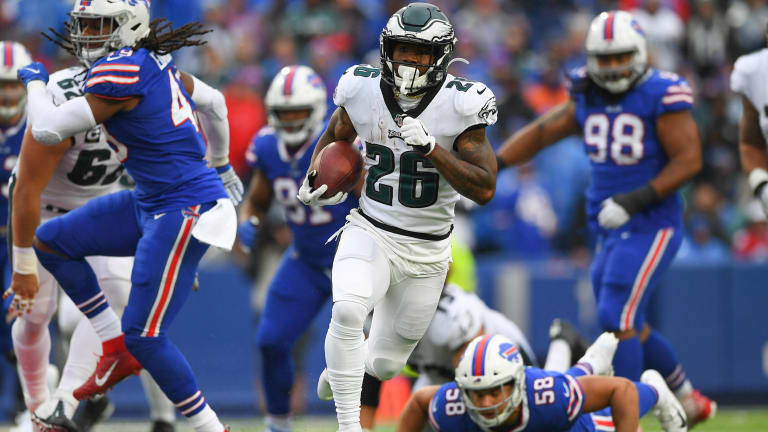 Eagles Getting Healthy at Right Time
Head coach Doug Pederson delivered some good news on injury front
Eight games down, eight more to go, and the Eagles (4-4) are beginning to show signs of life and good health again.
Head coach Doug Pederson said on Monday that receiver DeSean Jackson, running back Darren Sproles, and defensive back Avonte Maddox will be incorporated into Wednesday's practice.
There was even good news on running back Miles Sanders, who was a dual threat in both the running and passing games in the Eagles' 31-13 win over the Buffalo Bills on Sunday. Pederson said that Sanders' shoulder injury which forced him from the game after he ran for 74 yards, including a 65-yard touchdown bolt, and added 44 yards receiving, is going to be OK after having further tests done on Monday morning.
"Everything came back positive so we're going to take him day-by-day this week and see where he is at the end of the week," said Pederson.
As for Jackson, it would be his first practice since hurting his abdomen in the second game of the season. He has missed six straight games since then.
Even though the offense has scored more than 30 points in its wins, it has been inconsistent too often without a playmaker of Jackson's caliber, not only in terms of the production he brings but his ability just to stretch the field to help the run game and open up underneath routes.
Sproles has missed the last three games with a quad injury suffered shortly after moving into fifth in all-purpose yards in NFL history against the New York Jets.
Maddox has been out since he was stretchered off the field in Green Bay on Sept. 26. His return would further bolster a secondary that has seen Jalen Mills come back for his second game after missing a year with a foot injury and Ronald Darby, who was back against the Bills after missing a month with a hamstring injury.
Pederson said his secondary played well in Buffalo.
The win over the Bills helped the Eagles' run of three straight road games end on a positive note.
The Eagles won't have another road game until Dec. 1 when they travel to Miami. The home schedule won't be easy, though, with the Chicago Bears visiting on Sunday then, following a bye, the New England Patriots and Seattle Seahawks come to Philadelphia.
So the Eagles are getting healthy at the right time and Sunday's win over the Bills provided some lift.
"I think this team, we could definitely learn from our past mistakes and failures, and I think we have to take the same approach with the successes we have," said Pederson. "How we ran the ball (Sunday), how the defense stepped up and played, I thought our secondary played well.
"I think you take all of that into a positive and we use that moving forward. I look at the way we practiced last week, the intensity that we had, and our leaders really stepped up and handled the team. Those are all positives that we can take forward into this week, which is another great test for our team."