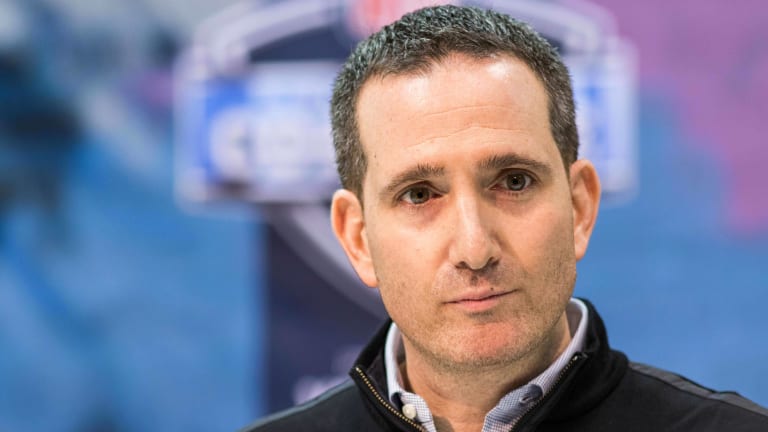 Howie Roseman Let's Trade Deadline Pass Without a Deal
Trade by Eagles general manager came on Monday, but he was quiet on Tuesday with asking prices by sellers reportedly being too steep
The big trade never materialized for the Eagles, as the NFL deadline to make a deal expired at 4 p.m. without so much as a whimper from general manager Howie Roseman.
This is the time of year Roseman is known for, and it could be argued that he is the one who turned the once dull and lifeless NFL trade deadline into something that now bears watching, but the GM didn't strike a deal.
It certainly wasn't for lack of effort.
The market this year seemed very inflated, perhaps set by the two first-round picks the Rams spent to land cornerback Jalen Ramsey from the Jaguars two weeks ago and the second-round pick the New England Patriots sent to the Atlanta Falcons for Mohamed Sanu last week.
The Broncos seemed willing to trade cornerback Chris Harris, but, presumably, the price was too high.
Sellers never panicked as the deadline crept up and the only deal that was made was the Los Angeles Rams trading cornerback Aqib Talib and a fifth-round draft pick to the Dolphins in a move motivated by the Rams being up against the salary cap.
The New York Jets became big sellers as the deadline got closer, but never sold despite reports that safety Jamal Adams, receiver Robby Anderson, and running back Le'Veon Bell were available.
New York did deal defensive lineman Leonard Williams to the New York Giants on Monday.
The Dallas Cowboys and Baltimore Ravens were engaged in talks for Adams, but the price was too rich for either teams blood, so Adams stayed put.
Jets general manager reportedly wanted a second-round pick for receiver Robby Anderson, someone the Eagles had expressed interest in, but Roseman was wise not to give up that much.
The asking price from the Detroit Lions for cornerback Darius Slay was also too steep, reportedly requiring a first-round pick. Again, Roseman wasn't parting with that sort of capital.
There was one Roseman deal and that came on Monday when he sent an undisclosed pick in the 2021 NFL Draft to the Cleveland Browns for linebacker/defensive end Genard Avery. 
Avery was unavailable to reporters on Tuesday, but is expected to talk about his change of scenery on Wednesday.
The Eagles never sold any of their players, either, despite reports that reserve offensive lineman Halapoulivaati Vaitai was being inquired about by other teams.
The Eagles' will now likely take the approach of saying that getting back receiver DeSean Jackson, defensive tackle Timmy Jernigan, and cornerbacks Avonte Maddox and Cre'Von LeBlanc at some point in the next couple weeks is like acquiring talent at the deadline.
There is some truth to that, too.
Those players were counted on heavily this season, but haven't stayed healthy to make much of a difference. That is expected to change soon.
Jackson was in the locker room on Tuesday but declined to talk, saying that he would speak with reporters later in the week. He and Maddox are expected to be incorporated into Wednesday's practice, though they will both likely still be limited.