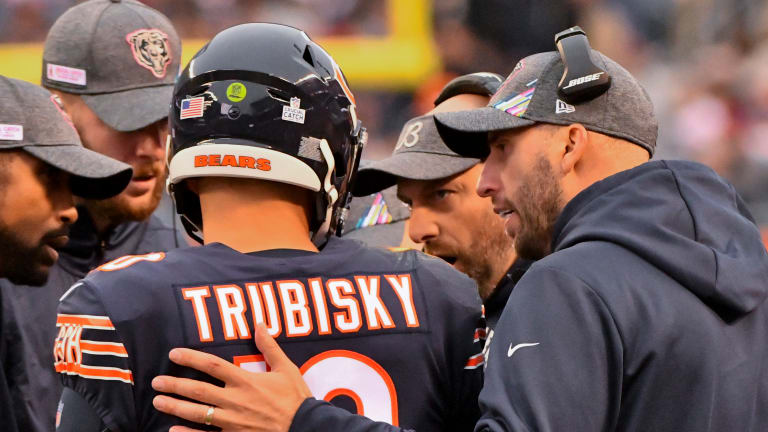 Eagles Return Home Looking to Build Momentum
After three straight on the road, they will host the struggling Chicago Bears before a bye week then host Patriots and Seahawks
The Chicago Bears are wounded, losers of three straight to fall to 3-4, and their head coach Matt Nagy is limping along in his second season.
That probably makes them a dangerous group when they visit Philadelphia (1 pm/FOX) to meet an Eagles team that, so far, as failed to live up to expectations.
Are the Bears dangerous enough to pick them to score an upset? It might.
If Chicago is to win, it will have to be with its defense, which ranked seventh in the NFL.
With a sturdy defensive front that is led by nose tackle Eddie Goldman, who has given Eagles center Jason Kelce fits in the past, the Bears are sixth against the run.
Of course, the Buffalo Bills were third against the run heading into last Sunday's game against the Eagles and got roasted for 218 rushing yards with Jordan Howard hammering away with 23 carries – the most for a running back in four years under head coach Doug Pederson – and Miles Sanders zipping his way through open space.
Chicago's pass defense is ranked 10, with a strong secondary that is led by cornerback Kyle Fuller's three interceptions and two by safety Ha Ha Clinton-Dix.
Outside linebacker Khalil Mack is the ringleader of it all with 5.5 sacks, but the entire linebacker unit is formidable with Danny Trevathan leading the team with 45 tackles and Roquan Smith, who is as good a linebacker going sideline to sideline as there is in the league.
"Any time you have a playmaker like Khalil on the other side and the way he can change a game pretty quickly, you're aware," said Eagles quarterback Carson Wentz. "By no means are you afraid, but you're aware. I think we're all going to be aware of where he's at when he's moving around. (Center Jason) Kelce does a great job making the call. Again, we'll be aware, but not afraid."
The Bears' offense, however, is at the other end of the "very good' spectrum, ranked 29 overall – 26 in rushing and 29 in passing.
Trubisky, now in his third season, has not made the expected leap in productivity that is expected of a former second overall pick. He has five touchdowns and three interceptions despite having a productive pass catcher in Allen Robinson (46 receptions for 526 yards and three TDs).
That is where Nagy's critics are taking him to task since his background is as an offensive coordinator. Last year, with Vic Fangio, now the head coach in Denver, as the defensive coordinator, Nagy was able to ride the defense to a 12-4 record and win the NFC North title.
Eagles head coach Doug Pederson knows the noise Nagy is hearing all too well. It was loud in 2016, his first season, and this year, it has been deafening.
"I look at my first year, we were 7-9 and we were the worst team in the NFL at the time and everybody was talking bad about me and the team and we didn't have any talent and this, that and the other, not that I pay attention to that stuff," said Pederson.
"But it all boils down to just you have to trust in your ability as a head football coach what you're teaching your players, the messaging that you're teaching your team, the culture you're trying to establish, and it's not easy. It takes some time. And bringing the right people in, there's a bunch of factors that go into that."
The problem for the Bears is that the Eagles (4-4) are returning home after three straight road games. Lincoln Financial Field will be bubbling with its usual lot of hyped-up fans and teeming with emotion from the players who are anxious to play again in their cozy confines after going 1-2 on their road trip.
It is the first of five home games the Eagles will play over the second half of the season, and they need to start stacking some wins to make the playoffs.
The road doesn't get any easier for them after the Bears' visit, either. Following a bye week, they will host the New England Patriots and Seattle Seahawks in back-to-back weeks.
I think the Eagles will build off the momentum of their 31-13 win in Buffalo last week and hold serve at home:
EAGLES 23, BEARS 19