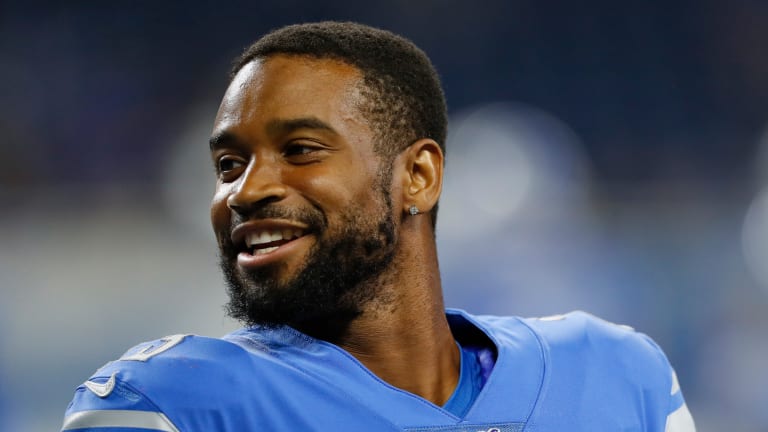 Examining Eagles Options at Trade Deadline
Will general manager Howie Roseman make a spash or not?
To splash or not to splash is a question Eagles general manager Howie Roseman will answer over the next several hours as the NFL trade deadline approaches its expiration time of 4 p.m.
To splash would mean spending big for someone like Detroit Lions cornerback Darius Slay.
The price tag is reportedly exorbitant, in the neighborhood of at least a first-round pick in a future NFL Draft. 
The 28-year-old Slay has 18 career interceptions, but most of them came in 2017 when he had eight. Slay has one year left on his contract, but his cap hit in 2020 is $13.4 million
Acquiring him would be a big splash indeed, but it would also open doors to other question, the least of which is how can the Eagles fit that kind of money into their salary cap?
Another question: unless the Eagles include a cornerback in the deal, who sits?
Ronald Darby is on a one-year deal and Jalen Mills' contract is expiring at the end of the season. One of them would have to become a reserve to make room for Slay and neither would be happy and that could lead to more locker room drama for a team that has had its fill already.
The same situation would apply to any cornerback Roseman would bring in, unless, again, he includes someone like Darby or Mills in the deal.
If Roseman didn't trade a first-round pick (and a second) for Jalen Ramsey there is doubt he would do it for Slay.
Same goes for Patrick Peterson, whose name has been thrown around, but the Cardinals don't seem inclined to trade him.
Chris Harris has also been mentioned as a target. Acquiring Harris wouldn't qualify as a splash move.
There are reports that the Eagles seem more interest in acquiring a cornerback than any other position, though Roseman already addressed the defense on Monday, adding linebacker Genard Avery who will try to play defensive end at 6-0, 250 pounds.
Head coach Doug Pederson mentioned on Monday that defensive tackle could be a position the team has interest in bolstering since they are playing recent practice squad players Albert Huggins and Anthony Rush next to Fletcher Cox while they cross their fingers that Timmy Jernigan will soon return from a foot injury suffered in Week 2.
Receiver is also a position Roseman could address while the Eagles hope DeSean Jackson will soon return from an abdomen injury that has sidelined him for more than a month.
Robbie Anderson, DeVante Parker, and A.J. Green could be ones to keep an eye on.
Green would be a splash; the other two, not so much.
SELLERS
There have been rumblings that the Eagles could try to trade some of their own players, such as reserve offensive lineman Halapoulivaati Vaitai, who started on the Eagles' 2017 Super Bowl LII championship team.
Trading Big V would put a dent in the Eagles' offensive line depth, so they would probably want to make sure Jordan Mailata's back injury is OK and ready to return from Injured Reserve before making that move.
The Eagles could also look to part ways with Vinny Curry, though the market for a defensive end with only one sack this year and 2.5 last year in Tampa Bay probably isn't real strong.
Then there's Nelson Agholor. The receiver is in the final year of his contract and isn't expected to be brought back by the Eagles, so he could find a home elsewhere for team that believes he might be a solid rental to help put them over the top. 
The Eagles just played the Buffalo Bills and they have a crying need for a receiver, so maybe there's a match there.
CAUTION
One thing Roseman must be wary of is not making a trade just for the sake of making a trade.
If the Eagles sit tight, that wouldn't be the worst thing. This was a roster, after all, that was praised prior to the start of the year as being one of the deepest and best in the last four years.
Injuries changed that, but some of those injured players should be returning soon, and just in time as the Eagles head into the second half of the season at 4-4, and it is a second half that will include five home games.