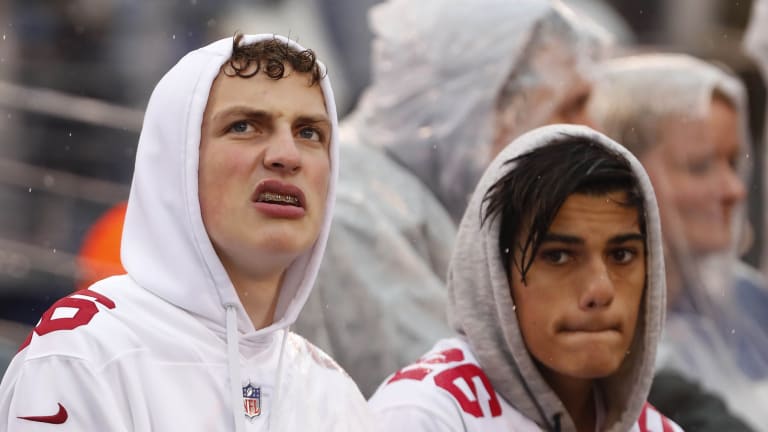 New York Giants Midseason Report Card
The Giants have posted a 2-6 record to start the season, but has it all been that bad or are there some bright spots? Let's run down the list and find out.
After a 5-11 season in 2018, Pat Shurmur's second year at the helm has been more of the same for the New York Giants.
Quarterback Eli Manning's benching after their Week 2 loss at home to the Bills should ultimately pan out to be the right move as rookie Daniel Jones has shown some signs of brilliance.
But this team overall has been plagued with inconsistency and, at times, incompetence, and needs massive improvements in the second half of the season if it's to top last year's 5-11 mark.
The Giants' defense is among the worst in the entire NFL, currently ranked 28th. General manager Dave Gettleman talked and talked about fixing the offensive line that contributed to Manning's struggles during the latter part of his career. So far, the line still struggles with consistency.
The Giants have significant issues with their pass defense that has contributed to opponents getting a headstart on scoring, which in turn forces their rookie quarterback to almost always play from behind.
The Giants' slow start and some head-scratching play calls/decisions have to fall on head coach Pat Shurmur, whose seat is starting to heat up.
It's not complete "Dooms Day" in East Rutherford. The special teams and tight end positions give reasons for optimism. But the bottom line is that the Giants are off to another poor start with a lot of questions still to be answered.
Here is our midseason report card.
Quarterback: B
The post-Eli Manning era has come with mixed results, which is to be expected from a rookie quarterback with just six starts in his NFL career.
Daniel Jones had a magical debut against the Bucs and a strong Week 8 showing against the Lions. The bad: the Vikings and Patriots games. The ugly: his four-turnover performance versus the Cardinals at home.
Jones' stat line overall is solid. He's completed 62.5% of his passes for 1,466 passing yards, ten touchdowns, and seven interceptions, and has two rushing touchdowns.
The big problems have been consistency and turnovers. Jones leads the league in turnovers with 13. The rookie rollercoaster ride needs to be cleaned up. This should come with experience and reps.
For the Giants, 2019 is no longer about wins and losses. It all falls on whether or not Jones is getting more experience and more comfortable in Shurmur's offense. The answer to that, especially after Sunday in Detroit, would seem to be yes.
On a side note, the way Manning has handled his benching has been first-class personified. It couldn't have been easy for the franchise's record holder of nearly every passing record who is also a two-time Super Bowl MVP to relinquish his starting job, support Jones and completely disappear out of the spotlight.
Manning should be commended for the way he handled this entire situation. He didn't throw anyone under the bus and did what was asked of him.
That's a sign of a true leader and franchise legend who, based on his play alone, deserves consideration for Canton, whose No. 10 jersey should be retired by the Giants, and who should be an automatic inductee into the team's Ring of Honor.
Running Back: B
When Saquon Barkley is your running back, it's pretty hard to not grade decently well in this category. He's the best of the best along with Christian McCaffrey of the Panthers, Alvin Kamara of the Saints, and Ezekiel Elliott of the Cowboys.
Barkley did miss three games with a high ankle sprain, which certainly hurt the offense, and his pass blocking hasn't been consistent, but still, he leads a solid group of backs.
Barkley himself ranks 10th in the NFL, averaging 74.6 yards from scrimmage. As a team, the Giants running backs are averaging 102 rushing yards per game, good for 17th in the league.
And speaking of the other backs, Wayne Gallman has proven to be a reliable backup who probably is underutilized. The days of running backs getting 35 touches per game have been disappearing thanks to the game getting faster and more violent. These days a solid 1-2 punch is necessary--think back to 2007 when the Giants had three solid backs in Brandon Jacobs, Ahmad Bradshaw, and Derrick Ward.
The Giants are banking on Barkley to break tackles and run his way into Canton as a first-ballot Hall of Famer. If that's to happen, Barkley needs to stay healthy, and they need to help prolong his career by giving some of the workload to Gallman, Buck Allen, or whoever else is on the roster at that position.
Tight Ends: A-
Evan Engram leads the way in the Giants passing game with 38 catches and 419 yards, with three touchdowns. He's also shown himself to be one of Jones' favorite targets, flashing back to their 75-yard second-half touchdown versus the Bucs on what was the first touchdown pass of Jones' career.
Engram also had the first 100-yard receiving game first time of his career against the Cowboys in Week 1 when he reeled in 11 receptions for 116 yards and a touchdown.
Engram brings a vertical threat down the field that the Giants have desperately needed. He's been everything the Giants likely dreamed of and more when they drafted him with the 23rd pick in the 2017 NFL draft.
Wide Receivers: C+
This group has the potential to improve the most from now until the end of the season.
The Giants receiving core has had us do nothing but wonder what the possibilities can be when everyone is on the field together.
Golden Tate was suspended for the first four games; Sterling Shepard has missed the last four games with his second concussion, and Darius Slayton missed the first two games as he continued recovering from a summer-long hamstring issue.
If they can ever all be active at the same time, this group has serious potential. At separate times throughout the year, we've seen what each guy can potentially bring to the table. Now it's time to see it from the group as a whole.
This team needs to solidify a No. 1 receiver to help the growth, development, and consistency of their rookie quarterback. As much as we want to complain about Jones' faults, having to throw to a different group of receivers every week probably isn't doing Jones any favors.
Offensive Line: D
The offensive line has long been the problem for the Giants, and it hasn't gotten much better in 2019.
In March of last year, the Giants made Nate Solder the highest-paid offensive lineman in the NFL after he spent seven seasons with Bill Belichick and the Patriots.
Unfortunately for the Giants, Solder hasn't lived up to his contract, and with the last of his guaranteed money paid out this year, he could become a cap casualty next off-season.
Solder aside, the Giants gave up seven sacks in a loss to Washington during Week 8 of the 2018 season. A year later, in Week 7, they made the Cardinals defense look like the '85 Bears when they gave up eight sacks.
For everything Dave Gettleman had said about rebuilding the Giants' line, this unit remains a work in progress that could be looking at another significant revamping this coming of-season.
Defensive Line: C+
Dexter Lawrence has been very productive for the Giants, with 21 tackles, two sacks and two tackles for loss. With their addition of Leonard Williams, there should be some optimism in New York. Of course, this is all assuming the Giants can re-sign Williams to a long-term deal when his contract expires at the end of the season.
There was so much excitement that the Jets got a steal with Williams when he dropped to them at No.6 in the 2015 NFL draft. The Giants are hoping to reclaim that magic.
Since 2016, Williams ranks third among interior defenders, with 43 tackles for loss. Los Angeles Rams superstar Aaron Donald leads with 47.
The jury is still out on this unit as a whole, but the Williams signing makes me more optimistic than others may be.
Their interior defensive lineman had just six sacks in the first eight games of the season.
Second-year lineman B.J. Hill's tackles are down, and save for 12 hurries, he has come up empty in the other quarterback pressure categories this year.
You know its desperate times in the New York football landscape when the Giants and Jets are making trades with one another. It's the first time in franchise history they've ever done a deal together.
Off-ball Linebackers: D
This position would have easily graded higher had rookie Ryan Connelly not suffered a season-ending torn ACL. Connelly, a fifth-round draft pick, showed impressive athleticism and quickly became the best player on the unit. 
He's expected to make a full recovery from his injury, but with torn ACLs, often it can take a player more than a year to fully bounce back into his pre-injury condition.
Veteran Alec Ogletree hasn't quite been able to replicate his coverage success from a year ago when he posted a career-high five interceptions and a career-best 84.9 rating in coverage. 
The rest of the Giants' off-ball linebackers has been a bit of a mess. The team waived Tae Davis, the Week 1 starter. It tried David Mayo and Nate Stupar, the latter since waived, after losing Connelly to injury and while Ogletree was dealing with a hamstring strain. 
Moving forward, they're hoping Deone Bucannon can give the unit something, but the first half of the season has simply underscored the urgent need for this team to add some more talent at this spot.    
Edge Rushers: B
The Giants currently rank 12th in the NFL in sacks per game, averaging 2.8, an improvement from 1.9 per game last year.
Through the first six weeks, the Giants defense had 96 total pressures, compared to the 27 they posted after six games in 2018.
They also had 16 sacks through the first six weeks versus the six they had at that same point last year, and more than half of their 2018 season total (30).
Veteran Markus Golden, who is on a comeback tour from a devastating knee injury suffered a couple of years ago, has looked every bit like the guy who posted double-digit sacks (12.5) in 2016.
Second-year man Lorenzo Carter has also improved, the 2018 draft pick, racking up 25 total tackles, 2.5 sacks, and one forced fumble.
Rookie Oshane Ximines is still finding his footing but has shown a quick first step. Overall, the Giants trio of pass rushers--assuming they can retain Golden after this year--is one of their most promising trios in some time.
Safeties: C
Jabrill Peppers, the veteran acquired from the Browns in the Odell Beckham Jr. trade, got off to a slow start but has picked things up of late.
Peppers, who is second on the Giants in total tackles, has been at his best when playing down toward the box, Per Pro Football Focus, his 17 run game stops leads all safeties who have played in at least 80% of their team's defensive snaps. And his 71.9 coverage rating isn't bad when you consider he's allowed no touchdowns but has come up with an interception.
On the flipside is Antoine Bethea, the team leader in tackles, but who has struggled in coverage. Bethea's 158.3 NFL rating is tied (with two others) for the worst coverage rating among safeties, and of Bethea and the two other players who share that rating, he's allowed the most touchdowns (2) according to Pro Football Focus.
Bethea might be a savvy football veteran, but at 35 years old, it's become apparent that he's not playing as fast as he has in the past, which is part of the reason behind the Giants' pass defense's struggles.
Cornerbacks: C
It's hard to get excited about a group that has contributed to the league's 24th ranked pass defense, a group that has allowed over 264 passing yards per game.
The Giants cornerback play has been inconsistent from Day 1. After having a Pro Bowl type of season in 2016, Janoris Jenkins has had some struggles, though to be fair, he still in the best of the Giants' cornerbacks (which if you consider all the youth at the position really shouldn't be a surprise).
Jenkins has allowed three touchdowns this year, those coming in Week 3 to receiver Mike Evans, but he's buckled down since, recording a team-leading four interceptions.
On the opposite side, rookie DeAndre Baker is fresh off an eight-tackle game versus the Lions, a new career-high. It's been an up and down rookie season for Baker, which shouldn't be surprising for a guy trying to figure it out as a starting cornerback in the NFL, especially for a team with a weak defense.
Baker is sixth on the team in total tackles, but he also has allowed five touchdowns and has a 153.3 NFL rating, the worst of the Giants corners.
In his second season, Grant Haley has had some ups and downs, as well. He was strong this week, reeling in seven tackles and a sack on Sunday in Detroit. But overall, he's allowed all but five passes thrown against him to be completed and has allowed a team-high 383 yards and 206 yards after the catch among his position group.
Special Teams: A-
It's been a long time since the Giants have a solid special teams unit, but ever since Thomas McGaughey took over the group last year, that's what has happened.
The Giants special teams aren't perfect--kicker Aldrick Rosas is following up his Pro Bowl season with a missed PAT, and two missed field goals, and his onside kick that went out of bounds against the Lions hurt.
The Giants also have struggled with the return game--the since cut TJ Jones had two muffs earlier in the year, and the Giants are still trying to figure out who is going to be their regular punt returner moving forward. On kickoff returns, the concussion suffered by Corey Ballentine has put that position into a state of flux.
But on the bright side, the coverage has been outstanding. Cody Core, Michael Thomas, and Antonio Hamilton have aces on the unit. Eli Penny, who had the big touchdown return off a blocked punt, has also been solid as has the fine punting by Riley Dixon.
No, the Giants' special teams aren't perfect, but they sure have come a long way in two seasons.
Coaching: F
A 7-17 record; 1-6 when trailing at halftime; questionable in-game management and what appears to be a lack of identity for a Giants team that needs to show progress all begin with the coaching staff. 
The players haven't quit on head coach Pat Shurmur, but last week's postgame locker room quotes revealed a growing level of frustration with how things have unfolded.
All of this is why Shurmur's seat is starting to get a little warmer by the week. While he's likely to be back next year to continue working with developing Daniel Jones, if this team doesn't somehow start winning the games they're supposed to win the rest of the year, don't be surprised if there are significant changes made on the staff.