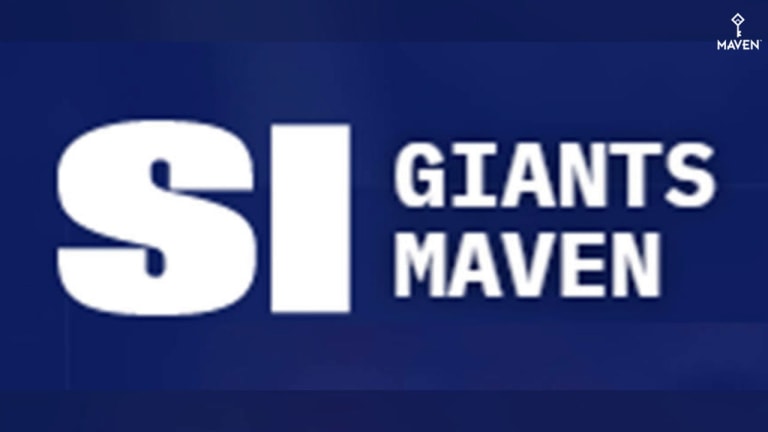 Giants Maven Fan Friday Mailbag
Let's see what's on people's minds this week.
From Ira C.:
How can the coaches get Jones to slide and/or run out of bounds to avoid all these needless hits?
Hi Ira. About all they can do is keep preaching it to him to be smarter when on the move. But I think it all boils down to how comfortable Jones feels sliding feet first.
If I remember correctly, Eli Manning had to learn how to slide feet first when he was younger. It's not as easy as it looks--your natural reflex is to fall forward and reach with your arm (might have something to do with protecting one's knees--who knows?)
I'm sure that will be one of many things Jones will work on this off-season.
From Sean M. (via Twitter):
People keep saying Shurmur is known as a developer of QBs, who? 09 '&10' Rams? No! 11' &12' Browns? No! 16'Eagles? Meh! Just One decent year as an OC 17'. One! His teams have been mostly poor (by far). How does he get so much influence?
What's up, Sean? As you noted, Pat Shurmur had a career year with the Vikings in 2017 as their offensive coordinator, and in a "what have you done for me lately?" business, I think that went a long way toward impressing the Giants brass, especially after they saw what Shurmur did with Case Keenum.
Where I think Shurmur continues to make a mistake--and I will keep beating this drum until he proves me wrong--is that he has yet to show that he can consistently manage both the offense and the game simultaneously and effectively.
There are just far too many in-game management issues that come up to bite this team on the backside, and I would much rather see Shurmur turn the offense over to Mike Shula and be a game manager rather than be so wrapped up with one side of the ball.
I think Shurmur will get a pass this year for two reasons: Daniel Jones is far from being a polished product, and second, you don't dump a head coach in only his second season unless he has a McAdoo type of meltdown.
You need to remember this is year two of the Giants rebuild, a rebuild that is likely a three-year plan. So like him or not, I suspect Shurmur will be here the rest of this year and next year.
From @houseofhavic (via Twitter)
Is it the college game that's not developing good to great OT now? Is the change in the NFL game with more passing that guys aren't learning, developing, and striving to be good to great OT?!
What's going on Houseman? Yes, I do think the college game has something to do with a lot of offensive linemen not being ready for the NFL.
The other factor is the NFL is so much faster than the college level and has more complexities like twists and stunts that it can take time for a young offensive lineman to adjust to all that. 
Giants Maven Weekly Fan Friday Mailbag
Want to participate in our Friday Fan Day mailbag? Send your questions to us at nygiantsmaven@gmail.com.
Giants Maven Social Media
Follow Patricia on Twitter @Patricia_Traina and don't forget to check out and like our Facebook page.
Sign up for our free newsletter
Sign up for our free newsletter and get breaking Giants news, notes, and more delivered to your inbox!
Can't get enough Big Blue news and analysis?
Subscribe to the FREE LockedOn Giants podcast, your daily podcast featuring all things New York Giants, available on iTunes, Google Play, Stitcher, FM Player and wherever else podcasts are offered.