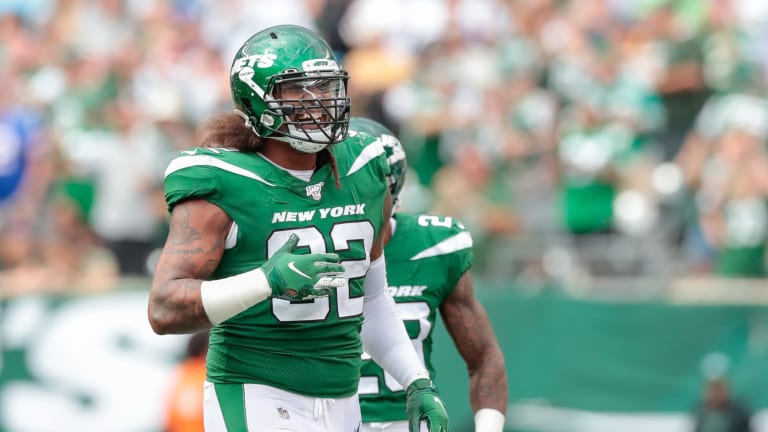 What Leonard Williams Can Potentially Contribute to the Giants' Defense
The Giants bolstered their defensive line depth by acquiring Leonard Williams via a trade with the New York Jets. Here's a look at what Williams can potentially do for the Giants defense.
The reported trade between the Jets, who sent Leonard Williams, their 2015 first-round draft pick, to the Giants for a 2020 third-round draft pick and a conditional 2021 fifth-round pick that will become a fourth-round selection if the Giants re-sign Williams after this season, sent shock waves through the NFL.
Why would the Giants trade for a defensive lineman a spent after using the No. 17 overall pick on Dexter Lawrence in this year's draft? And what are the Giants getting in Williams, who will likely slide into the defensive end spot in the Giants 3-4 front?
Williams was drafted sixth overall by the Jets in 2015 out of USC. Yet to miss a game in his pro career, Williams, since the start of his rookie season, has led the Jets with 240 tackles, 17 sacks, 90 quarterback hits, and 32 tackles for a loss.
Despite not recording a sack yet this year on a Jets defense that some critics argue didn't fit Williams' skillset, he still managed to record 17 total pressures, three more than Lawrence.
Williams also has seven quarterback hits, which per Pro Football Focus, leads his new teammates. He also finished sixth in the league last season with 26 pressures.
Williams can also help the Giants' run defense, which is currently ranked 22nd int he league, allowing 122.4 yards per game. Since 2016, Williams is tied for third in the league among interior defensive lineman with 97 run stops and 43 tackles for a loss.
Giants defensive coordinator James Bettcher has shown a willingness in certain situations to line up two defensive linemen in pass-rushing situations to get an extra man in coverage on the field.
The addition of Williams could mean that he'll be paired with Lawrence when the Giants put only two defensive linemen on the field on passing downs.
Williams is currently playing out his option year on his rookie deal. If his eight-game audition with the Giants plays out well, the Giants, who are projected by Over the Cap to have $65,834,277 million in cap space in 2020 as of this writing, should be in good shape to re-sign Williams to be part of a defensive line bursting with youth.