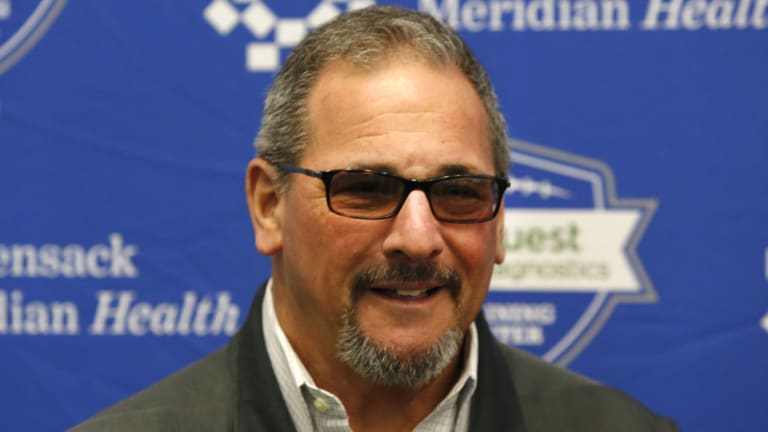 What's Next for the Giants After the 2019 Trade Deadline?
"Trader Dave" was at it again, but he wasn't quite as active as he was last year.
Giants General Manager Dave Gettleman has always insisted he'll do what's in the best interest of the Giants franchise.
But as the rumor mill churned with several intriguing possibilities, in the end, the Giants made only one deal.
Here's a recap of what happened, what didn't, and what's next.
What Happened?
As was reported Monday, the Giants and Jets consummated their deal in which Jets defensive lineman Leonard Williams was traded to the Giants in exchange for a third-round pick in 2020, and a conditional fifth-round pick in 2021.
"I'm just ready to bring some toughness, some pass rush, some run stop—everything," Williams said in a press release announcing the transaction. "Being a good teammate to the guys, being a good guy in the building on and off the field, just know that I am going to give it my all every day."
This was the Giants' first player acquisition via an in-season trade since Oct. 4, 2013, when they added linebacker Jon Beason from Carolina for a seventh-round draft choice. The Panthers' general manager then was Dave Gettleman, who now holds the same position with the Giants.
To make room for Williams, the Giants waived linebacker Tae Davis, who had been their Week 1 starter.
RELATED: Breaking Down the Leonard Williams Trade (Costs, Impact and More, with a video commentary)
What didn't happen?
Gettleman will never admit to who almost was traded as to do so wouldn't do any good. Still, numerous reports linked cornerback Janoris Jenkins, inside linebacker Alec Ogletree, and left tackle Nate Solder to potential trade rumors.
Jenkins likely would have made the most sense, especially if the team plans to activate second-year cornerback Sam Beal from injured reserve this week.
Beal has yet to play in a regular-season game for the Giants, so he'd be starting from scratch. 
But with the season quickly falling down the tubes, the Giants, who have given rookies such as quarterback Daniel Jones, cornerback DeAndre Baker, defensive lineman Dexter Lawrence and edge Oshane Ximines experience might as well do so with Beal.

Who is Giants' Best-Kept Secret?
The Giants finally appear to have a deep and quality group of edge rushers for the first time in a long while, and this young player projects to be a big part of that group.
Solder's name was tossed into the mix mainly because the court of public opinion believes that his play has not lived up to his contract. But realistically, that trade probably had a tiny sliver chance to materialize.
Although Solder has had his struggles, the Giants depth at offensive tackle is shaky to where had the Giants had traded Solder and then had an injury to Mike Remmers, or whoever replaced Solder, the team would have likely been scrambling for depth.
Eli Manning's name was also put out there as a trade possibility, but that never had a chance of happening as the quarterback has a no-trade clause in his contract and was not believed to be interested in waiving that clause.
What about next year? Will any of the rumored trade targets be back? 
Probably a lot of guys won't be back, but let's start with the four of the five -highest cap hits on 2020 the roster, Solder, Jenkins, Ogletree, and Golden Tate, and see what, if anything, the Giants can save if they move on.
Solder will count for $19.5 million on the team's 2020 cap, a figure that includes a $9.9 million base salary and no guaranteed money. 
If the Giants part with him before March 18, when he's due a $3 million roster bonus, the Giants would save $13 million on his base, workout bonus, and roster bonus, but be hit with $13 million in dead money from his prorated signing bonus.
(Because next year is the final league year of the current CBA, there will be no post-June 1 designations in which teams can take a partial hit on any remaining prorated signing bonus and then dump the rest into the following year.)
Jenkins' savings' is probably the easiest to figure as 2020 is the final year of his contract. He's due to count for $14.75 million against the 2020 cap. If he's cut, the Giants will save $11.25 million while resulting in a $3.5 million dead-money charge.
Ogletree has an $11.75 million cap hit and two years remaining on his deal. In 2018, the Giants converted a $7 million roster bonus into a signing bonus, which was eligible to be spread out over the remaining life of the contract at a rate of $1.75 million per year.
If the Giants move on from Ogletree in 2020, he'll cost them $3.5 million in dead money against the cap, but the Giants will save his $10 million base salary for what comes out to be a $6.5 million savings.
The last piece of the puzzle is whether the Giants choose to move on from Tate, who has a $10.352 million cap figure in 2020.
Originally, Tate's contract included $22.95 million in guaranteed money, of which both his base salaries for 2019 and 2020 were part of that. However, with his recent four-game suspension for a PED violation, it's believed that his guaranteed money was voided.
If this is indeed the case, then the Giants would be on the hook for the remaining $9.411 million of his signing bonus but would save on his $7.975 million base salary and his $25,000 workout bonus ($8 million total).
The next NFL trade period opens on March 18, 2020, which is also the start of the new league year and the start of free agency.