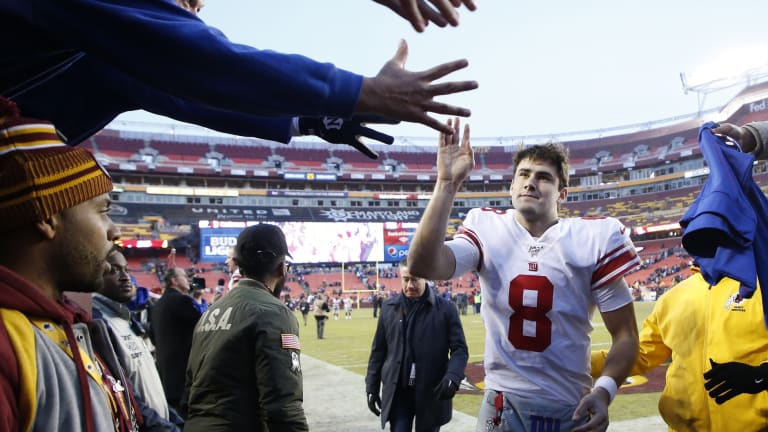 2019 Week 16: Player by Player Review Plus a Look at the Strategy and the Play Calling
A look at the Giants' 41-35 overtime win over Washington.
A look at the Giants' 41-35 overtime win over Washington.
The Giants Offense: With and Without Daniel Jones
For the second time in the 2019 season, Eli Manning has been replaced by Daniel Jones as the starting quarterback for the New York Giants.
The Giants sent Manning off with a perfect curtain-call in what is, in all likelihood, his last game as a Giants quarterback. 
He played a characteristically "Eli" game, showing complete command of the offense, quickly and efficiently processing reads, quickly getting rid of the football, and not being afraid to attack the defense when the opportunities presented themselves. 
His aggressive and efficient stat line was also marred by a trio of characteristically "Eli" interceptions.
As a whole, what is likely Manning's last game as a Giant typified exactly what he brought to the Giants' offense.
The move to replace Manning with Daniel Jones for the final two games also provided an intriguing and striking contrast for how the Giants call an offense for the two passers.
The first difference we should note is one of the first things anyone should take note of when watching tape, and that is the offensive formation. 
Against the Dolphins, with Manning starting, the Giants spent roughly half of their offensive snaps (53 percent, per SharpFootballStats) with the quarterback under center in a traditional "NFL" offensive look.
Part of that was purely due to circumstances and the flow of the game. The Giants typically use under-center looks as running formations, and this was the only game of the year in which they ran more than they passed. 
Not only did Saquon Barkley find success against the Dolphins' porous run defense, but the Giants were also able to pull away with a commanding lead and didn't have to throw the ball to try and keep pace with the opposing offense. 
As a result, it makes sense that they had Manning under center the majority of the snaps.
Also, the Dolphins field one of the worst pass rushes in the NFL. One of the reasons for using the shotgun formation is to begin the play with the quarterback having separation from the line of scrimmage. 
Not only does that give him a precious few fractions of a second advantage over pass rushers, but it also facilitates a faster offensive tempo. 
It's impossible for an under-center look to replicate the "Catch/Throw" tempo of a quick-hitting 0 or 1-step drop play out of the shotgun. 
Without having to worry much about the Dolphins' pass rush, the Giants were able to put Manning under center, making play-action more effective and helping to disguise their intentions in the run game.
It should be noted that while the Giants' tendency to run with the quarterback under center is very strong. 
This season the Giants have run on 74 percent of their plays under center, fifth-most in the NFL, per Sharp Football Stats. But also from a schematic view, having the running back behind the quarterback helps to disguise the gap the offense will attack. 
As an aside, this is why it would make sense for the Giants to include the pistol set in their offense – I would even go as far as to call for them to make it their base offensive formation. 
It combines the speed and versatility of the shotgun formation while having the run benefits of the "I" formation.
In contrast to how the Giants played with Manning on the field, they have leaned heavily to the shotgun with Jones as their starting quarterback.
Part of that is comfort-based. Jones is a rookie and he played in a spread offense in college. He was rarely (if ever) under center in college, and the vast majority of his passes under David Cutcliffe were those 0 or 1-step drops with 1-read throws.
The name of the game in the modern NFL is winning with a quarterback on a rookie deal. The salary cap flexibility that having a starting quarterback on a rookie contract is one of the biggest competitive advantages a team can have. 
And the best way for coaches to get production out of young passers is to give them systems with which they are familiar.
For Jones, that means being in a shotgun-based offense. And as Jones was the starter for most of the 2019 season, it makes sense that the Giants would be one of the most shotgun-heavy offenses in the NFL. 
Overall they have used the shotgun formation the eighth-most in the NFL, and if we just look at the weeks Jones has started, that have used it the fifth-most.
The play design and selection also reflect the differences between the two quarterbacks.
With Manning on the field, we saw much more of the quarterback identifying the defensive formation and setting protections – usually signaled by the quarterback calling out the "MIKE". 
By identifying the middle linebacker, the quarterback helps the offensive line set protections and identify blitzes. 
We also saw much of Manning calling audibles based on what he saw from the defense. That has always been one of the strongest areas of his game, playing on his experience and command of the football to navigate in and out of play-calls at the line of scrimmage. 
This year we haven't seen Jones doing much of that at the line of scrimmage. With Jones on the field, the Giants usually call a play and go with it.
The other difference is the breadth of the quarterback's post-snap reads. The Giants are comfortable giving Manning progression reads that cover three, four, or even five routes. 
Manning's experience lets him get through those reads quickly and efficiently. 
For all the criticisms of Pat Shurmur's ability as a head coach, he does have a very quarterback-friendly offense and compared to the option-route based offense called by Kevin Gilbride, this is not complex for Manning.
As mentioned above, Jones' collegiate experience was overwhelmingly 1-read passes, either one or two-receiver route concepts or Run-Pass Option (RPO) plays. 
The Giants have largely stuck to that, calling a high volume quick plays with limited reads for Jones. They have, on occasion, expanded his reads, but we have also seen Jones' processing seemingly slow down on longer progression reads.
There is also the fact that Jones tends to hold the ball longer than Manning, who has become famous for his quick release in recent years. By calling quicker developing plays, this helps Jones get the ball out of his hand faster and limits the impact that pressure can have on the young quarterback.
Jones had a fantastic game against Washington and has had several 300+ yard days. We should recognize that, but also acknowledge that they came against some of the worst pass defenses in the NFL. 
The first of the next two steps for Jones going forward will be to have these kinds of outings against the league's better defenses. 
The other step will be to take more of the offense on his plate and allow the Giants to call a broader selection of passing concepts with more reads in the progression.
Of course, there is only one game left. Realistically, those steps should be made over the coming off-season. We will have to wait until next September to see what happens, and to see what happens with the cloud of a potential coaching change which is hanging over the franchise. 
But at least the last two weeks have given us a nice contrast between a rookie and a 16-year veteran, and a potential roadmap for the rookie's development.
Quarterback
Daniel Jones: If you want to get picky about Jones' overall game, you sure would like to see him extend plays a bit better and find the space to wheel away from pressure and make a few of those broken big plays that are needed to win big games in this league. 
There's also a bit of an issue with his pocket feel, but that's because he's always looking downfield. Eventually, Jones has to learn when to give up on the downfield, shuffle away from trouble, and take what's there. 
He actually did just that on a couple of snaps but he's not making very many plays outside the pocket, and in this league, that's something you have to do. 
Like Eli Manning before him, Jones is most comfortable in the pocket and doesn't mind throwing the ball while it's collapsing in front of him. Give the kid time back there and he's surgeon-like, cue this week's uber-productive game (28 of 42 for 352 yards, 5 touchdowns, and no interceptions), all of which came from the pocket. 
Jones is breaking rookie records all over the place. With his five touchdown throws today he's at 23 for the year and threatening the all-time rookie record, and he's done that while missing four games! 
The kid directed a big two-minute drive at the end of the first half and the big overtime-winning drive as well. He continues to show that he's impervious to the pressure of the moment, especially on third downs and in the red zone where he seems to play even better. 
Jones executes every type of throw there is. His accuracy simply cannot get any better. His ball is supremely catchable, and yet he continues to deal with drops (four this week). 
Much like Manning, the drops don't seem to bother Jones. He is as imperturbable as his veteran mentor, and that's a really good thing. He's only going to get better once he learns the league, plays through situations and earns the right to change things at the line of scrimmage. 
We liked how he threw away some balls today to live another day. It's something he wasn't doing earlier in the year. He's already showing an ability to learn on the fly. 
Allowing Landon Collins to punch out the ball on his requisite fumble was unforgivable, but finding Collins' coverage more often than not was really smart, not only on Jones but his coaches. 
There was so much good out of Jones this week that we have to force ourselves not to over-react to his excellence and realize that Washington's' patchwork defense had a lot to do with the offensive explosion. 
But that's what you do to bad defenses, you make them pay, and Jones did that time and time again, from start to finish. And he did it without a very limited Darius Slayton, too. 
The connection Jones is building with Sterling Sheppard and Kaden Smith should pay huge dividends in the future. We don't think the organization has to get him a star receiver; just accumulate a bunch of professional ones and Jones will get them the ball. 
He even made Cody Latimer look like a legit wideout. The kid has the guts to stick it into tight coverage and to take advantage of finally getting some open receivers to hit in stride, which he did. What's there not to like?
Running Backs
Saquon Barkley: Putting up his best numbers as a pro, Barkley showed that he's finally back to what he was before his ankle injury in Week 3. 
It just goes to show how long it takes for skill players to get back that innate feel and timing and decision-making that you just can't dial-up on a whim. 
To play at the highest level you've got to work it in practice and prepare for battle full-time. Once you lose that preparation edge, it takes a long long while to get it back fully. 
Barkley got it back this week in spades with his electric performance that started with his very first touch, an inside run that he took to the second level with a sudden burst through a seam for 32 yards. There was no hesitation; just a quick decision and he was off to the races. 
Besides all the positive runs from scrimmage--and there were a bunch of them--Barkley had three other big-time plays. 
On the Giants' second possession, he took a handoff and shot through the same hole on the right side, made a man miss, and took it all the way into the end zone for a 67-yard scoring run. 
He followed up his two big runs with two huge catch-and-runs out of the backfield. He got lost up the seam and hauled in a 33-yard touchdown catch, and then took a screen pass split out wide and took it 51 yards deep into enemy territory. 
After these two big completions, Barkley started getting a lot of attention, which ultimately opened up things for tight end Kaden Smith's two scores. 
Barkley's pass-blocking was a positive once again as he took that weakness and turned it into a strength in the space of a couple of weeks. 
Okay, here are the numbers: 22 carries for 189 yards (8.6 average), 1 rushing touchdown and four catches for 90 yards (22.5 avg.) with one touchdown through the air. That's 279 total yards, folks. 
If Barkley had one misstep this week, we didn't see it. It was a spectacular performance, his best this year and likely his best game as a pro. 
Buck Allen: Getting about two snaps in relief of Barkley, Allen didn't get the touches that he got last week but seemed to be assignment-clean.
Tight Ends
Kaden Smith:  Not leaving the field for a single snap (this rookie has taken on quite the heavy load since taking over the starting tight end spot several weeks back due to injuries), Smith is developing into a reliable starter thanks as much to his very reliable blocking as his reliable pass-catching ability. 
On a day where Smith caught two touchdowns, including the game-winner in overtime, we're more excited about the level of this rookie's blocking that is brought to the fore on every single down. 
He gets quick position on his man every time, and he has more than enough battle and strength and athleticism to sustain his block long enough to make a difference. 
The coaches even sent him on a couple of pulls, and sure enough, he executed one of them with a picture-perfect pancake finish that was simply awesome. 
Smith rarely makes a mental mistake – his fourth-quarter flinch was it for this week-- and he more than made up for by a subsequent 10-yard catch, and then his 9-yard touchdown catch in the end zone. 
Smith is not fast out there but he's very precise and never wastes a step. On a scramble drill, he worked his way deep and was all alone but the QB didn't see him break free. 
Did we mention the reliability of his hands? He catches everything. This kid has a lot of positives in his game, and very much resembles Jason Witten in style. He's not flashy but he sure gets a lot of things done right. 
If the Giants are going to commit to Saquon Barkley's running game next year--and they should--they need to start this kid and use Evan Engram as a specialty item. If you want a balanced offense, this kid needs to be on the field.
Scott Simonson: Getting five snaps, Simonson was solid in his blocking assignments, which was all he was asked to do.
Receivers
Sterling Shepard: Shepard made the first catch of the game with a pass underneath. We have said this numerous times before, but will say it again: Shepard is very good at sitting in the underneath zone. 
Shepard started the drive with a catch and finished it with an out and up route. The corner bit on the out pattern and this allowed Shepard to easily get open in the corner of the end zone. 
On this play, Darius Slayton was a decoy on this one as he was the one who stayed underneath. 
Shepard had a quiet second half, but made a catch in overtime between the zones to give the Giants a first down. Again, Washington's  zone was loose all afternoon, so Shepard picked up nine yards two players later underneath the zone.
Darius Slayton: Slayton appeared in 20 snaps before finally giving in to a knee injury. He had two passes thrown his way, but was unable to come up with either, and appeared to have suffered his injury on the first of the two pass targets.
Golden Tate:  After a rare drop, Tate came back and made his first catch of the game early in the second quarter on a quick sideline route. 
He went over the middle late in the second quarter and found room down the seam. We really liked how the Giants attacked the middle of the field as Washington had all kinds of problems defending it. 
In the middle of the third quarter, Tate made a catch underneath for a first down. Washington was really playing loose coverage throughout this game, and the Giants receivers had no problems with finding soft spots int he coverage. 
Tate came up with a big catch on 3rd-and-10 in the middle of the third quarter for 32 yards. This was a big play as he kept the clock running and converted the first down.
Da'Mari Scott: Scott made a catch on a short route near the sideline, where he was wide open on this one for a short gain. 
Scott has shown ability as a kick returner as he gobbles up yardage very quickly.
Cody Latimer: With Darius Slayton limited due to an injury, Latimer saw his opportunities increase with mixed results.
He had a big drop at the end of the second quarter. It looked like the defender got a piece of the ball but in reality, it was a bad drop by the receiver. 
A few plays later, Latimer made amends as ran a nice route down the seam and made the catch for a touchdown. 
He made another nice catch by Latimer late in the third quarter as he dove to the ground and help onto the football. 
In the fourth quarter, he was johnny-on-the-spot again, making a catch down the seam for a first down against yet another loose zone played by Washington.  
Offensive Line
Nate Solder:  Playing easily his best game of the year, Solder handled all of the edge speed that Washington threw at him with aplomb, allowing nary a whisper of pressure, and was also sharp handling all of his stunt responsibilities. 
It should be noted that even during Solder's season-long struggles, he rarely was afforded help blocking, which usually has gone to the other edge. That was the case once again this week, as Solder handled all of his assignments alone, and we're including his run blocks, another area in which he was a positive. 
We are always wary of players who come up big when the team is running out the string, which is why watching Solder excel so late in the season leaves us a little less excited than we should be when watching good football being played.
Mike Remmers: Playing a solid pass-blocking game early on, Remmers had to leave the field in the first half when he suffered a concussion and could not return to the game. 
Remmers had some run-blocking success early on as well, two of Barkley's big runs coming behind close-down blocks of his.
Will Hernandez: Grading out the best of the offensive linemen, we give Hernandez the highest grade because he was going up against Washington's two best pit players, defensive tackles Jonathan Allen and Deron Payne. 
Hernandez neutralized both players consistently, his pass-blocking being particularly clean and stout. 
We liked Hernandez's game just as much in the run game where he pulled a good half dozen times, moved well and finished well each and every time. 
After his struggles of late Hernandez rebounded with one of his better games of the year and deserves his credit.
Kevin Zeitler:  Playing yet another clean game inside, Zeitler returned from that bad ankle injury of two weeks ago that forced him to miss last week's game, but came back to play as solid an inside game as you can play in this league. 
The coaches even sent him on a long pull once, we suppose to test the ankle, and sure enough Zeitler got to where he was going and finished the play. 
His pass-blocking was once again the best part of his game, while his run-blocking was solid-to-good. 
Zeitler also made the big hustle play of recovering Daniel Jones' fumble, the by-product of said hustle.
Jon Halapio:  The least-effective player once again on the offensive line, Halapio was flagged for a holding call, failed to sustain very many of his blocks, and just couldn't handle any development that went beyond the purview of his little area. 
This big man's utter lack of mobility and inability to sustain blocks remains a problem that is not going away any time soon. 
With that being said, Halapio was a positive on most of his pass blocks but not so much on his run blocks.
Nick Gates: Stepping in for the injured Remmers, this very reliable backup played the rest of the way at strongside tackle and the offense did not skip a beat. 
Gates got a help block or two early on but that was it as he handled the entire second half edge on his own, while contributing his reliable run-blocking efforts with his textbook physicality and finishing. 
Gates' footwork is a hidden asset as he looks clumsy most of the time, but he has no trouble getting consistent positioning which is a testament to his footwork. 
We're certain that Gates is going to be one of this unit's starters next year; we just don't know exactly where. He's too good not to be playing on a unit that has struggled all year. 
We think he's one of the answers on this team moving forward. It could be at tackle, a position he played in college. 
He seems to lack the niftiness that all the good tackles have, which is why we think he's best-suited somewhere inside, but he's played two games at tackle this year and has been a positive both times. 
He's the type of blue-collar blocker who finds a way to get things done, no matter where he lines up. He needs to be promoted full time this off-season by whoever is coaching this unit.
Defensive Line
Leonard Williams: Williams put up another positive notch on his resume with an active, physical performance that included hustle plays, at least a half dozen stunts that resulted in pocket pressures, and the consistent power run defense that he puts forth every time he steps on the field. 
Williams actually had a legit chance to get his first sack of the year when one of his stunts got him running clean up an unblocked gap into the quarterback's face, but he somehow got himself eluded long enough for the pass to be thrown away. 
Williams looked to have as clean a hit as you would want but he allowed Case Keenum to slide just enough away to make room for the release. 
Williams' reputation for not finishing big plays seems to be a legit one. He does enough to get himself into the middle of an awful lot of the action but he just doesn't seem to have that instinctive knack to recognize and close on a makeable play. 
It's a bit odd to say that, but we've seen other instances where he just doesn't capitalize quickly on a situation. 
His snap-to-snap play is as consistent as you'd want it to be. His size, height, power and athleticism combination gets him around the ball a lot, and that's a big positive. 
Though he only finished with three assists this week, he was constantly buzzing around the pocket, almost always the recipient of the back end of a stunt.
Dalvin Tomlinson:  Once again Tomlinson was a disruptive force in the middle of the pit, getting off the mark on a number of snaps that was as fast as we've seen a Giants defensive lineman attack the snap in quite a while. 
Tomlinson's backfield penetrations invariably set up a teammate for a tackle that his action forced. 
When he did finish several tackles – both his solo tackles on the stat sheet – they came in the backfield for losses. 
When he isn't penetrating, Tomlinson is still doing the dirty work at the point of attack, stacking and shedding with consistent low power. 
Even his pass rushes are creating some havoc these days, as he's getting some push with his quickness that is often drawing extra attention. 
The light has apparently gone on for this third-year pro. Let's hope it stays on because he's become a force.
Dexter Lawrence II:  Doing pretty much all that Tomlinson is doing but as a rookie, Lawrence started using his quicks today on several snaps, earning his tackle in the backfield with a quick sidestep of the center's block that got him in the face of the running back, which Lawrence then finished with a power hit. 
His run defense all game long was as stout as we've seen it. He once again played a ton of snaps, but he never seems to wear down out there. 
His pass rush was of the power variety all game long. We can't wait to see him in season two when he starts to play faster with experience and really starts to attack the pocket. 
Right now Lawrence is a wrecking ball at the point of attack, and he's regularly overpowering big NFL blockers. This week, we saw a glimpse of his unusual quickness for his size.
B.J. Hill:  After last week's heavier workload, with positive results, Hill was handed another bunch of snaps this week and he rewarded the coaches' decision with another positive performance. 
Hill did a lot of the dirty work defending his gaps and his pursuit was solid, and he was finally rewarded when one of his stunts resulted in his first sack of the year. 
Hill was the point man on this stunt, his hard upfield attack causing the confusion that left him unblocked after penetration. His other tackle came in the backfield as well against a run that he closed down physically. 
He was around the ball enough to get in on the gang tackles but he flashed several other times in these stunts that gave Washington so much trouble.
Edge Rushers
Markus Golden:  Snagging a half-sack that we don't really think he deserved (after missing out on so many in previous games), Golden was deserving when his low diving tackle combined with the other sacker to knock Dwayne Haskins out of the game. 
Early in the second half, the right tackle was knocked out of the game, but the coaches rewarded Lorenzo Carter with the matchup against the backup instead of Golden. 
We think Golden would have eaten up that backup, but he still played his typical mad-dog type of game with the half-sack, a handful of other legit pocket pressures, and five total tackles, each of them at or near the line of scrimmage. 
Golden has brought his physical, relentless game to the field every single week this year. He's been as reliable as the sunset for this team. 
As previously mentioned, we'd take him on our team every day of the week and twice on Sunday, but it would have to be at the right price as he's not quite the game-changer that a big contract would warrant. 
He is a "producer" who plays the game the right way, and he's a team player to boot. We like his game a lot.
Lorenzo Carter:  The coaches made a smart decision by lining up Carter over the nose on passing downs and using him as middle contain against the quarterback who tends to look to break to the front of the pocket. 
In fact, that's how Carter got his second quarter sack when he used a power push to force middle penetration but didn't take himself out of the play, getting the sack when as predicted the quarterback tried to run upfield away from edge pressure. 
Carter got his half-sack on an edge contain pass rush, once again maintaining his gap without taking himself too far upfield, waiting for the quarterback to come to him. Carter then turned in his most active half of the season as the coaches kept lining him up against the backup right tackle. 
Carter's speed was creating problems throughout the second half on that edge, thanks to the favorable matchup. 
It's a testament to Carter's versatility that the coaches can line him up almost anywhere on the defense from week to week, but we think his best game is the contain game that earned him his 1.5 sacks. 
Neither sack was the result of a big pass rush; it was the result of smart and disciplined defense that Carter's long arms and athleticism allowed him to finish. 
Four tackles on the stat sheet and another pass knocked down at the line of scrimmage resulted in Carter's most active and productive game of the year, this after a string of invisible games where perhaps the coaches just didn't utilize his talents correctly. 
This week, they did, to the credit of both coaches and player.
Oshane Ximines:  The rookie had one of his quieter games of this second half when his game has started to blossom a bit. 
He did get one hit in on the quarterback off of one of his patented hard upfield, then close down moves on the pocket. 
We like how he doesn't take himself out of too many pass rushes with outside speed, usually keeping himself inside the play and containing. We also like how he ducks under some of these taller tackles with his edge speed, which he did a couple of times today. 
Ximines' game is just what this team needs, an edge pass rush presence. As long as he continues to develop we think he's got the quicks, burst, and instincts to become a factor on passing downs. 
He needs field experience and a bit more strength to recognize, anticipate, and complement his array of moves.
Kareem Martin:  Since his return from IR, Martin is still struggling to find his game. He's not playing with any abandon out there. 
When he's playing well, he's throwing his body around and crashing into people and piles. Right now he's playing a reading, reactive style that's not getting anything done on the handful of snaps that he's getting. 
The veteran somehow fell into two tackles but they each came at least five yards downfield in contain.
Inside Linebackers
David Mayo:  We thought Mayo played another helluva run defense game, playing assignment-true and reaping the benefits of disciplined group think among the front seven. 
As long as every man is playing his assignment all the gaps will be filled. Mayo is as disciplined as they come and rewarded his mates by accumulating ten tackles, all of them coming against the run. 
He had a couple of near-misses when he reacted late to a back's quicker feet but that's going to happen to most of the inside backers in this league when running at full speed to get to the hole. 
Mayo got to most every assignment on time and with intent. About a half dozen blitzes didn't amount to much as that doesn't seem to be a strength of his, though one of them nearly got home and affected a throw. 
In coverage, Mayo was a negative once again when he was late to cover several backs bleeding out into the flat and losing the open field battle badly. 
Mayo got caught on the field a bit too often on passing downs, but with Alec Ogletree out with a back injury, Mayo had to pick up the slack.
Deone Bucannon: Picking up most of Ogletree's slack and getting the start in his stead, Bucannon was a positive performer whose team approach, most notably against the run, is as classic a force style as you will see. 
Bucannon reminds us of Jessie Armstead in that respect, taking on blockers at the right angle to force the runner into the gap that his partner is invariably filling. 
Bucannon got in on seven tackles of his own but his force contains were a big part of David Mayo's ten tackles. 
Bucannon had one positive blitz that forced a throwaway but neither he nor Mayo are in Ogletree's league when it comes to blitzing. Bucannon's run defense was better than his pass coverage.
Defensive Backs
DeAndre Baker:  Steven Sims ran an out pattern against Baker on Washington's first possession. We thought Sims was jsut shy of the first-down marker, but he received a generous spot. 
A couple plays later, rookie Terry McLaurin got in front of Baker. He drove Baker off and then came back to the football. Nice route on this one by McLaurin. 
Later in the first quarter, Cam Sims made his first catch of the season in front of Baker for a first down inside the 10-yard line. 
At the end of the first half, McLaurin got in front of Baker for a catch, but Baker kept it from becoming a monstrosity. 
Baker's busy afternoon continued as he made a nice play coming up on a wide receiver screen in the third quarter that forced Washington to punt the football. 
After the punt block, McLaurin beat Baker to the inside and Baker was flagged for pass interference call and a first down on the 1-yard line. This was followed up immediately by a 1-yard touchdown run by Adrian Peterson.
Corey Ballentine:  In the red zone on the first offensive possession, Dwayne Haskins was under pressure and started to scramble. Rookie Steven Sims kept working and was eventually able to find himself free in the end zone for a touchdown. Not bad coverage by Ballentine, but Haskins scrambling bought him more time. 
In the middle of the third quarter, Steven Sims made a fake on an out cut then bursting over the middle of the end zone for a touchdown. Ballentine was badly fooled on the fake, leaving Sims wide open in the end zone. 
Working from his own end zone, Case Keenum found Sims on a crossing route as Ballentine delivered very poor man to man coverage on this one. 
Corey did not have a good game as he was called for pass interference for showing 15 in the end zone giving the Redskins a first and goal with 37 seconds left in the game.
Antoine Bethea:  Bethea made a nice tackle on a reverse to Sims late in the first quarter. He held his ground well and took away what could have been a big gain. 
On the first play of the second quarter, there seemed to be confusion in the secondary which led to tight end Hale Hentges being wide open in the end zone. 
We're really not sure why this secondary continues to have issues picking up a tight end in the red zone, but it's frustrating. 
On a mid-range route to McLaurin midway through the second quarter. Bethea closed on the play well and hit the receiver as soon as the ball arrived to force the incompletion. 
In the middle of the third quarter it was rookie Kelvin Harmon making a catch over the middle for a first down. This is just another instance where the middle of the field was wide open. 
Late in the game, McLaurin got in front of Bethea for a first down in another instance in which Bethea was just too deep in coverage.
Julian Love: Love had a quiet afternoon as Washington really did not go down the field in this one. 
Early in the fourth quarter he came up and made a nice tackle on an underneath route. 
On the drive late in the fourth quarter, Chris Thompson went off tackle and Love was there to corral him short of the goal line.
Sam Beal: Late in the fourth quarter, Terry McLaurin caught an out pattern in front of Beal. 
Beal was right there to make the tackle but it gave the Redskins a first down. We would have liked to have seen him play a little tighter in that instance.
Beal had a scare when it looked like he injured his right shoulder, the one he's had two surgeries on. But he was able to return to the game after receiving some medical attention.
Special Teams
Aldrick Rosas: The Giants placekicker continued his descent from last year's Pro Bowl to this year's bottom shelf with a couple of near-misses on extra points, his lone field goal attempt of the game from 52 yards pulled badly to the left, and the ignominy of the head coach pulling him off the field with two seconds left in the fourth quarter to instead throw a Hail Mary pass rather than attempt a 63-yard field goal. 
Rosas' big leg is why the Giants aren't getting rid of him any time soon, but the young man needs to figure out what's going on in his head that's contributed to his season-long malaise. 
Rosas has missed three extra points and is only 11-16 in field goals this year. Last year he was the master of the stress-free place kick, but this year he's been sneaking too many just inside either goal post, and missing badly on his misses. 
A placekicker's game is all in his head, and that's where Rosas needs to focus his energies. Repeating his technique and trusting his leg are mental skills, but neither has been happening with consistency all year long. 
At least Rosas' struggles have occurred during a lost season where even if he hit every kick, the team's results weren't changing. He's got one more game and an entire season to think about it. 
The organization might think about hiring a retired placekicker who can manage him. Something needs to change in order to channel his talent.
Riley Dixon: Three of Dixon's punts were downed inside the 20, but the one that didn't count (due to a holding call) helped turn around the game. 
Dixon didn't have a chance when his re-punt was blocked on a rush right in his face. Before the re-punt, Dixon's initial punt was downed at the Redskins 2-yard line, a magnificent effort that was eradicated by the penalty. 
The resulting punt block made it a 70+-yard differential thanks to the penalty. 
Dixon followed up that punt with an even better punt that was downed at the 1-yard line this time. Alas, that's when the defense gave up the 99-yard drive that tied the game late in the fourth quarter, thus wasting Dixon's massive effort. 
Dixon has had three punts blocked this year (one was deflected and therefore doesn't show in the blocked punt stats), when even one blocked punt a year is a lot. Dixon didn't have a chance on any of them. 
Dixon didn't allow a single return yard and handled all of his holds sublimely. 
If there's one Giant who should have made this year's Pro Bowl, it's Dixon, who's been deserving enough.
Colin Holba:  Continuing his solid deep-snapping, we are more enamored with Holba's placekick snaps than his punt snaps. 
His punt snaps don't have a whole lot of speed on them, very similar to Zak DeOssie's slow snaps. The Giants should keep looking to upgrade this position with a harder snapper, as the speed of a hard snap gives the defense much less of a chance of blocking. 
Two of the team's blocked punts came with DeOssie snapping, one now with Holba. Neither snapper is Pro Bowl quality.
Golden Tate: The coaches put Tate back to handle one early pooch punt to fair catch, which he handled easily.
Da'Mari Scott: Getting the bulk of the punt return opportunities, Scott had two returnable punts that he returned for seven total yards, and passed up catching a late punt that was apparently at the behest of his coaches, who decided not to challenge the youngster and take the safe way out by allowing it to bounce. 
We thought had a legit chance to gather in this late punt and return it but he declined. 
Scott looked much more comfortable returning kickoffs. He got two of them and looked dangerous on both of them. 
In fact, his kickoff return to start overtime kick-started the team on its game-winning drive by returning the ball from the goal line to the 35-yard line, giving the offense good field position to get the ball rolling. 
Scott doesn't seem to have the elusive feet that the punt return job requires, he's much more of a slasher which is how the best kickoff returners are.
Cody Latimer:  Getting one kickoff return opportunity, Latimer was back to his indecisive ways after last week's pro-active returns. 
Though he managed to get the ball out from the goal line to the 27 on his lone return, the coaches correctly didn't appreciate the yards he likely left on the field and replaced him with Da'Mari Scott the rest of the way.
Antonio Hamilton:  Hamilton missed his solo gunner block on a Redskins punt, allowing his man to make a tackle on the Giants returner for a -1 yard return. It was one of the few failures from Hamilton's gunner game all year.
Cody Core: Getting two opportunities to down punts inside the 20, Core was near-spectacular with his alert plays to down one ball at the 2-yard line, the other one at the 1-yard line. 
That's some top-shelf gunner play from the team's best gunner.
Michael Thomas: On an early fourth quarter Giants punt, Thomas committed a huge, and legit, holding penalty as the fullback on the punt team, negating a great Riley Dixon punt that was downed at the 2-yard line. 
The resulting re-punt from ten yards further back was blocked, the differential leading to a quick touchdown that turned a seemingly comfortable 14-point lead into a one-score game. That's a big black mark on the special teams captain's card. 
Also of note is that on the blocked punt, Thomas as the fullback never once glanced to his left where the block came from, choosing to head downfield to his right without blocking anyone so he wasn't in a position to help cover up Josiah Tauaefa's mistake. 
The fullback is back there to handle any penetration, but he was offset to the right, leaving the left side completely naked.
Josiah Tauaefa:  The missed block on the blocked punt was Tauaefa's, who allowed his man to knife inside of him without barely getting a hand on him. 
Washington got in Riley Dixon's face so fast that the punter never had a chance to get off his punt. 
Tauaefa's assignment has to be making his block from the inside out. You never allow your man to get inside on the rush; that's football 101. 
Once you yield inside position, you're not giving your punter a chance.
Buck Allen: The Giants backup running back made the lone special teams tackle on kickoff coverage. 
Interestingly, on one of the Giants' kickoff returns, Allen was back with Scott Simonson as half of the two-man "wedge." 
It was rather comical when Simonson saw Allen veering off to the right to block when the return was apparently set up to the left, at least judging by Simonson's reaction who threw his hands up to his helmet as if saying "Where are you doing, dude?" 
I on Strategy
For weeks, everyone has been calling for SAquon Barkley to get a lot of touches, and with good reason. 
The Giants are 4-1 in games where Barkley receives 20 or more carries, and this week's game against Washington was no different.
This week, Barkly recorded 272 all-purpose yards, including a career-high 183 on the ground, touching the ball 26 times. 
We are going to focus on one of those, the 33-yard touchdown pass in the second quarter.
Barkley worked from the backfield in a three-wide receiver set against a two-deep zone. As the Giants receivers went into their routes the two deep safeties committed to them. 
As Barkley worked down the seam, a linebacker was probably supposed to go with him but never did. This left Barkley wide open in the end zone for the easy score. 
This was a classic example of how Barkley can benefit the passing game. Get him out on a route down the field and that will put pressure on the opposing defensive backfield, especially one like Washington's which was decimated by injury and which was forced to play most of the game in a very loose zone. 
Meanwhile, Daniel Jones did not force the ball down the field. Instead, he consistently took what the defense was giving him and got the ball to the receivers underneath. 
Sterling Shepard is one of the better receivers in the league at finding the soft spot in the zone and there were a lot of soft spots to be found in this one. 
Tight end Kaden Smith also must be commended for having a solid game. He is an old-school tight end who combines solid blocking skills with good hands on underneath routes. 
His blocking was a big part of the success of Barkley's being able to run the ball in the first half and it was nice to see Smith make the game-winning grab in overtime.
The defense was not very good and had the Giants not come up with a victory we might have devoted this entire column to the mistakes that were made. 
We do, however, think it's fair to say that the Giants won this game not so much because of their defense as they did their offense and that Washington was an injury wrecked mess.
The Giants played a good deal of man-to-man coverage and in certain cases, the coverage just was not very good. 
Corey Ballentine was one player who had a rough afternoon in coverage. He committed a ridiculously stupid penalty in the end zone when he drew a pass interference call after the Giants had stopped Washington (who then went on to score the game-tying touchdown).
Washington has a very good young receiver in Terry McLaurin. DeAndre Baker has been playing better of late but he had has his hands full trying to slow down McLaurin, who has shown the ability to fend off press coverage.
The Giants defensive front has quietly done a nice job against the run. They have not gotten pushed around at the point of attack and this week held the opposing running backs to just 70 yards on 23 carries. 
Overall the defensive line is not making a lot of tackles but they are occupying blocking thus allowing the linebackers and defensive backs the opportunity to come up and make plays.
The defense still has issues in zone coverage where they continue to cover space as opposed to picking up the man in their zone. 
We still are not sure why near the end zone receivers continue to run free. The Giants linebackers continue to have trouble making the transition from run to pass defense, and it's been maddening to watch. 
Luckily for the Giants, Washington really did not try and go down the field often. This allowed safety Julian Love to move up in run defense and to assist with the underneath passes. He ended the game with five unassisted tackles.
The Official Review
There are only a few things worth commenting on from this week's game, the easiest of all was the DPI call against Corey Ballentine in the end zone. 
I have no idea what he was thinking, but that was one of the easiest calls of the whole season.
The second was the holding call that caused the Giants downing of the punt on the 2-yard line to be recalled. 
Although the officials will often give the offensive team some leeway on punt plays, the hold by Michael Thomas was so egregious and happened directly in front of the punter that it could not be ignored. 
Unfortunately, the follow-up attempt was blocked leaving the Giants in a precarious position.
The next comment regards head coach Pat Shurmur's total lack of understanding of what constitutes a catch in the NFL. 
On the play that he challenged, there is not a single official that I know that would not have called the play incomplete as Tate lost the ball as soon as he came down with both feet. 
Why Shurmur continues to waste challenges and time outs on such calls is beyond me. 
It would be interesting also to know who he has in the press box that is suggesting that he make such challenges.  
Regarding the face mask garbs against Barkley, the first one was a foul, and the second one was not. 
With the umpire in the offensive backfield, there is no one that can see that foul unless the back judge happens to be looking. This is a flaw in the mechanics that cannot be addressed with a 7-man crew. 
Unfortunately in the close line play at or just beyond the line of scrimmage, such actions are often going to be missed by the officials on the field.
Finally, there is the call on the Case Keenum alleged touchdown by the New York office that in my opinion was just blatantly wrong. 
The situation was complicated by the terrible coverage by FOX on the play that caused there to not be a camera looking right down the goal line. 
When I was doing replay, I would remind the TV Director to make sure that his cameraman was on the goal line in such situations. 
What the FOX cameraman was doing 3-4 yards in the end zone is inexplicable. The view provided was almost useless.
However, when things were pieced together, it is equally inexplicable how the New York office could come to the conclusion that Keenum had not lost control before he crossed the goal line.
For once, I agreed with Dean Blandino. The ball should have been returned to the 2-foot line and a 10-second run-off should have occurred unless Washington had used its last timeout.
It is unknown what may have transpired if the play had been ruled correctly, especially with 10 seconds less on the clock, but this is just one more indication of the incompetence and inconsistency within the New York office under the direction of Al Riveron. 
Download the PDF File