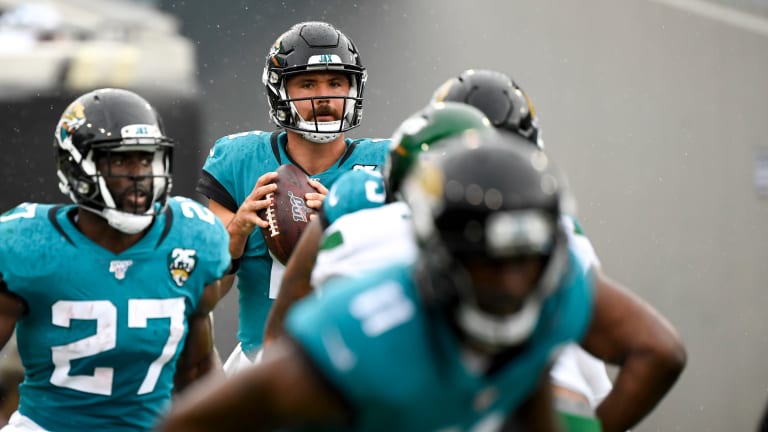 Jaguars Week 8 Rookie Report: Rookie Class Shines vs. Jets
How did Jacksonville's rookie players perform in Week 8 against the Jets?
The Jacksonville Jaguars (4-4) have gotten significant contributions from this year's crop of draft picks – varying from starters to key role players. Let's take a look at how the Jaguars stars of the future fared in Sunday's 29-15 win against the New York Jets. 
DE Josh Allen (Round 1, 7th overall)
On Saturday, I wrote that Josh Allen would collect two sacks against the NFL's worst defensive line – and, well, he did.
Allen took advantage of a porous Jets offensive line, tallying 2 tackles, 2 sacks and a forced fumble against the New York Jets – in just 28 snaps. Allen now has 7 sacks on the year, and is proving he doesn't need 45-50 snaps to wreck a game.
He's put himself in legitimate contention for NFL Defensive Rookie of the Year.
RT Jawaan Taylor (Round 2, 35th overall)
Taylor looked terrific, once again. Each week he reminds teams that they made a mistake in passing on him in the draft. His key block on Leonard Fournette's 66-yard run was outstanding, and his footwork and weight distribution improves each week. He'll have his hands full against a stout Texans defensive line on Sunday, but unlike earlier this season, he'll be up to the task.
TE Josh Oliver (Round 3, 69th overall)
Oliver played in his second NFL game on Sunday. The athletic tight end played 30 snaps, receiving six targets and his first NFL catch – a 6-yard reception in the red zone. Look for Oliver to get more involved, as the Jaguars desperately need a play making tight end to work the middle of the field and serve as Minshew's security blanket.
LB Quincy Williams (Round 3th, 98 overall)
Williams (hamstring) was one of three linebackers that missed the game due to injury.
It would be a big loss if he is unable to play against a very athletic Texans offense in London.
RB Ryquell Armstead (Round 5, 140th overall)
Armstead was largely a non-factor on offense once again, carrying the ball 6 times for 7 yards on 16 offensive snaps. Fournette was once again the primary runner (19 carries), followed by Minshew (8 carries).
The Jaguars tend to ride the hot-hand in Fournette, only sprinkling in Armstead when their punishing lead back needs a break.
QB Gardner Minshew (Round 6, 178th overall)
Minshew Magic was in full effect on Sunday. The first-year signal-caller rebounded from a rough stretch of games, finishing his day with 22-of-34 for 279 yards, 3 touchdowns and a QB rating of 128.3.
The biggest takeaway from the Week 8 victory was just how in-sync Minshew was with his wide receivers. His downfield throw to DJ Chark was thrown with pinpoint accuracy and his chemistry with Chris Conley is growing right before our eyes. He made better decisions with the football, and his mechanics resembled the Minshew of early October.
While the Jets defensive line is no slouch, the secondary has given little resistance through the air this season. He'll face a taller order this week: traveling to London, and playing a fast-flowing Houston Texans defense.
DT Dontavious Russell (Round 7, 235th overall)
The burly defensive tackle was once again inactive for the contest, his sixth healthy scratch in as many weeks. Many assumed he would see his first action since mid-September, but the team opted to dress the newly signed Akeem Spence.
Barring injuries or poor play along the defensive line, it's hard to see Russell factoring into the team's weekly game plan this season.
RB Devine Ozigbo (UDFA)
The undrafted rookie was inactive for his second consecutive week. The promising ballcarrier only played minimal snaps on special teams against Carolina and New Orleans, and has yet to compile any stats.
The six-foot, 222-pound runner is fourth in the pecking order behind Fournette, Armstead and Tyler Ervin, who has gotten the nod the past two weeks due to his superior special teams value.
S Andrew Wingard (UDFA)
In addition to his special teams duties, the hard-hitting safety also played 7 snaps on defense on Sunday. Already one of the premier special teams performers in the NFL, his role on defense should only continue to grow, as he continues to earn the coaches' trust.
LS Matthew Orzech (UDFA)
The 24-year-old undrafted free agent appeared in his eigth game as the Jaguars' long snapper.