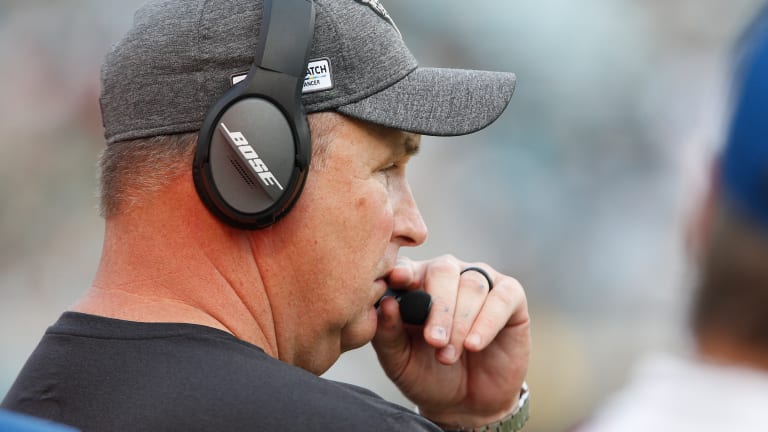 NFL Power Rankings: Week 9 - Where do the Jaguars Land?
Jaguars are back at .500 and are on the rise.
NFL Power Rankings
1. New England Patriots (8-0)
2. New Orleans Saints (7-1)
3. Green Bay Packers (7-1)
4. San Francisco 49ers (7-0)
5. Minnesota Vikings (6-2)
6. Kansas City Chiefs (5-3)
7. Baltimore Ravens (5-2) 
8. Seattle Seahawks (6-2)
9. Indianapolis Colts (5-2)
10. Houston Texans (5-3)
11. Buffalo Bills (5-2)
12. Los Angeles Rams (5-3)
13. Dallas Cowboys (4-3)
14. Detroit Lions (3-3-1)
15. Oakland Raiders (3-4)
16. Carolina Panthers (4-3)
17. Philadelphia Eagles (4-4)
18. Jacksonville Jaguars (4-4): The Jaguars do not rise or fall much here after their 29-15 home win over the New York Jets on Sunday, largely because most of the teams in front of them won or played well in close losses. With that said, the Jaguars are coming off of two straight wins and are riding a lot of momentum moving forward. If they can beat the Texans in London on Saturday, they will be  on a massive trend upwards.
19. Arizona Cardinals (3-4-1)
20. Tennessee Titans (4-4)
21. Chicago Bears (3-4)
22. Tampa Bay Buccaneers (2-5)
23. Pittsburgh Steelers (3-4)
24. Denver Broncos (2-6)
25. New York Giants (2-6)
26. Los Angeles Chargers (3-5)
27. Cleveland Browns (2-5)
28. New York Jets (1-6)
29. Washington Redskins (1-7)
30. Atlanta Falcons (1-7)
31. Cincinnati Bengals (0-8)
32. Miami Dolphins (0-7)
Other Jaguars Rankings
ESPN - #20
"Jaguars tight ends have combined for just 30 catches and are averaging only 8.4 yards per catch through eight games (second lowest in the NFL). Josh Oliver got his first two targets last weekend: He dropped the first and caught the other for 6 yards. The receivers are banged up, and Oliver needs to help offset that and give Gardner Minshew II/Nick Foles a reliable target in the middle of the field."
CBS - #14
"Gardner Minshew continues to pile up big numbers to make it a tough call to replace him when Nick Foles is ready. What happens if he outduels Deshaun Watson this week and wins?"
Bleacher Report - #17
"The Jaguars head to London next week to face the Houston Texans in a big AFC South battle. If Minshew can get the win there and lift the team to a winning record, it's going to be awfully hard to turn to Foles when he's eligible to return from injured reserve in Week 11."
USA Today - #17 
"Despite Leonard Fournette's resurgence, Jacksonville is only team in league that doesn't have multiple rushing touchowns this season."