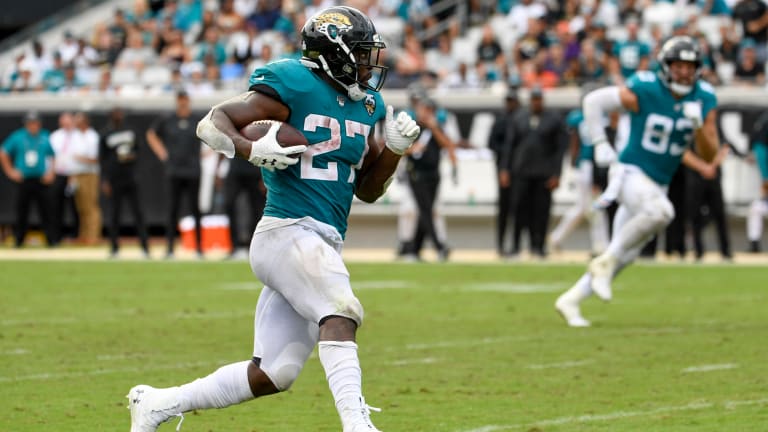 Toss That One Out: Jaguars' Coaches Reflect on Failed Goal Line Play vs. Jets
The Jacksonville Jaguars tried to get Leonard Fournette into the end zone with a toss play from the one-yard last week and, well, things didn't go as planned.
It was the toss play heard around the world. Or heard around Jacksonville, at least. 
The Jacksonville Jaguars were leading the New York Jets 22-15 last Sunday and found themselves at the Jets' one-yard line with 5:11 left to play. One more yard and the game would essentially be over. 
And only play previously, running back Leonard Fournette seemingly got into the end zone on a carry up the middle, but an early whistle by the referees strangely stopped his progress and prevented him from getting his second rushing touchdown of the season. 
The next play? The now slightly infamous goal line toss play. The Jaguars called a toss to the right for Fournette but he was met immediately by Jets defenders and ended up losing a staggering seven yards on the play. 
From arguably scoring the play earlier to taking a massive loss on the next play, Fournette was visibly frustrated walking off of the field, and justifiably so. Jacksonville scored on an eight-yard touchdown pass to DJ Chark on the very next play, but Jacksonville's coaches have still reflected on the call that nearly kept them out of the end zone. 
"I'm like, I know better than to toss the ball at the goal line. I know better," Jaguars head coach Doug Marrone said Sunday after the game. 
"[Offensive Line Coach George Warhop] 'Hop' is like, 'That's my fault. I put it in there.' Gardner [Minshew II] bailed us out on that. We can't miss opportunities like that. You know what I'm saying? We really can't."
As Marrone would note, it all worked out because Minshew made something happen on 3rd down and got the Jaguars the game-ending touchdown they needed. But it is still a play Marrone said he needs to take responsibility for as they look to improve their goal-to-goal and red-zone offense.
'We can laugh about it because Gardner made a play. I can tell you the truth of exactly how it went down with me saying that. At the end of the day, let's make no mistake about it, that is my responsibility," Marrone said. "I know everything that is in the plan. Sometimes I think that I probably don't know as much as I think I know and at that time, I think I knew exactly what I should know. I've got to do a better job with that, same with the red zone."
And on Wednesday, Marrone was asked about the toss play again. He was asked if it was even still in the playbook, and he went on to explain a story from his coaching past that relates to the situation he found himself in Sunday. 
"The story is that in 2001, I am at the University of Tennessee and we had beaten Alabama six times. We go to Alabama and we are playing there. It is the cigar game, so it is a big game. We go in there, we are on the goal line and we run it three straight times – plays that I like and put in and we get stuffed. I did not do a very good job of that," Marrone said Wednesday. 
"Another play that was in the game plan, which I had not put in was a toss play. It goes to Cedric Stephens, a kid we had from Clarksville. A good kid, a great player. From what I remember it was a fourth down and we are like, 'We are going to go for it, and we are going to call a pitch.' I knew I did not like the play, but I did not want to say anything because my other three plays got rocked. We pitch the ball, he goes in there to the pylon for a touchdown and we beat them for the seventh straight win."
And like Marrone said Sunday, he did not feel then that he is a coach who knows everything and has to outsmart everyone else. So when asked if the toss play was still in the playbook, he said he didn't want to make a definitive statement, but he did imply it is something that is unlikely to be seen again in that exact situation.
"I am one of those guys that I do not know everything and things can work and I appreciate what they do, so I keep an open mind to things," Marrone said Wednesday. "That is why I am not one of those guys [to say], 'We are never doing that.' But that one you might not see for a long time, at least until after I am done coaching. You might see [the pitch play], but not in that formation."
For the person who called the play, Jaguars offensive coordinator John DeFilippo, he said Thursday that he thought it was the play that gave Jacksonville their best chance to score but it is just one of over 500 plays he's called this season. When you call that many, some are going to look like that seven-yard loss did. 
Chances are, the toss play from the one-yard line won't be one of the next 500 plays that DeFilippo calls. And as the impressive first-year Jaguars coordinator and Marrone each try to get Fournette into the end zone more to reward their workhorse back who has excelled in every area of his game this season, the coaching staff will remain positive and continue going back to him.
"I talked to Leonard the other day. We were talking about things, and he is in a good place," Marrone said Wednesday. 
"I think it is just one of those things where you look at the articles of how many carries and what he should have and what it should equal to and things of that nature. He wants to help, he wants to produce, and he wants to win games. If you give him the ball on the 1-yard line and we are not scoring, it is a lot of people that are responsible for that. There are a lot of people that take a lot of pride in it and there is no doubt that we have to do a better job."