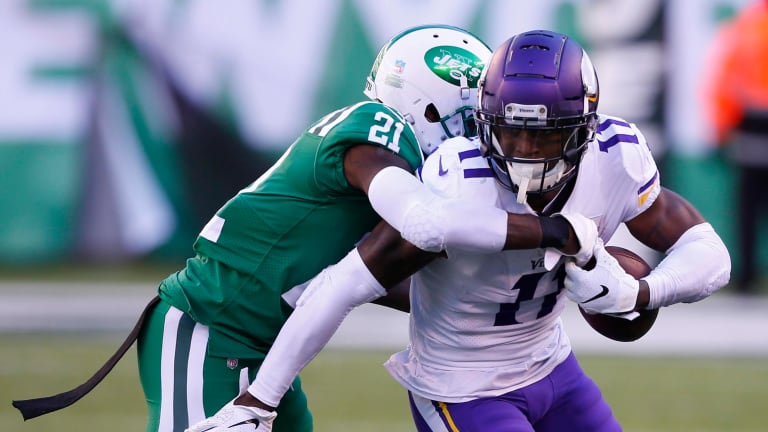 WATCH: Acquiring Laquon Treadwell is a risk worth taking for the New York Jets
A prototypical X receiver is still a need and acquiring Laquon Treadwell could be a good, low-risk move to address this issue.
The New York Jets are a little over a week away from the start of the 2019 NFL season, but there's still plenty of work to do before their Week 1 opener against the Buffalo Bills - especially with their receiving corps. That's not a knock on the talent level of this group of pass-catchers, however. 
Gang Green's receiving corps features quality possession receivers and a dangerous deep-threat in Robby Anderson. Yet, this receivers group needs a big, physically-imposing presence on the outside.
The Jets partially addressed this issue by signing Quincy Adeboyejo late last week and at 6-feet 3-inches tall, his physical attributes provide the team with the kind of receiver that the team needs in the red zone. However, the likelihood that he'll be an immediate fix is pretty slim.
Adeboyejo is a career practice squad player who saw game action just once during his three-year career: a Week 17 game against the Cincinnati Bengals in 2017, and it wasn't exactly the best showing for the Ole Miss product.
Despite having all the physical tools to make an impact, the 24-year-old saw the field on just 28 percent of Cincy's offensive snaps and didn't garner a single target when he saw the field. Clearly, expecting above-average production out of a wideout with that kind of resume screams that receiver is still a pressing need for a team that's seemingly poised to put the NFL on notice in 2019.
Free-agent receivers like Dez Bryant (6-feet, 2-inches tall, 220 pounds) and Kelvin Benjamin (6-feet, 5-inches, 243 pounds) are still looking for work right now and easily fit the mold of what New York needs, but signing a veteran receiver with limited upside, like the aforementioned two, could be more expensive than the Jets would like. However, testing the trade market might provide Gang Green with the kind of receiver they need: Laquon Treadwell.
The No. 23 overall pick in the 2016 NFL Draft, Treadwell is teetering towards bust status as he enters his final year with the Minnesota Vikings (team declined his fifth-year option), but at just 24-years old, a change of scenery could help him realize his untapped potential. 
Originally compared to DeAndre Hopkins coming out of college, Treadwell checks all the boxes to be the big physical compliment (6-feet, 2-inches tall, 215 pounds), and his game centers mostly around his size and physicality. The Ole Miss product is strong enough to bully defensive backs out of his way at the line of scrimmage and is a jump ball specialist (especially in the red zone), capable of outmuscling defenders for contested passes. 
The fourth-year wideout also possesses good spatial awareness and a keen understanding of positioning when facing zone coverage, giving his quarterback a good window to throw into when he finds open space in the secondary.
The main knock on Treadwell is that he doesn't have the field-stretching speed needed to intimidate defensive backs into playing off-man coverage before the snap, but he's deceptively quick out of his breaks thanks to his clean footwork at the peak of his routes and, due to his strength, he's capable of shaking off defenders to pick up yards after the catch.
Treadwell's upside is definitely worth investing in considering the Jets lack an effective receiver with his kind of skill set, but what's most appealing is that he's arguably the best cost-effective option that they can acquire right now. Per Over the Cap, the Jets would be on the hook for just $1.8 million of the $3.1 million that Treadwell is slated to make this season, which will barely eat into the $11.8 million of cap space New York currently has (Top 51 contracts only, according to Spotrac).
The Vikings have made it clear that they're intent on trading Treadwell before the end of the preseason, but with the final cut day of the preseason just on the horizon, the clock is working against Minnesota.
The longer they wait to trade Treadwell, the more likely it is that the Vikes will lower their asking price in order to recoup anything they can for the 24-year-old, which should allow New York to acquire him for a bargain price. Or, if all else fails, the Jets could really take their chances and wait until final cuts are complete, as Treadwell is regarded by some pundits as a surprise cut candidate.
He'll have little margin for error if the Jets decide to give him the second chance he desperately needs, but striking a deal for Treadwell is the kind of low-risk move that New York should seriously consider. If Treadwell can realize his potential in the Big Apple, he'll completely round out Gang Green's receiving corps in 2019. If Treadwell fails to produce like New York hopes, the Jets can release him at any point without incurring any dead money, all at a minimal cost.
What do they have to lose?