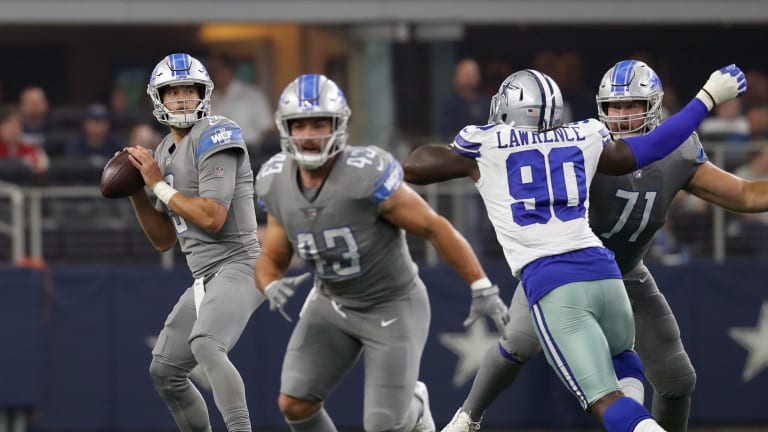 3 Things Lions Must Do to Defeat Cowboys
3 things Brandon Justice believes the Lions must do to win Sunday
A week removed from a road loss to Chicago, Detroit (3-5-1) hosts Dallas (5-4) in an attempt to keep its nearly improbable playoff hopes alive while looking to play spoiler to the Cowboys' postseason chances.
Following a 3-0 start to the 2019 campaign, Dallas has gone 2-4. 
Of its five victories, only one has come against a team with a winning record -- the Philadelphia Eagles, which stand at 5-4. 
Those five teams the Cowboys have beaten are a combined 10-27.
Detroit's five losses, meanwhile, have come against four teams with winning records plus the 4-5 Bears.
The five teams that Detroit has lost to have a combined record of 30-18. 
Meanwhile, the three teams it's beaten have a combined 12-18 mark. 
Both teams have defeated the Giants and Eagles, and have lost to the Packers and Vikings.
Despite Dallas being in first place in the NFC East and Detroit being more or less out of the playoff picture, it wouldn't be surprising to see the Lions come out on top if Matthew Stafford returns from injury.
In order for the Lions to win Sunday, three things must occur: 
1. Stafford needs to be healthy
As a franchise out of playoff contention in 2019, there's no need to push the veteran quarterback back onto the playing field and risk him further injuring his back. 
However, in order to win this game and most games left on the Lions' schedule, Detroit's going to need Stafford behind center.
The Lions, despite their less than optimal situation, possess one of the NFL's most potent offenses when Stafford is in. 
Recommended Lions Articles
Despite its woes against Chicago last week with backup Jeff Driskel under center, Detroit still enters Sunday's contest with Dallas as the sixth-best total offense and fourth-best passing offense in the league.
Without Stafford, Darrell Bevell's offense was the 14th-best unit in the NFL last week.
Stafford must play in order for Matt Patricia & Co. to beat the Cowboys in this Week 11 matchup.
2. Force Cowboys QB Dak Prescott to make mistakes
Dallas' four losses have been the four games in which the Cowboys have produced their four lowest point totals of the season.
Prescott, additionally, threw an interception in three of the four losses -- five total INTs in the four games.
He also passed for under 300 yards in each loss.
Detroit's 28th-ranked passing defense will have to rise to the occasion, especially Darius Slay. 
Slay will be tasked with covering star Dallas wide receiver Amari Cooper.
3. Send pressure off the edge
The Cowboys have one of the premier offensive lines in the NFL.
Meanwhile, Detroit's rushing defense ranks 26th, and its sacks per game average -- 2.1 -- ranks 27th.
The Lions won't create pressure by simply sending three or four linemen against this stout of an offensive line.
However, mixing up the designs -- maybe blitzing a nickel here and there -- along with sending unique pressures via Jahlani Tavai, Jarrad Davis and various others could prove to be effective and make a difference in the final outcome. 
More: Is Taylor Decker Turning the Corner?