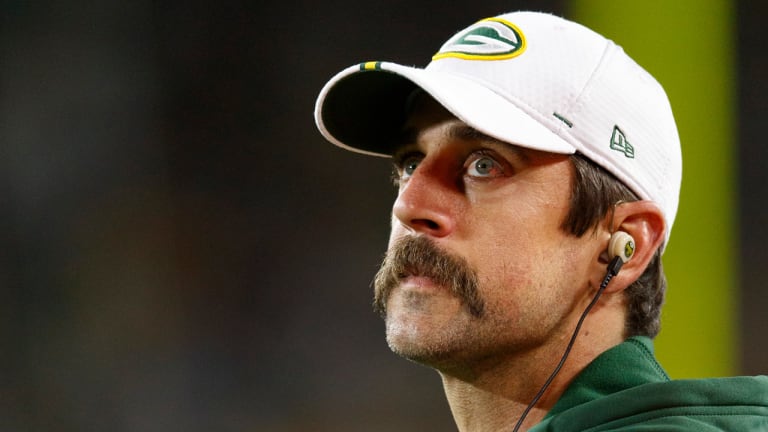 Rodgers details ideal retirement scenario
Aaron Rodgers would like to "ride off into the sunset" in style
Aaron Rodgers has said repeatedly that he'd like to play into his 40s.
Appearing on "The Rich Eisen Show" on Friday, Rodgers outlined his retirement goal.
"Yeah, win the Super Bowl when I'm 45 and ride off into the sunset," he said.
That would be the 63rd Super Bowl, which will be played sometime in February 2029. By that timeline, Rodgers has almost a decade's worth of chances to add a second (or third or fourth) championship to his considerable resume.
Is it possible for Rodgers – who will turn 36 in December – to extend his career that far into the future.
"We'll see," Rodgers said. "I envision playing as long as my body feels good and I have the love for the game that I do right now that still fuels me and is still a passion. And I still love the daily grind and the practice and the preparation. If I can give everything to a team in that manner and my body feels good, I'm going to keep rolling."
A week ago, Indianapolis Colts quarterback Andrew Luck stunned the football world by announcing his retirement just a few weeks shy of his 30th birthday. Luck had grown weary of the never-ending rehab from injuries and decided to start living his future before his body was even further broken down.
When will Rodgers know it's time to be done?
"I think it's when the love affair with the game is not there and/or if your body is not functioning the way you want it to," Rodgers said at his locker on Monday. "But hopefully that's many years from now."
Over the past six seasons, Rodgers has battled two broken collarbones and last year's knee injury and fracture. His season ended with a concussion in the finale against Detroit. It was at least the third concussion of Rodgers' professional career.
While head trauma is front and center in the fight for player safety, Rodgers believes technology will provide the solutions.
"Any time you've had a concussion or a couple concussions, the following days are always thinking about what it's going to be like" as you get older, Rodgers said at his locker. "But I think with medicine the way it is and the research the way it is, there's going to be more and more things that can help guys down the line to feel better hopefully."
And there was this bombshell: