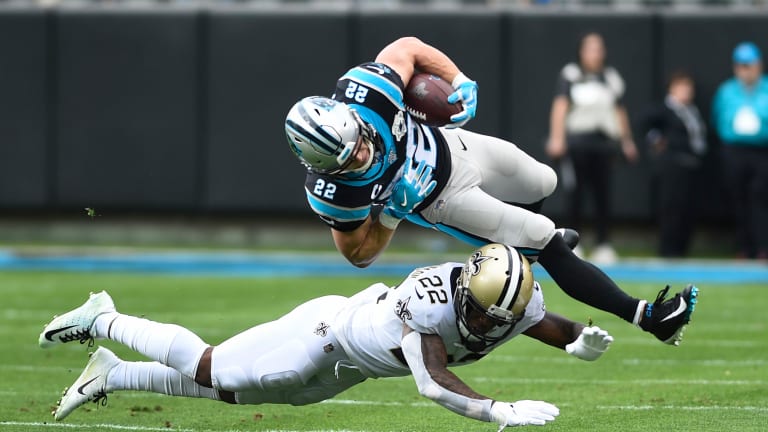 Gameday Live Blog / Open Thread: Panthers vs. Saints
It's easy to join the conversation. Just click the "follow" button in the right corner of the site, then log in with either Facebook or Google to discuss.
It's almost time for kickoff at Bank of America Stadium for the game between the Carolina Panthers (5-10) and the New Orleans Saints (12-3). It's 64 degrees and cloudy with a chance of rain in Uptown Charlotte.
This is the 51st meeting between the Panthers and Saints, with the series tied 25-25. New Orleans won the last time these teams played, 34-31 on Nov. 25 at the Superdome.
Carolina has lost eight straight games, most recently last week's 38-6 defeat at the Indianapolis Colts. The Panthers last victory was a 30-20 win over Tennessee on Nov. 3.
The Saints have clinched the NFC South division and jostling for the top seed in the NFC playoffs. New Orleans can claim the top spot and home field advantage throughout the post season with a win today, a Seattle victory at San Francisco and Green Bay losing at Detroit.
Carolina's Christian McCaffrey is positioned to make history in a variety of ways today. He needs 155 rushing yards to break DeAngelo Williams's single-season team rushing record (1,515), can potentially become the first player in Panthers history to win the NFL's rushing title and could also lead the league in receiving yards by a running back. McCaffrey is 67 yards away from becoming the third player in league history to have 1,000 yards rushing and 1,000 receiving in the same season (Roger Craig, 1985; Marshall Faulk, 1999). He'll break the record for scrimmage yards in a season with 216 today (Chris Johnson totaled 2,509 in 2009).
No Shaq Thompson, no DJ Moore today for Carolina.
Carolina wins the toss, differs to second half. New Orleans getting the ball first.
Touchback. Saints starting on their 25.
Alvin Kamara caps off a eight-play, 75-yard drive with a 15-yard touchdown. PAT is good, Saints lead 7-0 with 10:48 remaining in first quarter.
Touchback. Panthers start at their 25, go three and out. Palardy punt pins Saints at their own 11.
Back to Kamara's score: It was the 30th rushing touchdown allowed by Carolina this year and one short of the NFL season record.
Carolina recovers to force Saints to punt after three downs. Panthers 1st and 10 from their 42.
There's 1:04 remaining in the first quarter -- and New Orleans already has 11 first downs. Saints 1st and goal from the Carolina 1. BTW: Carolina has yet to record a first down.
Kamara scores from a yard out, 14-0 Saints with 1:01 remaining in the first quarter. Drive was 10 plays, 80 yards, 6:21 of gameclock. 
Carolina's Will Grier is 1-5 for 4 yards. Hasn't been sacked, but has been hit pretty good, especially on a couple of scrambles.
Saints punt, Carolina ball at its 39. There's 13:46 left in the first half as rain begins to fall.
Grier fumbles handoff to McCaffrey, Saints ball at the New Orleans 32. Had advanced to that side of the field via a pass interference penalty against Saints.
A.J. Klein, a former Panthers linebacker, picks off Grier at the New Orleans 14 and returns it for a touchdown. It's 21-0 Saints with 12:04 remaining in the first half.
Grier sacked by Jordan on third down, being helped off the field by the training staff with his helmet off. Limping after clutching knee.
Grier is 1-8 for four yards, been sacked once for a seven-yard loss.
Brees to Smith four a 1-yard touchdown, capping a 9-play, 65-yard drive. Saints lead 28-0 with 6:27 remaining in the first half.
Grier has a foot injury, doubtful to return.
Kyle Allen in at quarterback. Panthers go three and out.
McCaffrey has two receptions for 12 yards. 
Brees to Cook for 21 yards. Saints now up 35-0
Allen to McCaffrey for 26 yards and then they connect again for 5 yards to the New Orleans 19. McCaffrey needs 22 yards for 1,000 receiving yards on the season.
Panthers get to the 5-yard line, but can't get into the end zone on three tries. Joey Slye trots out to kick a 23-yard field goal to make it 35-3 with 32 seconds remaining in the half. Boos echo through a half-filled stadium.
HALFTIME ANALYSIS
Panthers have had little success doing anything on offense, including converting third downs. Carolina has converted only one of seven.
Allen looks way more comfortable than Grier. He's completed 8 of 11 attempts for 78 yards and is working through his progressions.
Rushing defense is still non-existent for Carolina. New Orleans already has 96 yards on the ground.
Penalties have hurt Carolina, which has been flagged four times for 49 yards. Three of those flags produced first downs for the Saints.
THIRD QUARTER
After a penalty, Panthers start at their 47.
Grier not coming back. Went 1-8 for four yards.
Greg Olsen on sideline without his helmet. Caught two of six targets for 12 yards in what might be his final game.
Brees to Hill for a 45-yard touchdown. Drive was eight plays, 75 yards. Saints lead 42-3 with 4:24 remaining in the third quarter.
Allen forced to scramble to his right, hits McCaffrey for a 17-yard gain. McCaffrey now has 67 yards receiving in the game and 1,000 on the season.
Allen hits Brandon Zylstra for a 40-yard gain. First and goal from the New Orleans 3.
McCaffrey gets in from a yard out. Saints lead 42-9 with 32 seconds remaining in the third quarter. Drive was nine plays, 75 yards.
END OF THIRD QUARTER
McCaffrey needs one more touchdown to tie DeAngelo Williams' 2008 franchise record of 20 total touchdowns. And a receiving touchdown would make him the fourth player to have at least 15 rushing touchdowns and five receiving touchdowns in a season (OJ Simpson, 1975; Marshall Faulk, 2000; Ahman Green, 2003).
Brees out, Teddy Bridgewater in. Brees finished 19-30, 253 yards and three touchdowns.
Panthers have the ball at their 16-yard line with 6:11 remaining. McCaffrey is on the sideline sans helmet.
Two-minute warning. Panthers have 2nd and goal from the New Orleans 9
Live shot of Greg Olsen put up on the video boards along with his career stats. Gets nice ovation from the few fans who are left.
Allen picked off by Jenkins in the end zone. There's 1:48 remaining.
FINAL
Saints 42, Panthers 10