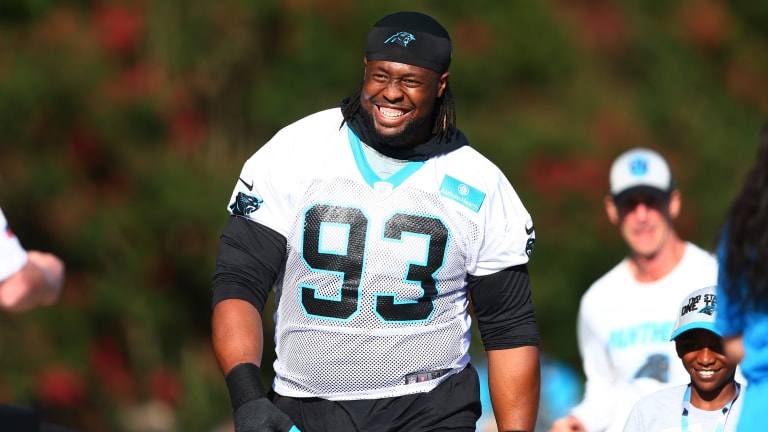 Gerald McCoy, Kawann Short Building Incredible Bond this Offseason
"The bond we're building is getting to the point where if anybody even looked at him wrong, I'm going to be right there." Gerald McCoy about Kawann Short.
Gerald McCoy is one of the most talented free agents to join the Carolina Panthers in recent years.
The six-time Pro Bowler spent his nine years in the NFL with the Tampa Bay Buccaneers. Everything that he knew about life in the NFL was related to Tampa Bay. Therefore, the transition to another team became very difficult -- especially his family and social life.
After building a family, relationships and friendships -- how do you move on and enjoy a new life? McCoy took all these things in consideration, and was hoping that he could quickly connect with some of his teammates.
McCoy broke down this process of a new life after one of the Panthers' training camp practices, per Panthers team reporter Max Henson.
"I've got a wife and five children, and after signing a contract to be away from them, you want to feel comfortable and not feel homesick or looking over your shoulder like, 'Man, who am I going to connect with?'" McCoy said. "You can feel like a loner."
Who better to give McCoy company, than the two-time Pro Bowl defensive tackle Kawann Short.
"That's been my guy," McCoy said. "The bond we're building is getting to the point where if anybody even looked at him wrong, I'm going to be right there."
Short feels the same exact way, and he's built up incredible respect for McCoy.
"He was pointing out little things I could do better," Short said. "He's got so many accolades, he could easily just try to come in and do his own thing. But he wants everybody to succeed. His IQ is just unbelievable. He's taught me so much about what to look for. He's elevating my game."
Carolina's defensive line coach Sam Mills III has been watching this relationship grow, and he knows how deadly it could be for opposing offenses.
"They look to get each other going," Mills III said. "That's what happens when you have two elite players at the same position. They push each other. And they're both very intelligent, so they work off each other seamlessly."
Short and McCoy will have a ton of help this season, with players like Bruce Irvin and Brian Burns coming off the edge. They'll also have Luke Kuechly and Mario Addison to help seal the line and rush the passer. With this built chemistry -- there isn't much that will stop the Panthers' defensive line.