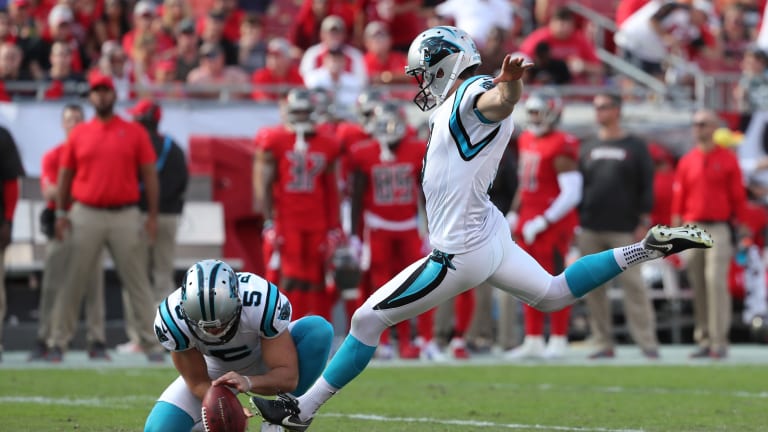 Graham Gano Wearing Left Knee Brace at Training Camp
After Graham Gano missed the first preseason game, he showed up to practice on Sunday with a brace on his left knee.
The Carolina Panthers could head into the 2019 season with uncertainty at the kicker position.
Graham Gano missed the final four games last season with a left knee injury, and it seemed that he made a full recovery over the offseason. But, he missed the Panthers' first preseason game against the Chicago Bears with knee soreness, and he was spotted at training camp on Sunday with a knee brace on.
Although these could just be precautions -- it's very likely that Carolina is looking at backup options for the position. Currently, the Panthers are testing out Joey Slye, who made all three of his field goal attempts and didn't miss a point after attempt. Slye has an incredible story, and will fight for a place in the NFL.
Gano has a career field goal clip of 82.1 percent and put up an incredible season in 2017, where he connected on 96.7 percent of his field goals. The only issue with Gano is that he signed a four-year, $17 million contract -- so he weighs heavy on the team's salary cap.
The Panthers seem to confident about Gano going forward -- this is just something to monitor.
He was able to kick on Sunday, according to The Athletic's Jourdan Rodrigue.