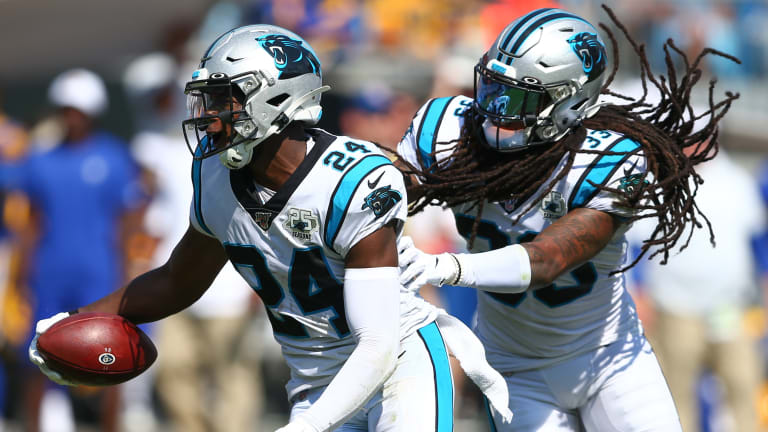 PFF: James Bradberry Led Panthers With Highest Grade Against Rams
James Bradberry played exceptionally for the first game of the season during his contract year.
The Carolina Panthers had some positives to take away from their 30-27 loss to the Los Angeles Rams on Sunday.
Defensively, the Panthers played better than the scoreboard reflected. Los Angeles was held scoreless in the first quarter and they eventually worked their way to a 49-yard field goal. Quickly after, the Panthers fumbled on a backward pass from Cam Newton and the Rams began with the ball on Carolina's 10-yard line -- resulting in an easy touchdown.
There was also Christian McCaffrey, who racked up 209 yards from scrimmage and was an absolute monster. He covered up some of the blemishes on the offense, and D.J. Moore looked good also -- aside from the ball security issues.
One player that stood out the most was James Bradberry -- who finished the game with one sack, one interception and four tackles. He finished as the Pro Football Focus' highest graded player, with a 90.5 grade.
His interception came in perfect timing during a fourth quarter in a moment that needed a momentum swing.
Kawann Short, McCaffrey and Shaq Thompson were the following three players to make the list.