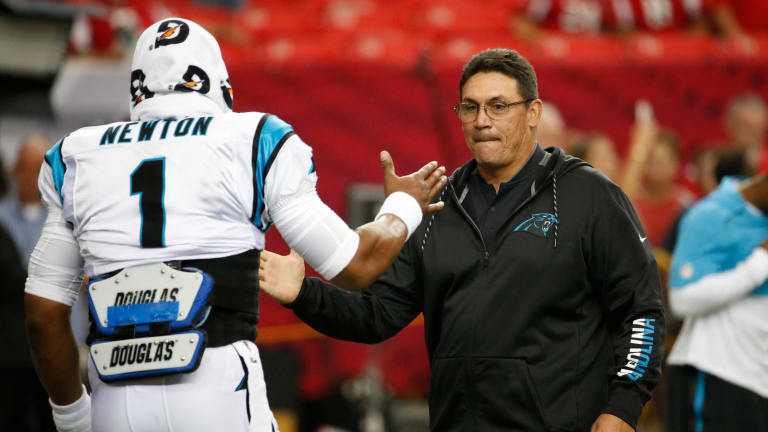 Ron Rivera on Cam Newton's Week 1 Return: 'No Doubt in My Mind'
Ron Rivera has full confidence that Cam Newton will be ready for the Week 1 matchup against the Los Angeles Rams.
The Carolina Panthers should be in good shape for their Week 1 matchup against the Los Angeles Rams.
The team was concerned that Cam Newton would miss the game after suffering a mid-foot sprain during the third preseason matchup. Ron Rivera cleared things up after Tuesday's practice, and reassured the fact that Newton will take the field.
Carolina put together an extremely talented roster this offseason, but they need Newton to piece it all together. The defense is slowly jelling and finding their groove, but the backup quarterback situation is less than ideal right now.
Kyle Allen and third-round pick Will Grier were competing for the backup role, but neither of them were able to separate and take the position. This made the Newton injury so much more detrimental -- and increased the significance of Rivera's announcement on Tuesday.
The Panthers will play their final preseason game on Thursday against the Pittsburgh Steelers, and then they'll matchup with the Rams at home for their first regular season game.