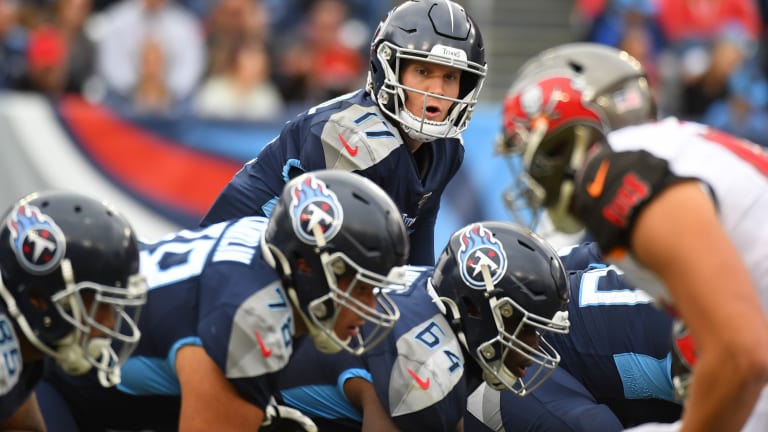 The Other Side: Tennessee Titans
David Boclair of SI Titans Maven gives his take on how things look from Tennessee's perspective heading into Sunday's game with the Panthers.
Q: Tennessee stumbled early, starting off 2-2 before slipping to 2-4. But a quarterback change -- replacing Marcus Mariota with Ryan Tannehill -- has coincided with a two-game winning streak. Is it a coincidence or is there a direct correlation?
A: The quarterback change has been a big part of it. The Titans have been much better on third down (particularly third-and-medium and third-and-long) than they were under Mariota. Of the offense's eight touchdown drives of 70 yards or more, four have come in the last two weeks, and three of those four included multiple third-down conversions. ... The defense helped last week with two turnovers that gave the ball to the offense at the Buccaneers' 10 and 6-yard lines. ... Plus, fourth-down stops late in each of the last two games allowed the Titans to overcome some questionable coaching decisions.
Q: The Titans have yet to find some continuity along the offensive line, with them rolling out multiple combinations all season. Why has the franchise struggled to build a cohesive unit and will it continue this week with center Ben Jones dealing with a concussion?
A: The unit they have had the last four games is the one they planned on all offseason. Left tackle Taylor Lewan was suspended for the first four games, and rookie right guard Nate Davis missed the first four games an injury that sidelined him for most of training camp and all of the preseason. The hope is that with more time together, that unit will improve. Left guard Rodger Saffold, a high-priced free agent addition, has been disappointing, particularly in pass protection. ... Saffold and center Ben Jones are both currently in the concussion protocol, which has created a great deal of uncertainty about that continuity for this week. Jones has never missed a game in his NFL career. The Titans re-signed Hroniss Grasu (Marcus Mariota's college teammate an current roommate) today. He is obviously the backup plan at center.
Q: Tennessee's defense has developed into one of the best in the NFL, surrendering only 16.9 points per game, pressuring quarterbacks (22 sacks) and producing turnovers (eight interceptions). What is it about the defense that makes it so productive? Scheme? Personnel? Both?
A: It is a mix of personnel and scheme. The Titans blitz a lot but when they do it's usually just one guy added to the rush. The challenge is for the quarterback and offensive line to figure out which one -- it could be pretty much anyone at any time. Twelve different players have at least half a sack, including cornerback Logan Ryan, who is second on the team with three and a half. ... Defensive lineman Jurrell Casey and safety Kevin Byard are Pro Bowlers. The cornerback depth is as good as it ever has been with this franchise, and 2018 first-round draft pick Rashaan Evans is the leading tackler and playing as well as expected after injuries slowed him last year.
Q: What about the Panthers most concerns Tennessee?
A: Christian McCaffrey -- obviously. ... Tight ends have been consistently productive against the defense, including guys not nearly as accomplished as Greg Olsen. ... Carolina's front seven is productive, particularly in the pass rush. That is a big concern given the struggles the Titans have had with pass protection.
Q: What are your predictions for the game?
A: This is exactly the kind of game the Titans have lost too often in recent years. They have won a couple games and have built some momentum but did so against flawed opponents. They have not beaten a team with a winning record (or any team that has been particularly good) this season. ... I expect the Panthers will sack Tannehill several times and force two or three turnovers, which will be too much for the offense to overcome. Carolina's offense will have its share of three-and-outs but also will have a handful of big gains. 
In all, Carolina will get the better of the field position battle and win a fairly low-scoring game, something like 20-10.
For more about the Titans, visit si.com/nfl/Titans and follow David on Twitter at @BoclairSports.