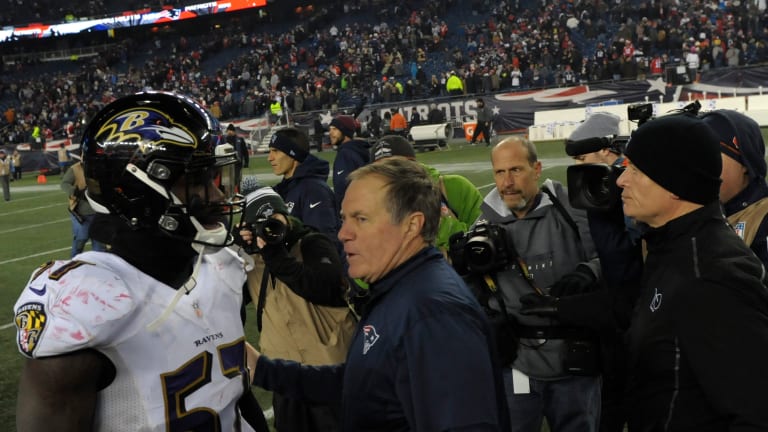 Patriots Won't Even Try to Emulate Lamar Jackson in Practice
Baltimore, New England preparing for Week 9 showdown
Bill Belichick knows Ravens quarterback Lamar Jackson is a special talent.
In fact, the New England Patriots coach acknowledged that he doesn't have a player that can replicate Jackson's skills during practice heading into their Week 9 showdown on Sunday night.
"We don't have a guy. I don't know if anybody else in the league has a guy, either," Belichick said in a conference call with the Baltimore media. "He's a very talented player with a great skillset that's unique. So, that will be a big challenge for us to try to do that, no question."
The undefeated Patriots (8-0) face perhaps their toughest test thus far in Baltimore, which is in first place in the AFC North. 
New England is favored by 3.5-points -- its lowest point-spread of the season.
The game represents the old guard of the NFL in Tom Brady against Jackson, a new-generation playmaker. 
This matchup also features the NFL's Top 2 scoring offenses, with New England averaging 31.3 points per game and Baltimore owning a 30.6 ppg mark. 
The Patriots boast the NFL's top scoring defense (7.6 ppg allowed), while the Ravens stand No. 2 in total offense (434.9 ypg)
The Ravens had some tough battles against Brady over the years and know what to expect. The future Hall-of-Famer has won six of seven regular-season games against Baltimore. He has thrown for 1,892 yards with nine touchdowns and four interceptions over that stretch.
Jackson is making his first appearance against New England and its ferocious defense that has 25 takeaways this season. 
Still, Belichick is wary of the matchup. 
Jackson is currently ranked sixth among all players with 576 yards rushing with three touchdowns on 83 carries. He also has completed 136 of 215 pass attempts (63.3 percent) for 1,650 yards with 11 touchdowns and five interceptions. 
Jackson has more rushing yards than five NFL teams: Chargers (556), Falcons (548), Bengals (476), Dolphins (460) and Jets (447). The Ravens are 9-0 when Jackson runs for at least 70 yards in a game. 
"Every team has good players and good coaches and schemes that they have developed for their personnel," Belichick said. "And then there'll be a game plan, as to how we get attacked by that team, and it's different every week. So, yes, that's the challenge that we face on a weekly basis, and we'll just, again, do the best we can to prepare for it."
The Ravens also might have an added advantage coming off their bye. 
"Baltimore with the extra week to prepare is going to do some things that we haven't seen and give us some different looks, and we'll have to be ready for that in all three phases of the game," Belichick said. "But that's the way it is."