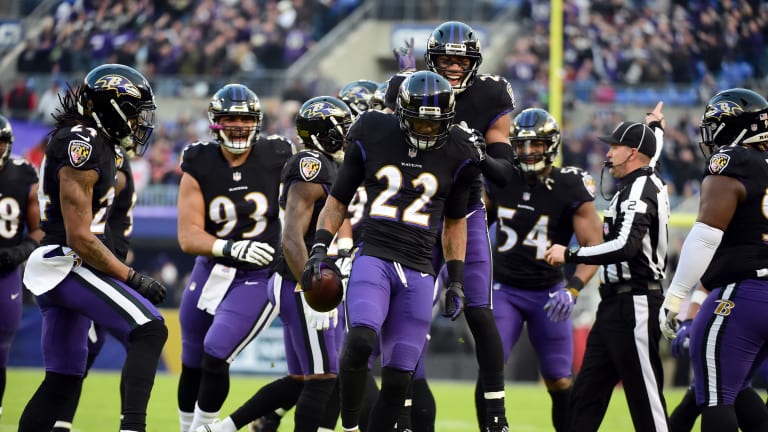 Ravens Cornerback Jimmy Smith Expects to Be Back in the Lineup Against Patriots
Veteran playmaker was injured in the regular-season opener
The Baltimore Ravens secondary will get a boost with the return of veteran cornerback Jimmy Smith, who has not played since the regular-season opener because of a knee injury.
Smith had to leave in the first quarter Sept. 8 against the Miami Dolphins with a Grade 2 MCL sprain. He has spent the past seven weeks rehabbing at the Ravens practice facility. 
Smith is not worried about any rust because of the layoff. 
"Knees are a little different," Smith said. "I just take it day by day, working hard with the trainers and just making sure I feel good and taking care of the rest of my body, because sometimes in rehab, that stuff kind of goes away. But we worked hard every day with that and made sure I could cut and do everything I needed to do to get out here for this week."
The Ravens secondary has struggled with Smith out of the lineup and is ranked 26th against the pass, allowing 265.4 yard passing per game.
The defensive backs have played better over the most recent three-game winning streak.
The Ravens (5-2) acquired cornerback Marcus Peters in a trade with the Rams. Peters made an immediate impact with a pick-six against the Seattle Seahawks in Week 7.
"You can definitely tell we're still gelling as a unit, but it's Week, what, 9? So, we still have a lot of time. I think the way that they're playing and starting to understand each other, I think we're going to just keep getting better," Smith said.
The Ravens will face their toughest test to date against Tom Brady and the Patriots. 
New England is the NFL's highest-scoring offense, averaging 31.3 points per game. Brady has thrown for 2,251 yards with 13 touchdowns and just four interceptions over eight games. He has also won six of seven regular-season meetings against the Ravens.
Brady's favorite target is Julian Edelman, who leads the team with 53 receptions for 574 yards and four touchdowns. 
"You know, Tom [Brady is] running the show," Smith said. "Quick decision-making, they executive well, they're going to run the ball. The pass game they do have with Edelman, And the difference is that they don't have [Rob] Gronkowski, and then Aaron Hernandez before, when they had him. But [it is the] same Patriots team, yes."
Smith has plenty of support in the secondary with Peters and two other top-notch cornerbacks in Marlon Humphrey and Brandon Carr. Earl Thomas is a six-time Pro Bowl pick at safety and Chuck Clark is emerging as top young playmaker.
"We have a lot of pieces, a very strong secondary that we can match up well," Smith said. "With our scheme and the type of talent we have, we can be kind of dangerous back there."