Saints Report Card vs. Washington Football Team, Week 5
The New Orleans Saints' performance report card from their victory over the Washington Football Team on Sunday, Oct. 10.
The New Orleans Saints' performance report card from their victory over the Washington Football Team on Sunday, Oct. 10.
OFFENSE (B-)
Quarterback (B-)
Winston recorded a 15/30 (50%), 279 yards, 4 TD, 1 INT, 1 Fumble, and 108.2 QBR performance against Washington.
To be fair, Winston's interception and fumble were results of poor blocking from two stalwarts - Ramczyk and Peat.
Ball security and 50% throwing could have contributed in a much lower grade, but in WINSTON BALL, it's not weighed as heavily.
Taysom Hill's injury (concussion) could be an issue going forward.
Running Backs (B)
Kamara was the main bellcow after the injuries to Tony Jones Jr. and Dwayne Washington was dinged up in the game.
Kamara Rushing: 71 yards off of 16 carries and 1 touchdown scamper.
Finally got him involved in the passing attack.
Winston had Kamara open several times underneath where the All-Pro running back could've inflicted more damage on Washington.
Even after the bye week, the offense should continue to run through Kamara.
Receivers (B-)
Marquez Callaway, Alvin Kamara, and Deonte Harris found the endzone in the passing game.  
Winston's bombs to Callaway and Harris were backbreakers for WFT.
The tight ends again were not a factor. Although Trautman's 32-yard reception setup the Saints into scoring position in the 4th quarter.  Johnson was targeted once.   Better blocking for the tight ends in Week 5.
Kamara Receiving: 5 receptions on 8 targets (a couple of drops), 51 yards, and 1 touchdown.
Offensive Line (C)
What's going on with Ramczyk is highly alarming.   For four games, the newly-minted high-dollar OT is getting pushed around by speed rushers.
Peat stepped on Winston's foot and contributed to the intercepted pass.
If McCoy and Armstead can return in a few weeks, the o-line will rebound.
Throckmorton, Clapp, and Hurst have done their best considering the injuries.
---
---
DEFENSE (B-)
Defensive Line (B-)
Cam Jordan has a five-game sack drought.  RED FLAG
Besides 3 QB hits from linebacker Demario Davis, the defensive line could only sack Heinicke once (Granderson), and register 5 QB hits (Kapassagnon-2, Granderson-2, Jordan-1).
No 100-yard rusher.  Still, the WFT rushers has 33 carries for 131 yards for a 4.0 yards/carry average and 2 touchdowns.
Defensive Backs (B-); Lattimore (A-)
Lattimore was outstanding with six passes defended against McLaurin.
12 passes defended as a unit.
2 interceptions (Paulson Adebo and P.J. Williams)
Adebo notched his second interception of the season.  Both within the redzone.
Safeties were up and down at times.  Gardner-Johnson has not had a "Ceedy Duce" type game in quite some time.
Linebackers (B+)
Cudos to the Rook!  Another double-digit tackling game by the rookie Pete Werner.  Last week 10 tackles, this week 13 tackles.   
Demario is Demario: 8 tackles, 1 sack, 3 QB Hits, 1 TFL
Both Davis and Werner had a so-so day in pass coverage, Demario was flagged once with a PI, but an above-average outing.
SPECIAL TEAMS (B); Blake Gillikin (A+++)
New nickname for P Blake Gillikin: "PIN'EM DEEP GILLIKIN!"
Gillikin saved the Saints by giving Washington poor field position. 3 punts were downed - not inside the 20- or 10-yard lines - but the inside the five-yard line!
He totaled 268 yards and his five punts averaged 53.6 yards.  The longest was 60 yards.  
Harris had one kickoff return for 26 yards, Kamara caught 3 punts and returned 29 yards.
Parkey missed 2-of-3 extra points, which could have been costly in a tight contest.
COACHING (B-)
The game plan was not complex, but it worked.
Sean Payton is adapting to Winston; but...the offense was out of sync at times.
It was the second-consecutive week Coach Payton had a late play relayed to Winston that resulted in a penalty. Another late call forced a timeout.
More adaptation:  Winston's clear miss of Hogan on a third-down play is an example the Saints QB is not as accurate as Brees - HOWEVER - Brees wasn't as accurate as Winston downfield.
Payton lost a challenge.  Not a surprise.
Would he be forced to find another kicker this week after Parkey's two extra-point misses.
4-of-11 in 3rd down efficiency was 4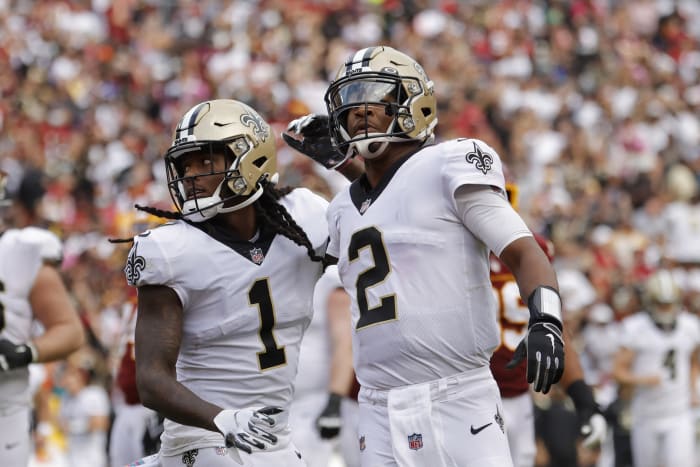 OVERALL GRADE (B)
---
READ SAINTS-WASHINGTON COVERAGE