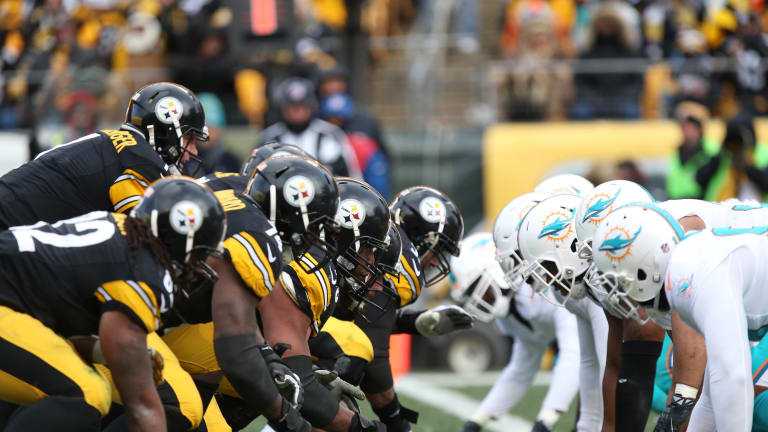 Meet The Opponent: Miami Dolphins
Get an insiders look at Pittsburgh's week seven opponent with an exclusive conversation with Dolphins writer Josh Houtz.
Who: Miami Dolphins (0-6) at Pittsburgh Steelers (2-4)
When: Monday, October 28, 8:15 PM ET
Where: Heinz Field, Pittsburgh, PA
Network: ESPN
Broadcast Team: Booger McFarland and Joe Tessitore
Spread: Steelers (14.5)
After enjoying their bye-week, the Pittsburgh Steelers look to begin their first winning streak of 2019 when the Miami Dolphins stroll into town. Miami, currently winless and the favorite to land the first overall pick in 2020 NFL Draft, would be more than happy to play the role of spoiler to Pittsburgh's hopes of making a run to postseason contention once more. 
It's an important match-up for one player specifically: Pittsburgh Steelers safety Minkah Fitzpatrick. Fitzpatrick, traded to the Steelers after things went sour in Miami, made it very clear that the Dolphins weren't the team for him. 
"The falling out between the Miami Dolphins and Minkah Fitzpatrick has been bitter sweet" said Josh Houtz, Miami Dolphins writer for Dolphins Maven/Sports Illustrated. "On one hand, Miami misses Minkah. After all, the secondary is a huge concern and Fitzpatrick did a lot of great things. However, he didn't want to be here, which was obvious. Fitzpatrick wasn't used to losing and he and his mother didn't like that he was playing a variety of roles-which ironically enough, he continues to say he love to do. I would rather have minkah than the first-round pick the Steelers gave up, but the relationship was NOT repairable. 
The Steelers aren't alone in their quarterback troubles, as the Dolphins are currently in the midst of dancing between Josh Rosen and Ryan Fitzpatrick. Fitzpatrick appears as if he'll get the start, although many fans in Miami want to see Rosen get more opportunity. Let's get an insider's perspective on the quarterback situation in Miami:
"Moving on from Rosen after investing a second-round pick would be a huge mistake IMO. After all, Rosen is 22-years old and continues to be put in a no-win situation. Id rather keep him on the roster to compete or be a viable back-up down the road" said Houtz. "As for Fitzpatrick, the offense seems light years better with him at the helm and he seems like a guy the team can rally behind. He's under contract through next season so there's a very good chance whoever the QB is, will have a 17-year veteran to learn behind." 
When asked to look into his magical crystal ball, Houtz sees the same outcome as nearly everybody else. 
"As for the crystal ball, this historically bad season has one light at the end of the tunnel, and that is Alabama QB Tua Tagovailoa. Sure, there are several QBs in the draft with the potential to alter a franchise, but he's the guy. #TankForTua" 
Shifting from an offensive focus to defensive, the Dolphins are currently surrendering 35 points per game. While no singular party is to blame for Miami's defensive woes, does Josh believe coaching or lack of exceptional play from the players hold responsibility?
"I believe it's a little of both, although several months ago we were ready to call Brian Flores a defensive genius. Truth is, the Dolphins have played some tough games early on in 2019: Baltimore, New England, Dallas, Los Angeles, Washington and Buffalo. The only team on that list that isn't really a good football team is Washington" said Houtz.
"It also doesn't help that some of Miami's best players continue to miss games. Xavien Howard has been out the last two weeks, and Reshad Jones was vs Buffalo. There's also not much depth in the secondary and with a lack of pass-rush, opposing QBs have all day to throw. So yes, it's a little of both."
But things aren't all bad in Miami, and Josh was quick to point to the emerging bright spots on a team that's yet to bring home a victory. 
"Some of the low-risk, high-reward signings the Dolphins made this season look promising. Vince Biegel, a guy that looked like a throw in from New Orleans for Kiko Alonso, leads the team in pressures. Taco Charlton, claimed off waivers, leads the team in sacks. Robert Nkemdiche is back, UDFA Preston Williams looks like a true #1, Parker emerges, Mark Walton, the list goes on and on" said Houtz. 
So although it seems like everything is doom and gloom, there are some potential superstars being born." 
In terms of game-planning, the Dolphins may be licking their chops to get to quarterback Mason Rudolph, who will be making his first start since suffering a concussion nearly three weeks ago. How will Miami be able to win? Stopping the run and making the back-up quarterback uncomfortable. 
"The QB position is the first thing that stands out. With Big Ben out, defenses should focus on stopping the run and force Mason Rudolph/Devlin Hodges to make plays and beat you. Easier said than done, but I like those odds" says Houtz.
Yet football is as much of a match-up based game as the individual players playing it. So what match-ups (positional or grop) does Houtz believe can determine the game?
"As cliche as it sounds, the trenches-most notably the Dolphins offensive line. Miami has played musical chairs on the offensive line and although they improve each week, they still remain one of the biggest weaknesses on the roster. On the other side, Pittsburgh's defense -from what I can tell- looks to be among the best in the NFL. I don't know how the Dolphins will be able to win this game if they can't find a way to protect the QB". 
Getting after the quarterback is something Pittsburgh has excelled in, amassing 20 sacks on the season thus far. Miami is tied for fourth in the league for sacks given up, with 24 allowed through six weeks played. 
The Steelers come out of the bye week as heavy favorites despite sitting at 2-4 on the season. Will Pittsburgh right the ship with a bounce back win at home? The Steelers have walked away victorious the previous 17 home games on Monday Night Football, with number 18 being just as important as ever. 
A big thank you to Josh Houtz for his time this week. For more Dolphins analysis, follow Josh on Twitter @Houtz.