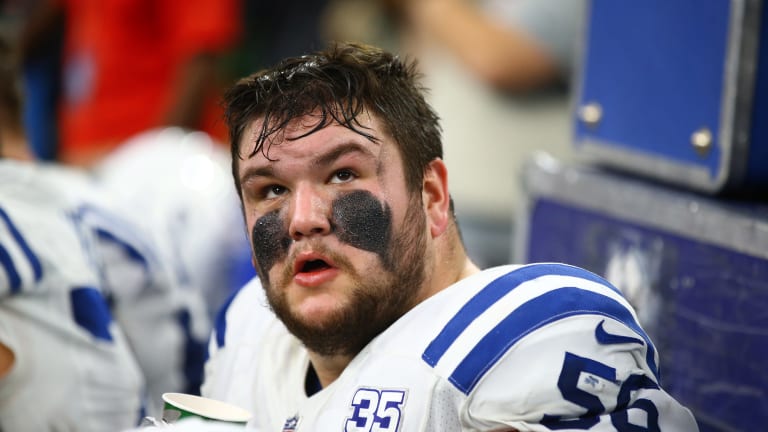 Steelers Defensive Line "Up For the Challenge" of Quenton Nelson
The Pittsburgh Steelers defensive line is looking forward to their matchup against some of the NFL's best offensive linemen.
The Indianapolis Colts' offensive line has been highlighted by two of the NFL's best players - Quenton Nelson and Ryan Kelly. Two names that have given this offense the building blocks to turn a mystery of a season into a hopeful one. 
This week, those two linemen will head to Pittsburgh to face the Steelers front seven that's become a cornerstone for the defense's turnaround. Cameron Heyward, Javon Hargrave, and now, Tyson Alualu lead a front seven that's gotten to the quarterback 24 times this season and allowed 75 rushing yards per game over the last four weeks. 
They're aware of what they have in Indy. The Colts have ridden behind this offensive front all season, utilizing Nelson's skillset on the inside and as a pulling guard. An obvious bright spot in the rebuild of this unit, Nelson has established himself as one of the best in the league. His head coach wasn't the one to draft him, but he's more than aware of the skill his guard contains. 
"From A to Z - physically, mentally, emotionally - every way, mindset, leadership, practice habits, Quinten's standards are high," Colts Head Coach Frank Reich said. "He's still a young player, still getting better, still has to prove it every week, but he knows that, that's what he wants."
The Steelers agree. Their defensive line has taken on an array of linemen this season, but none as good as Nelson. It's a dog-eat-dog sport, meaning no player will back down from the challenge of taking on one of the best. Pittsburgh is no different.  
Javon Hargrave and Tyson Alualu are two of the interior linemen in place to fill the role of Stephon Tuitt. The two defensemen worked as a tandem to fit schemes and packages to compensate for the loss of a Pro Bowl player. 
The challenge was successful, but this week it'll become even greater. They'll be looking to control the line of scrimmage, starting with gaining the upper-hand against Indianapolis' star guard. 
"He's a good player but I feel like we're all good players too," Javon Hargrave said about Nelson. "I think it's going to be a good challenge, a good matchup. We just need to play our scheme and beat our blocks. The rest will take care of itself."
Game planning against the Colts' offensive line comes with a challenge. Squaring off against a team as physical as this will test a defensive line missing a key piece. How they'll do it? The same way they've been all season. 
"This past game was depending on the packages we had on the field," Tyson Alualu said about the replacing Stephon Tuitt in Week 8. "It's hard to say, but when I am on the field I'm just trying to make the most of that opportunity. Like I said, you have to go out there and execute whatever the game plan is."
Javon Hargrave agrees. No matter who's on the field, or where he's playing, he's going to make an impact on this defense. "I just like to play. It doesn't really matter where I play, I just want to play."
They're aware of the group they're facing. They know the task of overcoming the players Indianapolis keeps up front. And keeping their hot streak moving in the right direction could fall on how well they're able to control the line of scrimmage. 
Their game plan will remain consistent - focusing on how the Steelers can find holes in the offensive line. The Colts' offensive line has plenty to watch, but the coaches in Pittsburgh have yet to fail their players yet.
"This will be one of the better groups that we face as a unit so it's a great challenge," Alualu said. "They're doing some really good things on film. Just a lot of study, trying to put ourself in the best position to win those blocks. I know the coaches will do a great job of game-planning and it's our job to go out and execute it."
It'll be a turning point in the outcome of Week 9. Heinz Field will feature two team - one looking to keep their season alive and the other fighting to remain ahead in their division. Eyes will be on Mason Rudolph, Jacoby Brissett and the highlight creators. In the midst of all the chaos, though, will be eight men competing for the line of scrimmage. And the Steelers are ready for the battle. 
"Up for the challenge," Alualu described the matchup of Nelson. "As any competitor will say, if he's your the best you definitely want to line up against him and beat him. I'm up for the challenge, he's probably deserving of what others see him as. It'll be a good challenge for us as a group, us as a unit."