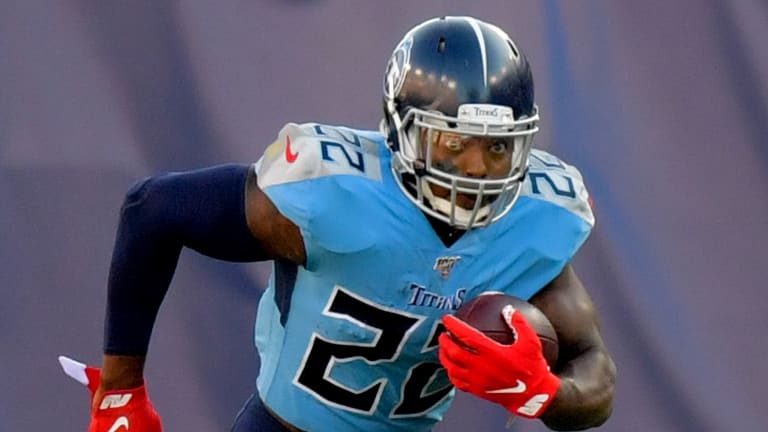 Titans vs. Buccaneers: In-Game Updates and Analysis
One of the NFL's best defenses will try to slow on the best offenses
NASHVILLE -- The Tennessee Titans have not won them all under current head coach Mike Vrabel.
They have not, however, lost to an NFC opponent. The Titans swept the NFC East in 2018 and started inter-conference play this season with a 24-10 victory at Atlanta in Week 4.
They put that perfect record on the line today when they host the Tampa Bay Buccaneers at Nissan Stadium.
"I know that we try to explain to the players each and every week about the players that they have upfront, about what the skillsets are of (skill position players)," Vrabel said this week. "… So, I think that's always something that's critical when you play a team that you're not really familiar with. Just trying to explain to the players who these guys are."
NEED TO KNOW
• The Buccaneers have scored at least 24 points in their last four games. They are fourth in the league in points per game with an average of 28.8.
• The Titans have held all of their opponents to 20 points or fewer. They are fourth in the league in points per game allowed with an average of 16.0.
• Since the start of the 2018 season, Tennessee's Derrick Henry (pictured) has 1,565 rushing yards and 17 rushing touchdowns, which makes him one of two NFL running backs (Todd Gurley is the other) with at least 1,500 and 15, respectively, over that span.
• Tampa Bay wide receiver Chris Godwin is tied for the NFL lead with six touchdown receptions this season. He has had at least seven receptions, 120 receiving yards and a touchdown in his last three road games.
INACTIVES
Tennessee: Delanie Walker, TE; Adoreé Jackson, CB; Sharif Finch, LB; Chris Milton, CB; Darius Jennings, WR/KR; Aaron Stinnie OL; and Kevin Pamphile, OL.
Tampa Bay: Alex Cappa; Jack Cichy, ILB; O.J. Howard, TE; M.J. Stewart, DB; Nate Trewyn, C; Pat O'Connor, DL; and Amara Darboh, WR.
FIRST QUARTER
Titans won the coin toss, deferred their option until the second half. Buccaneers will start with the ball.
 On Tampa Bay's fifth offensive play, Mike Evans beats LeShaun Sims deep and Sims has no choice but to commit pass interference, which gives the Buccaneers the ball at the Tennessee 4. Penalty was for 43 yards. Reminiscent of Adoreé Jackson in Week 2 against Indianapolis. Sims, of course, will get a lot of playing time today because Jackson is out with a foot injury.
(11:28) Buccaneers 3, Titans 0. Titans defense holds and doesn't allow a yard after the penalty (one run for no gain, two incomplete passes). It's the same end of the field where last week's game-saving goal-line stand took place against the Chargers. Tampa Bay settles for a 22-yard field goal. Scoring drive: 8 plays, 71 yards, 3:32.
(10:08) Titans start with a three-and-out that includes a negative run by Derrick Henry and Ryan Tannehill getting sacked on second down. Tannehill moved well in the pocket to avoid another sack on third down.
(8:58) Jameis Winston in the shotgun, calling not ready for the snap when the ball arrives. Isaiah Mack recovers and the Titans get the ball at the Tampa Bay 10. That's the fourth fumble recovery for the defense this season.
 (8:55) Titans 7, Buccaneers 3. On first-and=goal from the 5 (Tampa Bay's defense started with an offside, Tannehill hits Jonnu Smith for the touchdown. That's Smith's first touchdown catch of the season, the sixth of his career. Scoring drive: 1 play, 10 yards, 0:03.
(4:30) Defense forces a punt but the Titans get a taste of what Brett Kern has done to opponents all season as the ball is downed at the 1-yard line.
 (4:20) On first down, Derrick Henry pops a 34-yard gain against the league's No. 1-ranked run defense. That's his longest run of the season. Previous best was 24. Offense now has some breathing room.
(2:35) Offense is on the move but left guard Rodger Saffold is down with trainers and coach Mike Vrabel talking to him. ... Jamil Douglas, who has played a lot of right guard this season, comes on in his place. First down Titans at their own 49.
(1:37) Titans gained 47 yards but never reached midfield before they were forced to punt. Kern's first punt is fair caught at the 10. Now it's Tampa Bay's turn with a long way to go.
(0:40) A miscommunication between Jameis Winston and his receiver results in a pass thrown directly to Malcolm Butler, who returns it 23 yards to the Tampa Bay 6. Titans are in business again.
(0:24) Titans 14, Buccaneers 3. After two incomplete passes to Adam Humphries, Tannehill connects with Tajae Sharpe for the touchdown. Scoring drive: 3 plays, 6 yards, 0:15.
The Titans have now scored 14 first-quarter points against their two NFC South opponents (they had 14 against Atlanta on Sept. 29). In their six games against AFC teams that have scored six first-quarter points total.
End of the first quarter. Buccaneers have more total yards (68-48) and more time of possession (10:18-4:42). Titans have converted two takeaways into touchdowns, which is the biggest difference in the game.
Titans announce that Rodger Saffold is being evaluated for a concussion.
Tannehill not exactly taking advantage of the league's worst pass defense so far. He is 4-for-9 for 20 yards. Two of the completions have been for touchdowns. 
SECOND QUARTER
(11:31) Buccaneers convert a fourth-and-1 from the Tennessee 40 with a quarterback sneak. Drive continues. Opposing teams are 4-for-12 against the Titans on fourth down this season.
(8:42) Another takeaway for the Titans defense. This time it's a Logan Ryan interception and this one does not give the offense a short field. It's Tennessee's ball at its own 3.
Replay review determines that Ryan did not catch the ball cleanly. Ball goes back to Tampa Bay, third-and-8 from the Titans' 25.
(7:51) Titans 14, Buccaneers 6. Jurrell Casey with the sack on third down forced the field goal attempt. That attempt, from 48 yards is good. Scoring drive: 16 plays, 45 yards, 7:33.
(6:02) Titans allow a 40-yard punt return, which sets up Tampa Bay's offense at the Tennessee 34. That's the second punt return of 40-plus yards allowed this season. 
(3:47) Titans 14, Buccaneers 9. Tampa Bay gets as far as the 4-yard line but has to settle for another field goal, this one from 24 yards. Scoring drive: 5 plays, 28 yards, 2:15.
(3:39) Kalif Raymond returns the kickoff 45 yards (longest for the Titans this season) and sets up the offense at the Tennessee 45.
 (1:09) Titans 17, Buccaneers 9. Cody Parkey with a 51-yard field goal. He is now 8-for-10 in his career from 50 yards or more. Tannehill fumbled when sacked on third down. Jamil Douglas (still in at left guard) recovered to preserve the field goal attempt. Scoring drive: 5 plays, 22 yards, 2:38.
(0:15) Titans 17, Buccaneers 15: Mike Evans dominated the drive and capped it with a 9-yard touchdown reception. The killer was Winston's third-down prayer that turned into a 46-yard reception for Evans. The two-point conversion was no good. Scoring drive: 8 plays, 75 yards 0:54.
Evans has seven receptions for 137 yards in the first half. He is the first wide receiver with a 100-yard game against the Titans defense this season. Chargers running back Austin Ekeler (7-118, TD) and Atlanta tight end Austin Hooper (9-130) are the only others to get there.
Titans take a knee and it's halftime.
THIRD QUARTER
(13:01) Titans cross midfield on the opening possession of the half, but the drive ends when Derrick Henry fumbles and the Buccaneers recover. Tampa Bay ball at its own 44.
(11:11) Buccaneers 23, Titans 17. Mike Evans scores on a 2-yard touchdown reception and this time the two-point conversion is good. The drive started with a 43-yard completion to Evans, who now has nine catches for 182 yards and a TD. Scoring drive: 4 plays, 56 yards, 1:49.
Tampa Bay is the first opponent to score more than 20 points against the Titans this season.
(10:48) Another offensive lineman is hurt. This time it is center Ben Jones, who calls for the trainers.
 So the offensive now currently looks like this: Taylor Lewan at left tackle, Dennis Kelly at left guard, Jamil Douglas at center, Nate Davis at right guard and Jack Conklin at right tackle.
And … Ryan Tannehill is sacked on the first play behind that group. It was third down. Time to punt and regroup.
(5:20) Tennessee's defense forces a punt but it should be noted that Tampa Bay's offense has started across, or crossed midfield on five straight possessions. Field position not favoring the Titans, who will start this drive from their own 8.
 Good news for Tennessee is that Ben Jones is back at center. Jamil Douglas back to left guard.
(0:37) Buccaneers 23, Titans 20. Cody Parkey cuts the deficit in half with a 42-yard field goal. The biggest plays on that possession were pass interference calls against the Buccaneers, one that negated a third-down incompletion and one that took away an interception. Scoring drive: 10 plays, 68 yards, 4:43.
End of the third quarter
Titans are 0-2 this season when trailing after three quarters, 3-9 under Mike Vrabel
FOURTH QUARTER
Mike Evans currently has 11 catches for 198 yards and two touchdowns. The last player with 200-plus yards receiving against the Titans was DeAndre Hopkins, Nov. 30, 2014 at Houston.
(13:49) After a punt, Titans start at their own 10. Second straight drive that begins deep in their own end. Last one ended with a field goal.
(12:20) Jonnu Smith with two catches for 37 yards on this drive. He now has a career-high 74 yards on five catches. It's the second straight week he set a career-high. Had 64 yards last week against the Chargers.
(6:55) Titans 27, Buccaneers 23. Tannehill completed passes to six different receivers on the way to the end zone. The last was to A.J. Brown for eight yards and the touchdown. Scoring drive: 12 plays, 90 yards, 6:54.
That was the Titans' longest touchdown drive of the season, in terms of yards. They went 87 yards for one against Cleveland and 86 yards for another last week against the Chargers. Coincidentally, the one against the Chargers also ended with an 8-yard TD pass (Tannehill to Corey Davis).
(6:03) Harold Landry with the trifecta – sack, forced fumble and recover. Titans ball at the Tampa Bay 36.
 (3:41) Titans try a fake field goal – Brett Kern ran with it – that gains nothing on fourth-and-2. Buccaneers ball at their own 28.
Two-minute warning and Tampa Bay has a choice. It's fourth-and-1 from the Tennessee 32. Stay tuned.
(2:00) The Buccaneers go for it and … they're stopped on a run play. Jurrell Casey got the penetration and the hit on the back but was injured on the play. Titans ball. Tampa Bay has one timeout.
(0:50) Titans don't get a first down. They will have to punt.
(0:42) Punt goes out of bounds at the Tampa 24. Buccaneers – with no timeouts – need a lot of yards in a little time.
(0:20) Logan Ryan seals it with an interception.
Titans win.
IN CONCLUSION
Just another day at Nissan Stadium. Another questionable decision by Mike Vrabel. Another big play by the defense that bails him out.
The Titans are now 2-2 at home this season. All four games have been decided by seven points or fewer, three of the four by four points or fewer. Halfway through the season they are 4-4. Half of their remaining games are against AFC South opponents.