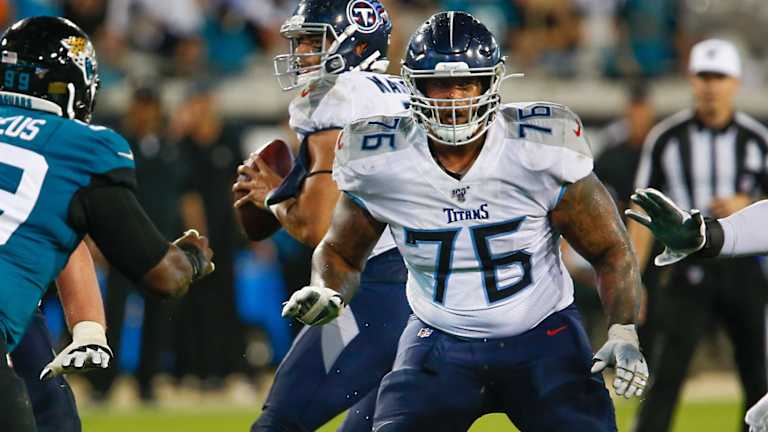 Thursday's Injury Report: All Concussions Not Created Equal
Rodger Saffold working his way back; Ben Jones still unable to practice
NASHVILLE – The one thing certain about players in the NFL's concussion protocol is the uncertainty.
There is no set schedule. There is no consistency from one player to the next. There is just the process, which is precise in the steps that a player must complete before he returns to competition but unpredictable in how quickly each will move through those steps.
The Tennessee Titans have been reminded of that this week with offensive linemen Ben Jones and Rodger Saffold, who began the week in the concussion protocol because of injuries sustained last Sunday against the Tampa Bay Buccaneers.
Saffold (pictured) was a full participant in Thursday's workout, according to the day's injury report. That is a step up from a day earlier, when he was a limited participant. The left guard's progress suggests he will be available Sunday when the Titans (4-4) play the Carolina Panthers (4-3).
Jones did not practice for the second consecutive day.
"Whenever the doctors, our doctors, the independent doctors, our trainers ask him to go onto the next step, he goes onto the next step," coach Mike Vrabel said. "Then, I wait and hear. There's nothing that's more important than the health of our team. I've told you that a million times. I tell our players that, especially as it relates to the concussion protocol."
Jones missed just one play in Sunday's contest but reported to the team's training facility Monday with symptoms that placed him in the protocol.
"There's a lot of things that come up the next day," Vrabel said. "I've had it, and you're like, 'Man, I don't know, did somebody beat me up while I was sleeping,' and all of a sudden, my shoulder hurts, my arm hurts. First thing on Monday, (Jones) came in and said, 'I'm feeling this,' and so immediately those are the actions and the steps that we take."
The Titans addressed the possibility that Jones will be unable to play Thursday when they re-signed veteran center Hroniss Grasu.
In addition to Jones, tight end Delanie Walker and defensive lineman Jurrell Casey also did not practice for the second consecutive day.
The complete Titans-Panthers injury report for Thursday:
TENNESSEE
Did not practice: Jurrell Casey, DT (shoulder); Ben Jones, C (concussion); and Delanie Walker, TE (ankle).
Limited participation: Jayon Brown, OLB (groin); Harold Landry, OLB (shoulder) and Chris Milton, CB (ankle).
Full participation: Malcolm Butler, CB (hamstring); Adoreé Jackson, CB (foot); Sharif Finch, OLB (shoulder); Rodger Saffold, G (concussion) and Cameron Wake, OLB (not injury related).
CAROLINA
Did not practice: Mario Addison, LB (not injury related); Greg Little, T (concussion) and Cam Newton, QB (foot).
Limited participation: Gerald McCoy, DT (knee); Christian Miller, LB (ankle) and Shaq Thompson, LB (ankle).
Full participation: Brian Burns, LB (wrist); Vernon Butler, DT (hip); Christian McCaffery, RB (knee); Eric Reid, S (shoulder); Curtis Samuel, WR (shoulder) and Jarius Wright, WR (ankle).