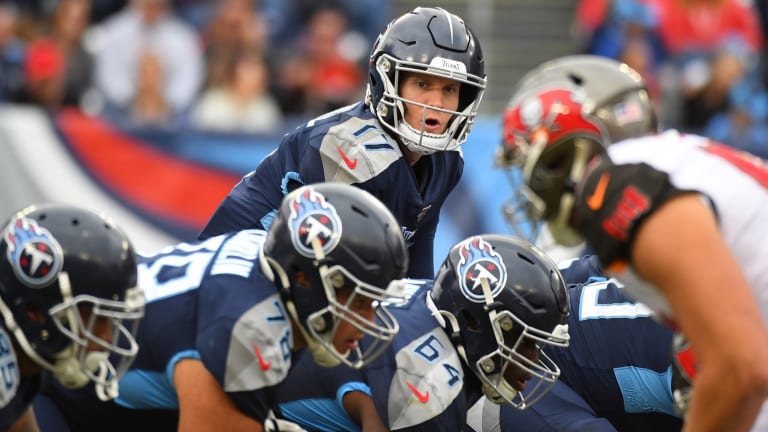 With Tannehill, Titans Offense Covers Some Ground
Long touchdown drives have become common in two games since quarterback change
NASHVILLE – Suddenly, the Tennessee Titans have shown they can go the distance.
That has gone a long way toward the fact that they have won consecutive games for the first time this season.
A.J. Brown's game-winning 8-yard touchdown reception Sunday capped a 90-play drive, which consisted of 12 plays and took 6:54 off the clock. It was the Titans' longest touchdown drive of the season, in terms of yards, and the fourth of more than 70 yards in the two games since Ryan Tannehill became the starting quarterback.
"It was huge," wide receiver Tajaé Sharpe said. "Every drive week in and week out is going to be huge for us. Especially when we get in the red zone, we want to put points on the board. Touchdown or field goal, we definitely want to put points on the board. That's a huge emphasis for us and our offense."
It is also one of the most obvious differences in the performance of that unit since Tannehill replaced Marcus Mariota under center. Of Tennessee's 11 touchdown drives in the first six games, four covered more than 70 yards. That number has now doubled in the last two weeks. It should be noted also that one of those with Mariota was a one-play "drive" in the opener at Cleveland, when running back Derrick Henry took a short pass and ran 75 yards for a touchdown.
A rundown of the Tennessee Titans' longest touchdown drives of the season (based on yards):
| Distance | Opponent | Plays | Time | Quarterback |
| --- | --- | --- | --- | --- |
| 90 | vs. Tampa Bay | 12 | 6:54 | Tannehill |
| 87 | at Cleveland | 11 | 5:10 | Mariota |
| 86 | vs. L.A. Chargers | 8 | 3:15 | Tannehill |
| 85 | vs. L.A. Chargers | 14 | 7:09 | Tannehill |
| 75 | at Cleveland | 1 | 0:13 | Mariota |
| 75 | at Atlanta | 13 | 6:04 | Mariota |
| 75 | vs. L.A. Chargers | 7 | 4:16 | Tannehill |
| 72 | vs. Indianapolis | 10 | 5:31 | Mariota |
 Before Sunday's lengthy touchdown march, the offense struggled to get very far. Six first-half drives netted a total of 76 yards and five first downs. Yet they also resulted in two touchdowns on drives that started at the Tampa Bay 10 and 6, respectively, following takeaways by the defense.
Down by three in the opening minutes of the fourth quarter, however, Tennessee got the ball at its own 10. That's when the offense strung together five first downs, overcame a first-and-20 at one point, converted twice on third down, including with the touchdown pass, and went all the way to the end zone for the final points in a 27-23 victory.
"Finally, it came together," Tannehill said. "We were able to put the drive together, convert some third downs, which was huge, and get in the end zone."
A week earlier, against the Los Angeles Chargers, such possessions were business as usual. The Titans' three touchdown drives in that 23-20 triumph all covered at least 75 yards, two of them more than 80 yards.
A common denominator has been the ability to convert on third down. The three possessions against the Chargers included four third-down conversions with required distances that ranged from one to 11 yards. The one against Buccaneers included conversions on third-and-4 and third-and-goal from the 8.
Three times in the first six weeks, the Titans had no more than two third-down conversions for an entire game.
"You're going to have to pick up some critical third downs along a 10 or 12-play drive," coach Mike Vrabel said. "It comes down to dropping back and finding the guy open pretty quick."
It took some time – and a change of quarterbacks – but the Titans are finally doing exactly that.