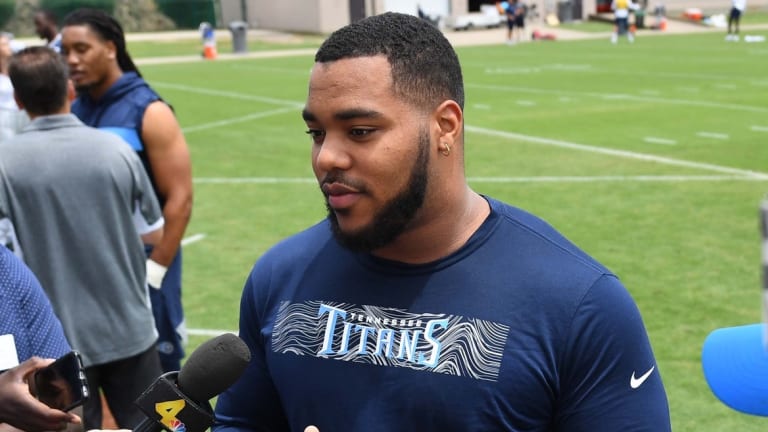 Vrabel says Simmons speeding through recovery
Tennessee Titans coach suggests first-round draft pick likely to play at some point this season
Mike Vrabel is loath to put a timetable on any player's potential return from injury.
Friday, though, the Tennessee Titans head coach suggested that rookie Jefferey Simmons could play sooner than expected for many.
The Titans selected Simmons 19overall in the 2019 NFL Draft with the understanding that the defensive lineman out of Mississippi State might not be available at all this season. A knee injury sustained during pre-draft training required reconstructive surgery and a lengthy rehabilitation that would force the team to wait before it added him to a defensive line that includes Pro Bowler Jurrell Casey.
As franchise officials began to reduce the roster from 90 to 53 players ahead of Saturday's deadline, Vrabel conceded that one of those roster spots could go to Simmons, who spent all of training camp and the preseason on the reserve non-football injury (NFI) list.
"I would say that his progression and his recovery has been really, really good," Vrabel said. "I don't want to rule anything out right now, but I would say that it's far, far more along than what the average player would be."
The most likely scenario is still for Simmons, who is 6-foot-4, 305 pounds, to remain on the NFI list at the start of the regular season. That would prohibit him from practicing or playing for the first six weeks and then provide a three-week window during which the player can practice and be evaluated before a final determination is made on his status.
If Simmons occupies a spot on the 53-man roster, he will be eligible to play games at any time.
"There's a lot of different things that [general manager] Jon [Robinson] and I discuss about, 'Hey, how long is a guy going to be out? We probably may want to carry him. Can we afford to carry him? Are we thin somewhere else?'" Vrabel said. "So, I think where you're going are always conversations that we have. Who are the 46 guys that you anticipate being out there and being active [on game day], and then can you afford to get by with carrying heavy at one position, light at the other based on health?"