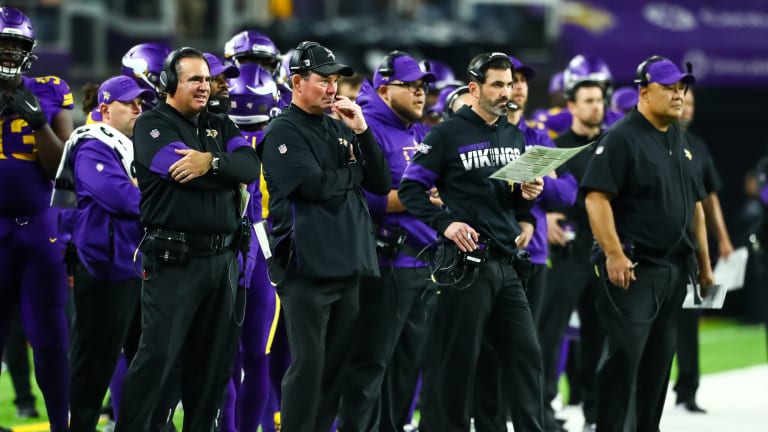 NFL Power Rankings, Week 9: Vikings Remain Near the Top
Where do the Vikings stand in the power rankings heading into the second half?
Week 8 came and went without any major upsets. The Patriots and 49ers continued their dominant, undefeated seasons, Drew Brees returned with a bang, and several contenders – the Seahawks, Colts, and Packers – narrowly avoided upsets.
As a result, don't expect major changes in this week's power rankings. Here's where the Vikings stand, and what the media has to say about them, heading into the second half of the season.
SI MMQB: No. 5 (No change)
The MMQB staff ranked the Vikings as high as No. 4 and as low as No. 9. "The Vikings beat the Redskins in an extremely nonchalant game of Thursday Night Football thanks to Dalvin Cook and Stefon Diggs simply being too good for Washington's defense to stop. A road game against the Chiefs is still a stiff test this weekend."
ESPN.com: No. 8 (No change)
For each team, ESPN listed a player that needs to step up. For the Vikings, it's left guard Pat Elflein. "The third-year offensive lineman averaged two pressures per game in the first eight weeks, allowed four sacks and has been flagged five times. The Vikings moved Elflein to left guard because they felt it would be a better fit with rookie Garrett Bradbury at center, but the left side of the offensive line has taken a hit with Elflein's struggles in pass protection."
NFL.com: No. 5 (No change)
"We'll learn a lot about the Vikes in the next two weeks, with road matchups against the Chiefs and Cowboys on tap. Cousins has struggled historically in high-visibility showdowns against Super Bowl contenders – can he quiet that ugly narrative?"
The Athletic: No. 5 (No change)
"Now that we've seen the Vikings have explosive passing games in them, we're no longer worried when we see such a run-heavy night like they showed Thursday against Washington. If anything, now we can truly appreciate Dalvin Cook and his league-high 823 rushing yards."
Yahoo! Sports: No. 5 (No change)
"Here's where the line of true Super Bowl contenders seems to start (though an exception can be made for the Chiefs once everyone is healthy). The Vikings weren't great last week against Washington, but didn't need to be. Minnesota seems underrated because of skepticism over Kirk Cousins, which is justified. But this is a very good team."
Bleacher Report: No. 5 (Up 2 spots)
"I'm still not sold on Minnesota as a Super Bowl contender given its 1-2 mark inside its own division. But if the Vikes can keep the momentum rolling on the road at Kansas City and Dallas the next two weeks, it will go a long way toward bringing me around."
NBC ProFootballTalk: No. 6 (Up 1 spot)
"The difference between a special season and a wild-card scramble hinges on the next two games."
CBS Sports: No. 6 (Up 1 spot)
"The offense continues to play at a high level with Kirk Cousins playing well. They head to Kansas City for a tough game with the Chiefs this week."