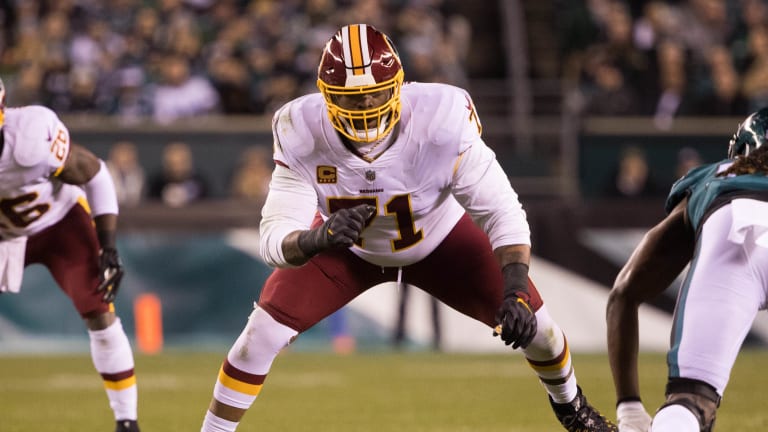 Redskins Open to Trading Trent Williams – Could Vikings Be Interested?
One of the best offensive tackles in the league is available, but he won't come cheap.
One day before the NFL trade deadline (Tuesday 10/29 at 3:00 p.m. CT), the Redskins have finally announced that they are open to dealing seven-time Pro Bowl left tackle Trent Williams, according to NFL Network's Ian Rapaport.
Williams hasn't played a single snap in 2019, as he is holding out for reasons believed to include a desired new contract and frustration with the Redskins' medical staff.
Up until now, however, the Redskins hadn't expressed any willingness to deal Williams. That has apparently changed, though it remains to be seen whether a deal will get done. The Redskins are believed to want a first-round pick in exchange for Williams, or perhaps a combination of draft picks and established players.
Is Williams worth such a lofty price? He is 31, has missed 15 games due to various injuries over the past several years, and has a fairly expensive contract that expires after the 2020 season. All of that aside, the 6'5," 320-pound Williams is arguably the best tackle in the league when healthy, having made seven straight Pro Bowls.
Assuming he is healthy, Williams would provide an instant upgrade to any offensive line in the league. The Browns are believed to be potential suitors, but could the Vikings have interest? Riley Reiff has been solid, but not great at left tackle for Minnesota. Williams would represent a massive upgrade.
The bigger issue is cap space. The Vikings have very, very little of it right now, and Williams wants to get paid. In order to make a deal happen, the Vikings would have to free up a great deal of space, which would require cutting someone like Reiff and perhaps restructuring other contracts.
It's certainly a longshot, but it's a situation worth monitoring as Tuesday's deadline approaches.