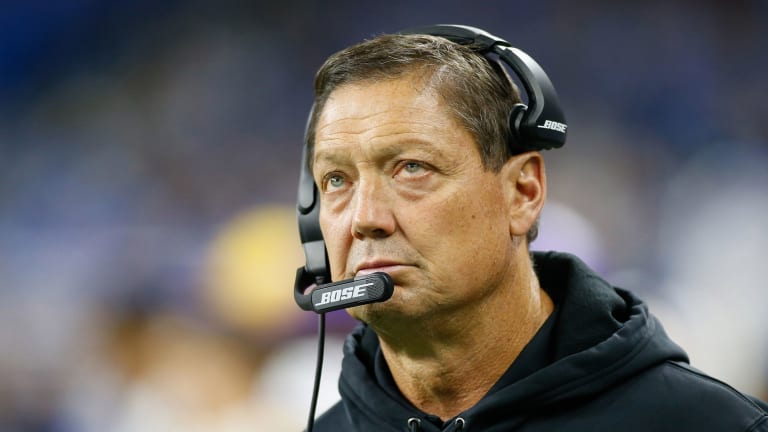 Report: Vikings and Rick Dennison Reach Agreement for Him to Remain With Team
Dennison will stick around with the franchise, just not as the offensive line coach.
Dennison will stick around with the franchise, just not as the offensive line coach.
We have a resolution to the Rick Dennison saga: the Vikings and the veteran coach have reached an agreement that allows him to remain with the team, according to Pro Football Talk.
Dennison will transition to a hands-off role as Senior Offensive Advisor, with Phil Rauscher taking over as Offensive Line Coach and Ben Steele coming on as the assistant OL coach, the Vikings announced.
This comes four days after the viral ESPN report that Dennison was out as Minnesota's offensive line coach and run game coordinator because he refused to get vaccinated against COVID-19. It came out later that day that he had not been fired by the Vikings at that point, with the team releasing a statement saying they were having ongoing discussions with Dennison.
Now we know he'll be sticking around in 2021, just in a different role that complies with league protocols.
"Basically, the Vikings and Rick Dennison have agreed that both sides will comply with whatever protocols apply, whether he's vaccinated or not," PFT tweeted.
Because Dennison is unvaccinated, he does not have Tier 1 status in the Vikings' facility and thus is unable to interact directly with players on the practice field, in meeting rooms, or elsewhere.
This is a compromise that works out for both parties.
"He's going to watch the practice with the offensive coaches, he's going to be helping to evaluate," Mike Zimmer said of Dennison's new role. "Little things like that. I've got [Senior Defensive Assistant] Paul Guenther up there with me now and he'll sit in the meetings, we'll talk about 'Have you thought about doing it this way?' or 'Is he taking the right step on this particular run?' or 'Is he shooting his left hand the way he's supposed to do it?' so all those things are things I think he can really help us with. 
"And then the next part, as we start getting ready for the games in the season, he'll be helping with gameplan ideas, third down ideas, protection ideas, things like that. Phil will be — I also felt like it was important that there was one voice in the meeting room, so he's going to be in charge of the meeting room. I've got the utmost confidence in Phil, he's had very many opportunities to leave here and we've talked him out of it because I figured someday Rick might decide to retire and Phil would be ready to go. But he's had a lot of opportunities to leave and it was important that way. I felt like this was the best win-win situation for our football team and also with Rick."
Thanks for reading. Make sure to bookmark this site and check back daily for the latest Vikings news and analysis all season long. Also, follow me on Twitter and feel free to ask me any questions on there.