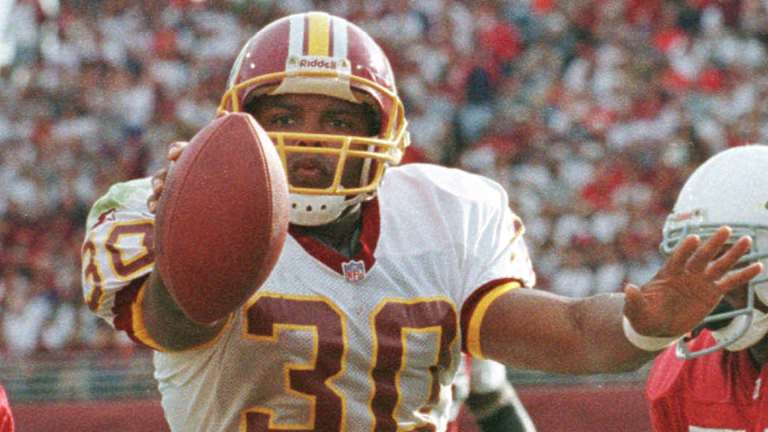 Pro Football Hall Modern-Day Nominees With Washington Ties
The modern-era nominees for Pro Football Hall of Fame induction next August have some Washington Football flair.
The Pro Football Hall of Fame was affected by the Coronavirus as well this past summer. 
For the second time in several years, the doors to the stadium in Canton had to be closed, cancelling a potential bonanza matchup between the Pittsburgh Steelers and the Dallas Cowboys. 
The game was rescheduled for 2021 and so was the centennial class of 2020, which means the class of '21 will be 'double the fun' as their motto became. 
The actual class of inductees won't be announced until the Super Bowl but for now, this is the modern-era nominees for election into the Pro Football Hall of Fame with some Washington Football Team flavor. 
After the five-year wait rule we have this:
Those with Washington ties include Donovan McNabb, Shaun Alexander, Earnest Byner, Larry Centers, Chris Samuels, London Fletcher, Matt Turk and of course Brian Mitchell. 
The Hall of Fame per the release says that 18 finalists will be presented to the selection committee the day before the Super Bowl.
There will be 15 finalists from the group of modern-era finalists along with Drew Pearson, Tom Flores and Bill Nunn who are already pre-determined finalists. 
Between four and eight eight individuals must be chosen and that is combined with the 2020 class. 
For my money - only Brian Mitchell really belongs out of the group of players with Washington ties. Samuels was really good but I think you have to either be ultra dominant of play longer if you're a left tackle with no statistics. I don't think Samuels got quite far enough. 
Fletcher is going to be an interesting case. He turned himself from almost nothing into one of the best linebackers of his era but was he good to very good or elite.
I never thought he was elite, if I'm being totally honest. I covered him for four seasons on an every day basis. 
As for the others - it's hard for me to really make any kind of argument. 
McNabb obviously had some great years in Philadelphia but his time here and after was a disaster, which I think puts a sour stain on his career. 
Join "Burgundy & Gold Forever + now and get exclusive access available only to members and Sports Illustrated Magazine for free!
https://www.si.com/nfl/washingtonfootball/burgundy-and-gold-forever-plus/
Chris Russell is the Publisher of this site, a part of SI.com. He can be heard on 106.7 The FAN in the Washington D.C. area and world-wide on Radio.com. Chris also hosts the "Locked on Washington Football Team" Podcast and can be read via subscription to Warpath Magazine. You can e-mail Chris at russellmania09@Gmail.com or follow him on Twitter at @Russellmania621