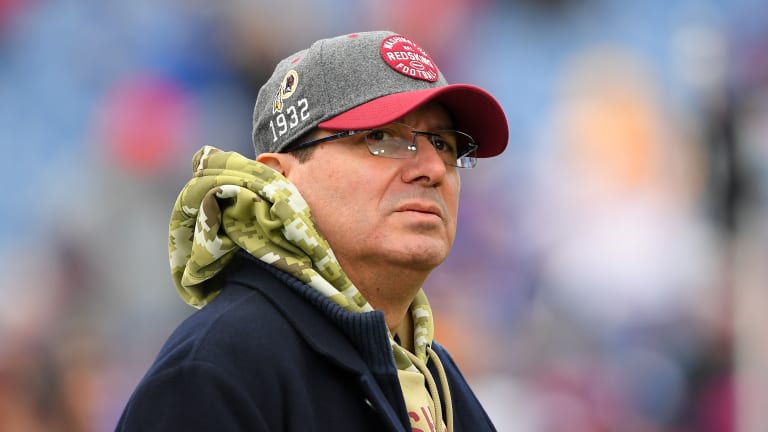 Bezos & Amazon Want In ...On the Redskins?
Jeff Bezos, the richest man in the world, reportedly wants into the NFL. He's moving to Washington with Amazon's headquarters. It makes too much sense, right?
The NFL may be close to a shot in the arm, an injection of sorts, from Amazon.
Specifically, from founder and CEO Jeff Bezos.
Bezos, reportedly wants in the elite fraternity. He wants to purchase an NFL team.
Per Jason LaCanfora of CBS Sports and Radio.com Sports, Bezos has spent plenty of time around NFL owners and has support from a group of snobby billionaires.
He reportedly watched the Super Bowl last year from Commissioner Roger Goodell's suite. per LaCanfora's sources.
LaCanfora specifically pointed out that Bezos, who owns the Washington Post as well, is moving to Washington and has spent some time with Dan Snyder.
Of course, that portion of the column and report got Redskins fans (rightfully so) hopeful that a relationship between Bezos and Snyder could lead to an ownership switch or partnership.
Of course, that hope makes some sense. Will it happen? It's very unlikely. At least in a 100% sale capacity.
But what if Bezos and Snyder decided to become partners under a split ownership group. What if they were to be a 50/50 split and both retain operating control?
Could that work? I think it's much more likely that Bezos buys a small stake in the Redskins perhaps with an ability or option to upgrade the percentages at some point down the line to potentially buy Snyder out?
Of course, Bezos could just blow away Snyder or any other owner with a sale price that would far exceed the current estimated Forbes value.
The Redskins were recently valued at 3.4 billion by Forbes. What if Bezos said "here Dan, take this $5 billion, please" - how could Snyder turn that down?
I'm sure he wouldn't want to, but it would be the first thing that Snyder would do, that Redskins fans would be thrilled about.
My pal and colleague Nick Ashooh of 106.7 The FAN and NBCSportsWashington first mentioned a few weeks ago that he heard about a possible partnership between Bezos and Snyder, likely centering around a new stadium.
It certainly makes sense in every way. It's something I had been thinking about, but wasn't sure how it would develop.
Bezos seems to be a very smart and decent businessman. I certainly haven't heard any horror stories about him, but perhaps others would know better.
It's clear that the most important sports fraternity in the world would make sense for him to join but now the question is - when and where would it happen?
I will say this: I don't expect Dan Snyder to do anything significant outside of a stadium construction/naming rights deal with Bezos and Amazon, because the Redskins usually do nothing that makes sense.
But, that would be better than nothing and perhaps it would lead to a unique business arrangement.
It reeks of too much common sense, which means the Redskins will likely do just the opposite. 
Photo Courtesy of © Rich Barnes | 2019 Nov 3 - USA Today Images