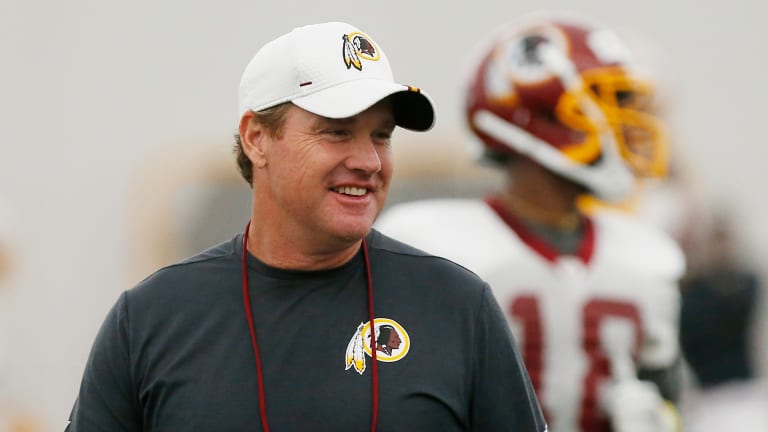 WATCH: Jay Gruden an unintentional star of smoking video
With his job on the line, Gruden will have a tough time explaining this one to Daniel Snyder.
Washington Redskins head coach Jay Gruden no doubt has a lot going through his mind going into this weekend's clash with the undefeated New England Patriots. Staring 0-5 in the face, and with his employment status reportedly on thin ice to begin with, now there's this. Gruden was caught on camera smoking, the contents of his cigarette unknown, and then sitting on a sidewalk with a young woman. Not that there's anything wrong with either activity, but it's not exactly the look NFL head coaches are going for, especially in the midst of job embattlement.
The video was originally posted by Twitter user @BubbaChuck757, who's account is currently set to private. The first video had someone call out "Jay, Jay" as he looked directly into the camera, giving every indication it is indeed Gruden in the video and he's  possibly doing something that would not reflect well on him.
There's no timestamp, so there's no way to know when it was taken, but the implications are the same. Gruden will surely have some explaining to do on this one, both at the podium and especially behind closed doors with Bruce Allen and Daniel Snyder. 
Pro Football Talk is even wondering aloud if the organization released the video themselves in order to pave the way for firing Gruden with cause, nullifying his contract.
For now, the Redskins have no comment.
If Sunday wasn't already going to be his last game coaching the Redskins, this might have been the straw that broke the camel's back. Jay Gruden; hitting joints, hitting on younger women, and maybe soon, hitting the road.