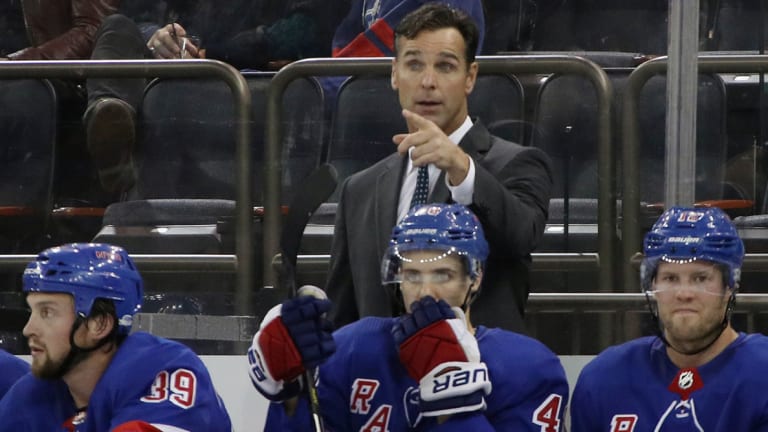 Antsy and Eager, David Quinn Is Ready for NHL Head Coaching Debut With Rangers
"I'm excited about getting on the ice with the players and…I don't mean to be old-fashioned, but just coaching."
TARRYTOWN, N.Y.—On the eve of his first training camp as an NHL head coach, David Quinn plucks a framed picture from an otherwise empty shelf in his sparsely decorated office. Gifted by a hockey booster at Boston University, where he steered the Terriers for five seasons before Manhattan came calling, the photo displays a quote attributed to Anatoly Tarasov, the legendary Russian bench boss known for emphasizing finesse over force. Today it is one of Quinn's favorite sayings, mostly because those 24 words match his overriding ethos too:
Speed of hand, speed of foot, speed of mind.
Train for each of these, but never forget, the most important is speed of mind.
So far, less than five months on the job, Quinn has barely had time to unpack much else. A box of old VHS tapes is perched on the windowsill. The whiteboard is filled with magnets of player names, arranged into projected forward lines and defensive pairs, next to a list of team goals scribbled in blue marker, shorthand reminders like BREAKOUTS and LIVE LOW. Stacks of files clutter the wooden desk, where every few minutes his cell phone chimes again.
Speaking of which, Quinn has some good news to share. Like a teenager harboring an incipient crush, he is giddy about the prospect of a closer relationship. "I actually just got his phone number," Quinn says with a telling smirk. "We're going to talk, for sure."
The owner of the coveted digits? None other than Brad Stevens, the 41-year-old wunderkind on the Celtics' bench and one of the few coaches who can appreciate Quinn's challenge. Five years ago Stevens swapped his gig at Butler for the TD Garden parquet. Now Quinn is making a similar jump, bolting BU for the neon glare and back pages of the Big Apple. In fact, only four other coaches have gone straight from the NCAA to the NHL before Quinn was hired in late May at the conclusion of an on-again-off-again courtship…and two of them arrived within the past four years.
"Canada prides itself on saying that hockey is Canada's game," says Quinn. "And I think it's taken a while to have this influx, or this push toward understanding that college hockey has been great for a long time. I think people do what has been done forever in pro sports. That's the culture. It has been the culture. But that seems to be changing."
Next Man Up: Nathan MacKinnon Is Ready to Join the Game's Greats
Preceded by Flyers fourth-year coach Dave Hakstol (North Dakota) and recent Stars hire Jim Montgomery (University of Denver), the 52-year-old Quinn espouses a modern philosophy: five-man team systems, individual skill, puck possession and, most importantly, speed of mind. "His main message was, 'I'm not going to take your creativity away from you, I'm just going to ask you to work,'" says Rangers defenseman Kevin Shattenkirk. "When guys aren't giving a full effort, that's what really grinds him down and will piss him off, frankly."
More than anyone on New York's retooling roster, Shattenkirk understood what the Rangers were getting when Quinn came onboard. In addition to spending two seasons at BU while Quinn was an assistant there, the 29-year-old Shattenkirk also crossed paths with him with the Lake Erie Monsters, minor-league affiliate of the Avalanche. One day Quinn pulled Shattenkirk from a team meal and explained that he would be scratched that night. "I'm not telling you why," Quinn said, instead handing over a DVD with instructions to figure out the problem himself.
A few hours later, Shattenkirk walked into Quinn's office with a humbled look on his face, confronted with indisputable evidence of his lack of effort on a backcheck. "I had just stopped skating," Shattenkirk recalls today. "I quit on that last play. But it wasn't an I-told-you-so moment. He turned it into something where I learned from it. He doesn't want you to have that type of experience where he feels right on top of you right away."
Jack Eichel has a similar story. (Turns out pretty much every former pupil does.) When the current Sabres captain was a freshman in '14-15, the Terriers were hosting Colgate at the start of a weekend back-to-back. As Quinn was delivering a pregame speech, Eichel absentmindedly grabbed his skates and starts checking the sharpness of their blades. Across the locker room, Quinn fumed. "I wanted to go f------ nuts on him," he says. "My instincts were to erupt."
But he didn't. Instead, and here is the part that really impressed Eichel, Quinn quietly cut the meeting short, vented to his assistant coaches, watched Eichel register two points in a 5-3 win, and addressed the issue in private the next day. "Coaching can be a very selfish profession because you want to do things to make yourself feel better," says Quinn, who majored in sociology at BU in the mid-1980s before getting diagnosed with Christmas disease, a form of hemophilia that effectively ended his playing career. "But you have to anticipate their reaction to whatever you're going to do."
So far, Quinn hasn't altered his approach. This summer he visited Sweden for one-on-one, get-to-know-you meetings with forwards Jesper Fast and Mika Zibanejad and goalie Henrik Lundqvist; the King hosted a three-hour dinner, serving "shellfish, corn, big desserts, good wine…a heck of a meal," the coach recalls. Quinn also felt no compunction attending Shattenkirk's wedding on July 20 at the Wolffer Estate vineyard in Sagaponack, N.Y., even though several Rangers players reported feeling skittish around their new boss and an open bar.
"That's an old-school mentality, that I wouldn't have gone," Quinn says. "Just because I'm the coach for the Rangers, I'm not coming? What am I going to do, play him more because I went to his wedding?" It's not that Quinn lacks traditional techniques: The son of an Irish beat cop—a 6-foot-tall, 240-pound "son of a bitch" who died in 2007—Quinn possesses a booming Boston accent that can mute entire rinks.
But the 52-year-old Quinn also has a mind for mining data; he hired a full-time director of analytics at BU. "This isn't school," he says. "It's for us as a staff to analyze and when I do sit with somebody, I might be able to tell the players, 'Hey, these things are happening and here are the numbers to back it up.'" And the Rangers believe that his well-known patience in developing young players—Eichlel, Bruins defenseman Charlie McAvoy, Coyotes center Clayton Keller and Wild forward Jordan Greenway are all Quinn protégés with superstar potential—is well-suited for their on-the-fly restoration project. Consider these testimonies:
"One of the most relatable, personable people I've ever met," Eichel says.
"Huge support in my career and a huge role model off the ice," Greenway says.
"He knows every person, how motivated they are and how he can push on them to make them better," Keller says.
"Kind of almost like a second dad to our players," McAvoy says.
"He'll talk to you until you don't want to talk anymore," Shattenkirk says. "At first that can be a little overwhelming for guys. They feel like maybe he's pressing you too much. That's how I felt at first—man, this guy won't get off my back. I didn't have room to think about things for myself. But when I really took a step back and looked at it, the whole conversation was an open forum with him. It's not just his way or the highway. He wants to hear your feedback, about how maybe you're looking at a play or approaching it. He knows that every player is different."
2018–19 NHL Predictions: Stanley Cup Winner, Hart Trophy, Art Ross and More
And to think that Quinn nearly returned to his Boston home, nestled on the edge of BU's campus in Kenmore Square, and continued coaching the Terriers this season. After weeks of back-and-forth with Rangers general manager Jeff Gorton and assistant GM Chris Drury (BU class of '98), Quinn officially declined the job offer while playing at a golf tournament in Atlanta. "Ruined my good memory," he says. "I was awful after this happened. I knew there was going to be a big piece of me that thought am I doing the right thing? But I thought that was it. I thought they were going to move on and find another coach."
Several powerful forces were tugging him back to BU. Notably, the Terriers had not won an NCAA title under his guidance, instead reaching the 2015 title game—known for an infamous gaffe by goalie Matt O'Connor—and most recently the regional semifinals, at which food poisoning kept netminder Jake Oettinger on an IV drip until an hour before the puck drop against Michigan, who pelted him with five goals on 21 shots. But there was something unmistakably irresistible about joining the Rangers. (A reported extra year on his contract and $400,000 in additional salary probably helped.) "People close to me would tell me that I'd get another shot," Quinn says. "That's very presumptuous that you think you're going to continue to get chances to coach in the NHL." And so, when Gorton and Drury called again, Quinn jumped.
"I was just thinking, 'Wow, this is the last guy who I expected,'" Shattenkirk says. "Didn't seem like he was the frontrunner at all. You just assumed that, it's the New York Rangers, and they're going to go out and get whoever's the best name. What Jeff and Chris really did was they went out and got the best fit for our team. I truly believe that it is Quinnie."
The first true test will come Thursday night when the Rangers host defending Presidents' Trophy-winning Nashville, hardly a cupcake opponent for Quinn's debut. It has been a long wait. He started feeling antsy around late-August, eager to chat up players over meals or share that Tarasov quote in his office. "I'm excited about getting on the ice with the players and…" he says, his voice trailing off. "I don't mean to be old-fashioned, but just coaching."