Fantasy Premier League Gameweek 25: Everton, Manchester City can provide payoff
Which players should you pick for your Fantasy Premier League Gameweek 25 lineups? Take our expert advice.
The following Fantasy Premier League advice is tailored toward players of Togga's Perfect XI. It's a weekly game in which every Premier League player is eligible to be selected into a 4-4-2 formation. There is no salary cap, no squad restrictions and you pick a fresh XI every week.
Gameweek 25 in Fantasy Premier League is the last week of action for two weeks, and the final week before cup matches force league matches to be rearranged. The full slate of 10 EPL matches provide an opportunity to make differential selections while keeping one eye on rosters as they are released on match day. Do not be afraid to make a late substitution to your XI if you see an unexpected starter offering great value, someone like Manchester United's Juan Mata or Anthony Martial starting at home against Watford.
Selecting the Perfect XI each week isn't an easy task and even the best-laid plans can use a Plan B, so we've provided alternatives for each position. Those designated (d) are differentials–players we expect will be owned by fewer than 5% of FPL managers this week. Togga has added "Own %" to its app so differentials are based on players' ownership percentage at the time of writing. You can check for updates when you set your squad.
Goalkeeper
Lee Grant (vs. Crystal Palace)
Key Stats: Grant has allowed only two goals in Stoke's last three home matches, while Crystal Palace has scored only two goals in their last four matches. Grant now has 63 saves–tied for seventh in the league–while his 1,710 minutes are tied for 12th at his position.
Plan B: Eldin Jakupovic (d; at Arsenal); Thibaut Courtois (at Burnley); David de Gea (vs. Watford)
Hull's last three opponents–Chelsea, Manchester United and Liverpool–are among the most explosive offensive units in the Premier League. Against those three squads, Jakupovic posted 14 saves and allowed just two goals, en route to two clean sheets. While Arsenal is tied with Liverpool for the most goals in the league (52), the Gunners' attack has been marginally better at home (24 goals in 12 matches) than the Reds' offense away (23 goals in 13 matches) which relegates the red-hot Tigers goalkeeper to Plan B status.
Around Europe: Familiar story for Arsenal; Stars emerge for Napoli, Monaco
Defenders
Marcos Alonso (at Burnley); Seamus Coleman (d; at Middlesbrough); Aleksandar Kolarov (d; at Bournemouth); Ben Mee (d; vs. Chelsea)
Key Stats: Everton's defenders have become a staple in the Perfect XI in recent weeks with at least one Toffee making the team in five straight from Gameweeks 18-22, and Leighton Baines (Gameweeks 19 and 20) and Coleman (21 and 22) made it twice. When Everton met Middlesbrough in Gameweek 5, Coleman scored a goal en route to 22.75 points. He now has four goals, just two shy of his career high of six, set in 2013-14. Trust the Toffees.
Plan B: Antonio Valencia (d; vs. Watford); Shkrodan Mustafi (vs. Hull); Andrea Ranocchia (d; at Arsenal); Winston Reid (d; vs. West Brom)
Ranocchia is on loan at Hull from Inter Milan. In his two appearances, the Tigers have posted two clean sheets. Ranocchia assisted on a goal and made the Perfect XI last week and is a good differential play as the fourth defender for those FPL managers who want to stack him with Jakupovic at goalkeeper.
EPL Notes: Manchester United's win over Leicester increases relegation talk
Midfielders
Henrikh Mkhitaryan (vs. Watford); Gylfi Sigurdsson (vs. Leicester); Kevin De Bruyne (at Bournemouth); Robbie Brady (d; vs. Chelsea)
Key Stats: "Hot hand" isn't a statistic, but for Fantasy Premier League managers who have been waiting all season for Mkhitaryan to repay their faith, his one-goal, one-assist performance against Leicester was a welcome sight. Mkhitaryan now has three goals and an assist, with all of those coming in his last eight league games. Man United has actually been better scoring away from Old Trafford–19 goals on the road to 17 at home–but Mkhitaryan has scored two of his three goals at home and will face a Hornets side that hasn't posted an away clean sheet since Gameweek 9.
Plan B: Alex Oxlade-Chamberlain (d; vs. Hull); Yaya Toure (d; at Bournemouth); Victor Moses (d; at Burnley); Matt Phillips (d; at West Ham)
Granit Xhaka (suspension) and Mohamed Elneny (fatigue) are not expected to play against Hull, as Elneny progressed all the way to the AFCON final with Egypt. In their absence, Oxlade-Chamberlain has been handed league and cup starts in the midfield, earning 10 points in Arsenal's loss to Chelsea. With two goals and four assists in only 970 minutes, Ox has more attacking guile than most coming out of a defensive midfield place and is available as a differential against the second-worst road defense in the EPL.
After White Hart Lane: Tottenham's new stadium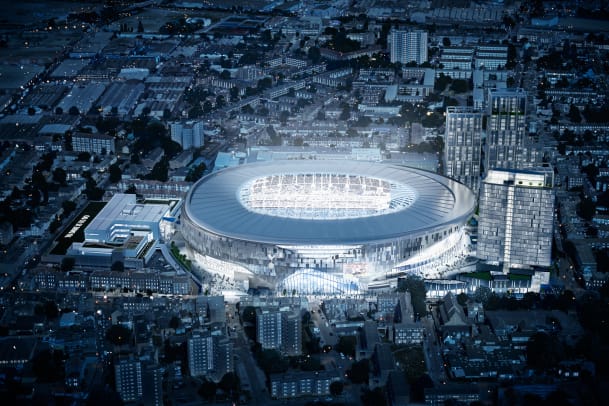 Forwards
Romelu Lukaku (at Middlesbrough); Gabriel Jesus (at Bournemouth)
Key Stats: This weekend's match has all the makings of a referendum on Sergio Aguero's place in Pep Guardiola's squad. The 19-year-old Gabriel Jesus has made three league appearances (two starts) and scored three goals with an assist. The Cherries surrendered six goals to Everton in Gameweek 24 and allowed a brace to both Crystal Palace and Watford in their last two home tilts; if Gabriel Jesus starts for City, he is absolutely worth a start in your fantasy XI.
Plan B: Raheem Sterling (d; at Bournemouth); Zlatan Ibrahimovic (vs. Watford); Andy Carroll (d; vs. West Brom): Peter Crouch (d; vs. Crystal Palace)
Crouch is the newest member of the Premier League's 100-goal club and has scored four goals with two assists in Stoke's last six matches. In that same span, Palace has allowed 12 goals and kept a single clean sheet. In the Potters' last match, Crouch was substituted after 57 minutes for new signing Saido Berahino, but he should retain his place this weekend. Crouch is a sneaky play–particularly if used as a foil in a pairing with the smaller, faster Berahino.