Chapecoense sets emotional Recopa Sudamericana date with Atletico Nacional
Brazilian club Chapecoense will play Colombia's Atletico Nacional on April 4 in what will be an emotional home match in Recopa Sudamericana.
SAO PAULO (AP) — Bonded by an air crash which killed 71 people in November, Brazilian club Chapecoense and Colombia's Atletico Nacional said they will play a South American cup final next week.
The first leg of the Recopa Sudamericana final, between the champions of the Copa Sudamericana and the Copa Libertadores, will be staged in the southern Brazil city of Chapeco on April 4. The return leg will be in Medellin on May 10, the clubs said on Monday.
In November, 19 members of the Brazilian team died in the crash outside Medellin as they travelled to play Nacional in the first leg of the Copa Sudamericana final.
The tragedy made Atletico Nacional pronounce Chapecoense as champion, and the South American confederation agreed.
Out of 77 passengers, 71 died, including players, journalists, and club officials.
The world's tributes to Chapecoense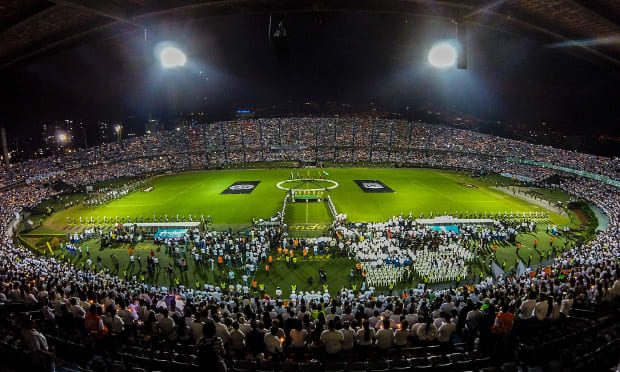 Chapecoense has been slowly rebuilding with new players and sponsors, but families of the victims are struggling without financial compensation for their loss.
The Brazilian club needed a special authorization to host the home game at 22,000-seat Arena Conda, since confederation rules say a minimum of 40,000 seats must be available for continental finals.
In a statement, CONMEBOL said the 200,000 residents of Chapeco want to "pay in their own city a special tribute to Atletico Nacional for their actions of solidarity and support offered at the time of the air crash."