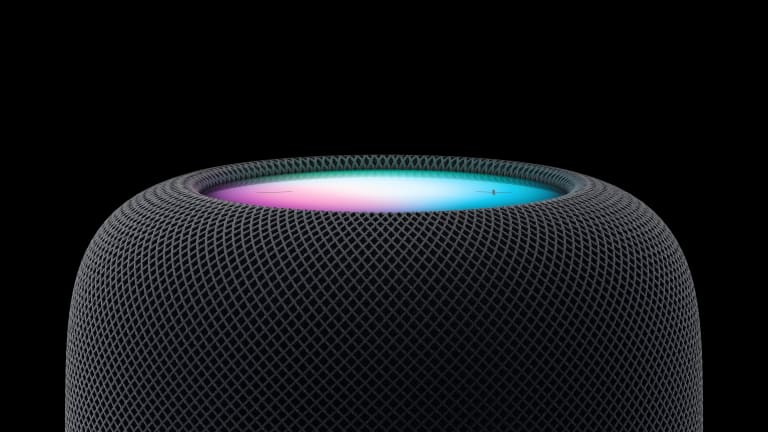 Everything You Need to Know About Apple's New HomePod
Ahead we're breaking down everything you need to know about Apple's second-generation HomePod.
The Arena Media Brands, LLC and its partners may receive compensation for links to products and services on this website. The Sports Illustrated editorial team is not involved in the creation of this content.
In terms of Apple products designed for the home, there is the Apple TV 4K for streaming and getting your smart home online along with the HomePod Mini that is for audio playback and smart home control.
Apple is now expanding that family with the $299 HomePod—a larger, full-sized smart speaker. If the name sounds familiar, that's because the HomePod first debuted in 2018 before discontinuing it in 2021.
For the 2023 HomePod, or the new HomePod as Apple calls it, there is new audio hardware inside and additional connectivity. Ahead we'll break down everything you need to know, including how it sounds and how to preorder the new smart speaker.
How to Preorder Apple's New HomePod
If you're already sold, or maybe have been eagerly awaiting the return of the HomePod, it's already up for preorder. Via B&H Photo Video or Adorama you can preorder second-generation HomePod for $299 in either White or Midnight. The latter shade is made from 100% recycled mesh.
The HomePod officially launches on February 3, 2023 and you can expect the earliest preorders to begin shipping then.
What You Need to Know About The New HomePod
In terms of looks the second-generation HomePod looks pretty similar to the original, as it's still a 6.6-inch tall speaker that's about 5.6-inches in width. The outer shell is still a custom mesh designed by Apple with unique weaves, and it also helps to guide the sound for optimal acoustics.
Unlike the HomePod Mini which comes in five colors—Space Gray, White, Blue, Orange or Yellow—the full-sized older brother is only available in White or Midnight. The latter color is a new shade for the smart speaker and replaces the Space Gray of the first-generation HomePod.
The second-generation HomePod still features a display on the top, aka a backlit touch surface, that will glow when playing music or when you engage with it. There will also be a "-" and "+" engraved into the top for volume adjustment. There isn't really new functionality here, but it is larger than that of the original HomePod.
Much like an Echo or Echo Dot, along with the HomePod Mini, it is a smart speaker with access to Apple's virtual assistant Siri. You can simply say "Hey Siri," and then request a specific song, for a themed playlist, to control a smart home device, or for a topical query. The second-generation HomePod has four far-field microphones onboard.
Like the HomePod Mini or the Apple TV 4K, this is a device designed and heavily integrated within the Apple ecosystem. You'll need an iPhone to set up the new HomePod as well.
Related: Samsung's Next Galaxy Unpacked is Feb. 1
Additionally, Apple's tossed in some new connectivity like a U1 chip for ultra wide band connectivity. With this you can easily transfer, or handoff, a song from your iPhone by bringing it close to the HomePod for it to switch. You could be walking back home with AirPods playing a track on your iPhone, approach the HomePod and hear it on the speaker.
In terms of the smart home, the second-generation HomePod can be used as a home hub for the Apple home and is a fully supported Matter hub. Meaning that it has Thread connectivity and will let you get those devices online as well as controlling them. Additionally, packed inside the HomePod is a temperature and humidity sensor that can provide readings and be built into home automations.
Powering all of this is Apple's S7 processor which first premiered in the Apple Watch Series 7 and is a much newer chip than the A8 which powered the first HomePod. It handles all of this connectivity and routing Siri requests over the internet—HomePod connects over Wi-Fi—but also controls the audio hardware inside.
The second-generation HomePod features a four-inch high excursion woofer in the center, a motor, and five horn tweeters that each feature a neodymium magnet. All of this comes together to push out audio and works with an EQ microphone and a bunch of sensors to get a sense of the space where HomePod is located. It will sense the room to see where it "beams" audio off of to produce a powerful, rich and vibrant mix. Interestingly enough, the original HomePod feature seven horn tweeters to the five here.
Related: Apple TV 4K Third-Gen Review
Similar to the HomePod Mini and the original HomePod, this latest generation uses computational audio and supports Apple's Spatial Audio. This first is a combination of the audio hardware and software to optimize whatever is playing back for optimal performance. It should deliver clear, crisp playback for all parts of a track. Apple's promising great audio and I got the chance to hear it for a quick spin.
Playback was very strong, especially with the Eagle's Hotel California, which was played through two HomePods paired together in stereo. It was a Spatial Audio track which also tasks the speakers with properly placing and layering elements of the track for a more immersive listening experience. The effect here was a crisp and loud mix with the crowd below in front, drums in the back, with vocals front and center. It was a really nice playback experience and the Spatial Audio mix lets the HomePod go beyond just left and right stereo.
I'll need to spend more time with the HomePod, but in my brief demo it sounds quite good. Notably with strong, crisp playback across genres and the fact that even a single one can still get quite loud for a room-filling experience.
Related: Samsung Unveils It's 2023 The Frame, Neo QLED and OLED TVs
As far as audio playback you can ask for tracks directly from Apple Music, connect the HomePod to an Apple TV 4K for playback of movies or TV shows, or AirPlay to it from another device. There is no Bluetooth support here or an audio in port of any kind. The power cable though can be easily removed and is woven. This is a nice improvement from the first generation which has a non-removable power cable.
Let's Recap The Second-Generation HomePod
So yes, Apple's HomePod is back and is still meant to be a larger smart speaker that delivers robust audio. At $299, it's $200 more than a HomePod Mini and in terms of other high-end speakers it's a bit more than the $219 Sonos One or $199 Echo Studio. Since 2021 it's become a more crowded space, but Apple has upgraded the audio stack here and tossed in some new functionality for a pretty compelling feature list.
Within the Apple ecosystem, if you're shopping within that, the $99 HomePod Mini is still a great value and an excellent place to start. The $299 HomePod is a more audio-focused product that can likely deliver a wider soundstage and a louder end result. We'll be putting it to the test and a full review as soon as we can.
Apple's second-generation HomePod is up for order now at $299 and begins shipping on February 3, 2023.
Prices are accurate and items in stock at time of publishing.