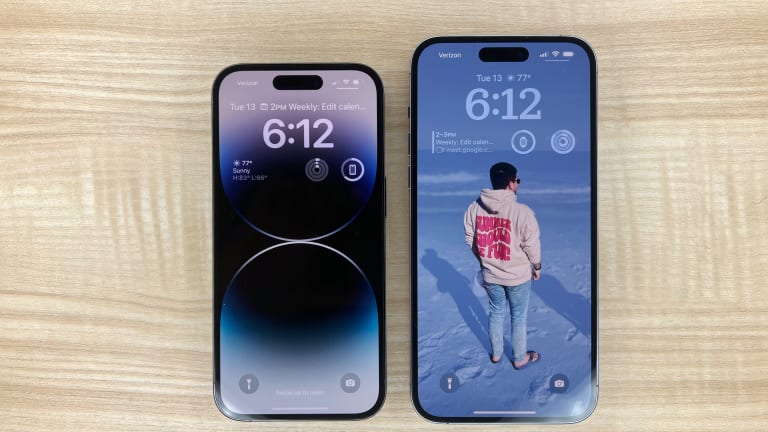 Apple iPhone 14 Pro and iPhone 14 Pro Max Review: Dynamic Island & Epic Camera Upgrades
If you've been waiting for a significant change to come to the iPhone, iPhone 14 Pro and iPhone 14 Pro Max deliver just that.
The Arena Media Brands, LLC and its partners may receive compensation for links to products and services on this website. The Sports Illustrated editorial team is not involved in the creation of this content.
I've spent close to a week with the iPhone 14 Pro and iPhone 14 Pro Max, and Apple has made some big changes this year with the new iPhone launches. Between the upgraded cameras, fresh hardware, updated software and the introduction of the Dynamic Island, we've been fans of the latest series of iPhones.
To me, it's reminiscent of the iPhone X, in that these deliver new experiences for folks using the phone and shines a light at where the iPhone (and Apple) might be headed. So let's discuss the iPhone 14 Pro ($999) and iPhone 14 Pro Max ($1,099), the practical purpose of each phone and what kind of user they were designed for.
iPhone 14 Pro, starting at $999 (amazon.com, att.com, t-mobile.com, walmart.com, and verizon.com)
iPhone 14 Pro Max, starting at $1,099 (amazon.com, att.com, t-mobile.com, walmart.com, and verizon.com)
New iPhone Colors: Purple Appeal
My favorite new color of the iPhone 14 Pro and iPhone 14 Pro Max would have to be "Deep Purple." It's not only eye-catching, but the unique dark shade of purple can change as different types of light hit it. It's designed to have an element of a sparkle depending on conditions. Samsung also recently launched a new series (which we've covered in-depth here) in purple–it seems to be the color of the year.
So while the iPhone 14 is more closely colored to a shade of lavender, this is much darker. If purple isn't your thing, however, the iPhone 14 Pro also comes in "Space Black," gold or silver.
Aside from the new shade, much of the iPhone 14 Pro's design is reminiscent of the iPhone 13 Pro family. It has stainless steel edges that are color matched to the back panel and still attract a lot of fingerprints. The power button is on the right and the silencer switch and volume controls on the left. Of course, there is also a Lightning port on the bottom with speaker holes.
The back of the phone features a large main camera module with three physically larger lenses and the rest is a matte glass finish with a color-matched Apple logo.
The new iPhones are still plenty durable with dust and water resistance—the latter up to six meters of water for 30 minutes. I tested the iPhone 14 Pro and 14 Pro Max in the rain with no issues.
Things change once you flip this iPhone to the front, though.
Life's Good With The Dynamic Island
What if I told you that at the top of the iPhone 14 Pro and iPhone 14 Pro Max was a pill-shaped notch that could show graphics, stretch to show you what is playing or alert you when you're getting an AirDrop? That would be pretty cool, right?
And that's essentially what Dynamic Island is. It starts with a pill-shaped notch that's a bit lower on display and contains the True Depth Camera sensor to power Face ID, keep the screen on and housing the front-facing camera. What's different here, though, is that it isn't static but adapts for your actions. If you're on a phone call, it will show the time of the call and if audio is being picked up. You can long press on it to hang up, mute yourself or have it come out via the speaker.
It can also display whatever music you're listening to (like Apple Music or Spotify) while giving you a countdown of a running timer. It's incredibly versatile and a new layer to multitasking on the iPhone and iOS. You can be in Messages and see the state of a timer or the song playing on the top. It will also alert you when an AirDrop is coming in and its download process.
It changes the interaction experience for the better on the iPhone. We expect in future iOS 16 updates that third-party apps will take advantage of this feature. So theoretically, you could monitor your Lyft ride at the top, track sports scores or even monitor an incoming flight. The options are pretty much endless.
Always-On display
This upgraded notch works in tandem with the new Always-On display. So the 6.1-inch and 6.7-inch screens of the iPhone 14 Pro and iPhone 14 Pro Max won't go entirely black when you turn them off. Instead, the wallpaper and all contents on the lock screen will dim and stay at a certain level of brightness until you return.
This is unlike the Always-On displays from Android phones, in that rather than just turning on a few pixels to show the time, notification logos and weather, the iPhone dims down the normal lock screen. This is thanks to the upgraded A16 Bionic processor, which includes a custom display engine to determine the appropriate refresh rate and the type of content that appears..
We appreciate that you can quickly glance at your iPhone to see incoming notifications rather than catching the display when it lights up. Similarly, this is fully optimized for the customizable Lock Screens that debuted with iOS 16. You can see widgets like calendar events, news or weather even when you're not actively engaging with the content. Though, this might encourage you to use and look at your phone more, since it is truly always-on. It'll likely be wise to hop into Settings and view your "Screen Time" to see if there is an increase in your usage time.
In my testing so far, this doesn't hit hard on the battery life at all—both the iPhone 14 Pro and iPhone 14 Pro Max easily make it through full days. Additionally, both displays are still Super Retina XDR with vibrant punchy colors and deep blacks for excellent contrast points.
Another advantage in the display on the Pros over the standard iPhone 14s would also be the 120Hz refresh rate which is scalable–live sports and filming content look more realistic and life-like.
Serious Camera Upgrades
The other half of the story with the 14 Pro and 14 Pro Max is a serious camera upgrade, and it also proves that megapixels do matter. The iPhones have always been sharpshooters capable of capturing impressive shots, regardless of lighting conditions. But with iPhone 14 Pro and iPhone 14 Pro Max, Apple is using new hardware with an enhanced image pipeline called the "Photonic Engine" to add more detail to all shots, regardless of the lighting conditions.
New iPhone 14 Pro and iPhone 14 Pro Max 48-megapixel camera
It all starts with a new 48-megapixel main camera, which significantly improves the previous 12-megapixel wide lens. It's a physically larger sensor to capture more light in a single shutter. While you can shoot at a full 48-megapixels in ProRAW (Apple's take on the RAW file standard, which is frequently used by professionals or those who plan to edit in a pro-grade app like Photoshop), everyday shots will be each set of four pixels together into one. And this, combined with Deep Fusion and Smart HDR (two of Apple's processing technologies), creates a sharper, more accurate image that doesn't skimp on the details.
Furthermore, in lower lighting conditions (like at night or under a bunch of foliage coverage) a lot more light is added into an image, allowing you to see details previously in the shadows or turning up the natural brightness on a cloudy day.
This 48-megapixel main lens can be used to capture 1x or a new 2x shot which is great for tighter frames or Portraits. It's essentially digitally cutting the 2x shot into a 1x shot, but since the megapixel count is higher, it's turned into a great-looking shot. The main lens sits beside an upgraded 12-megapixel telephoto that allows for 3x optical zoom and an enhanced 12-megapixel ultra-wide lens. The latter also operates as a Macro lens which packs a lot more details into any given up-close shot and why it's an absolute blast to shoot with.
Other hallmark features of iPhone photography, like Portrait Mode, Cinematic Video and Photographic Styles, are in their best form on the iPhone 14 Pro and iPhone 14 Pro Max. And like the iPhone 14, the new stabilization video mode—aptly named Action Mode— has arrived. It's horizon leveling, like a GoPro, but not baked into the iPhone's video recording processor.
You can see examples from all the lenses across the videos and photos below.
Plenty of Power: the A16 Bionic Processor
Powering nearly everything I've discussed so far is the latest in Apple silicon: the A16 Bionic processor. It's a six-core CPU, five-core GPU and a 16-core Neural Engine with custom coprocessors and an engine dedicated to the display. All of these come together to power the camera, Dynamic Island, the Always-On display functionality and the rest of iOS 16.
And while it's not a significant leap in performance year-over-year, since the A15 Bionic is still super fast, the A16 shouldn't give you any cause for concern in terms of performance. Applications open quickly, you'll never need to worry about closing applications down and you're free to multitask. You can video call while gaming, or film footage and edit iMovies while on the go.
Battery life
In terms of battery life, you can expect the smaller iPhone 14 Pro and larger iPhone 14 Pro Max to last for a pretty jam-packed day.
During my hands-on testing, I've been able to start at about 6 a.m. Eastern and use it through 11:30 p.m. Eastern without seeing any battery alert. That's pretty impressive for a bevy of calls, plenty of apps running and tons of messages, along with the Always-On display enabled. It also continues to meet the level of battery life that iPhone 13 Pro and iPhone 13 Pro Max were able to hit.
New safety features: Crash detection and Satellite SOS
The upgraded processor also powers two new safety features: crash detection and satellite functions.
This expands the range of Emergency SOS functionality, and while I haven't yet tested these features, the iPhone is now trained to detect the amount of force and sounds associated with a car crash, thanks to onboard sensors and a ton of training. Just throwing your phone hard across the room won't trigger the crash function.
You'll see an Emergency SOS splash screen with a countdown when it's detected. When it reaches the end, it will contact emergency dispatches and alert your emergency contacts.
Apple's also allowing the iPhone 14 family to connect with satellites for Emergency SOS via Satellite. When you're in an emergency and out of reach of cellular connectivity, you can engage this mode and answer a few questions about your condition. The iPhone 14 will then tell you where to point the phone to contact a satellite high above the earth. It condenses down your responses and passes that information along.
So if you're stranded on a mountain, in a lake or on a deserted path, you'll be able to get help. Emergency SOS via Satellite will launch in November and be free for two years for iPhone 14 owners.
You'll also be able to use this satellite connectivity to update your FindMy location, and I was able to try this in a demo. It only takes a few minutes and it walks you through where to hold your iPhone to send the signal.
Bottom Line: Is The iPhone 14 Pro or 14 Pro Max Worth It?
If you've been waiting for a significant change to come to the iPhone, iPhone 14 Pro and iPhone 14 Pro Max deliver just that. Dynamic Island feels a bit like the future, and it will likely only improve once third-party applications arrive and support it. You also get multiple versatile cameras that can nearly always get the shot or the stabilized video, all of which is packed in a modern design and with plenty of power.
So if you're after the best-in-class cameras, the best performance in an iPhone, or hate the notch, the 14 Pro or 14 Pro Max are worth it. Also definitely purchase if you like the color purple or want the extra safety features if you're an avid outdoor enthusiast.
iPhone 14 Pro, starting at $999 (amazon.com, att.com, t-mobile.com, walmart.com, and verizon.com)
iPhone 14 Pro Max, starting at $1,099 (amazon.com, att.com, t-mobile.com, walmart.com, and verizon.com)
Prices are accurate and items in stock at time of publishing.