Amid drama, Man City gets past Newcastle; more EPL thoughts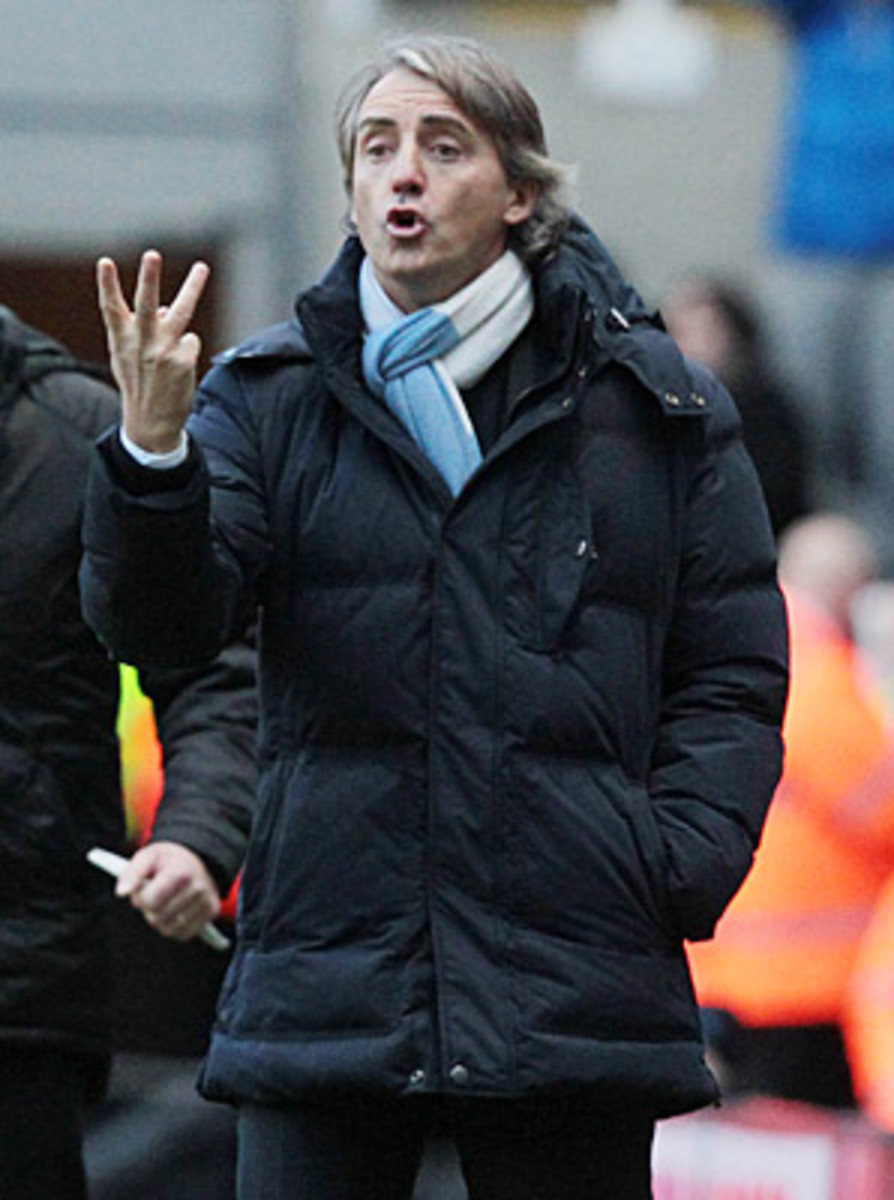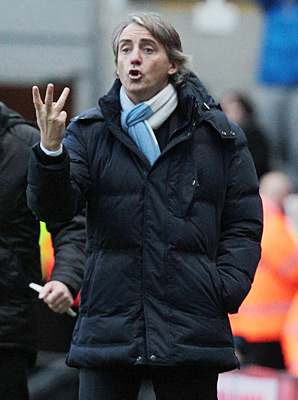 Five thoughts from the weekend's Premier League action:
1. A kick in the groin: The latest not-so-behind-the-scenes drama from the soap opera that is Manchester City was another reported argument between Roberto Mancini, the manager, and one of his stars. This time Mancini was irate at Samir Nasri whose loss of nerve at the end of the defensive wall last weekend allowed Robin Van Persie's free kick to fly into the net for Manchester United's winning goal.
Mancini is a practical man. On Saturday, Nasri started as City visited Newcastle. After only 10 minutes, Nasri showed he was prepared to make sacrifices for the team. When he ran onto Yaya Touré's sumptuous pass, a shot was on. He was 12 yards out at a slight angle. He might even have beaten Tim Krul and scored a redemptive goal. Instead, Nasri eliminated the goalie from the equation by rolling the ball to Sergio Agüero, who had the glory of popping it into the empty net.
Nasri and City sparkled in attack. But after 37 minutes he had an unfortunate collision with Jonas Gutierrez. Fans are usually fairly sporting when opponents are in pain. There is one type of injury that is a consistent exception. As Nasri writhed on the ground, his hand clutching the area between his legs, the home supporters roared in delight.
Mancini didn't seem too unhappy with Nasri's ill-fortune. He immediately yanked him off. The official reason was that Nasri had also hurt a muscle in the groin. The unofficial reason might have been that City's defense was already struggling horribly in the air from set pieces. With his team leading 1-0, Mancini shoved on Aleksander Kolarov who is bigger, stronger and prepared to defend.
Newcastle is a paradox from set pieces. It is dangerous in attack, but porous in defense. When Javi Garcia scored City's second with a header, it was the ninth goal Newcastle had conceded from a corner this season. Roared on by the home fans, Newcastle caused City endless problems in the second half, especially from corners and free kicks. The difference was that, apart from Demba Ba's headed goal, Newcastle did not take its chances. City, in the end, did as Touré finished off an intricate move with a well-placed shot.
City won, 3-1. It was a much less comfortable result than United's victory by the same score at home against Sunderland. Yet, City emerged from a testing afternoon without having lost any more ground to its neighbor.
2. The ugly side of soccer: No week, it seems, is free of debate about racism in soccer. The English were incensed this week when the Serbian soccer federation was fined only ?80,00 after extremely ugly scenes as England's under-21 team won in Krusevic, Serbia, in October. That's less than Niklas Bendtner was fined for giving a glimpse of an ad for a betting web site on his underpants at the Euros in June.
The English position was rather undermined when Lord Herman Ouseley, the chair of the Kick It Out campaign, announced he would resign from the Football Association council because he believes, essentially, that the governing body of English soccer is soft on racism.
On Saturday the two elements of the story collided at Newcastle. Kolarov, who is Serbian, reportedly had an altercation with a man who had turned up at the game with an Albanian flag. Words were exchanged. The fan complained. Local police said they would be interviewing both next week.
Soccer, whatever those who live in its bubble may think, cannot avoid contact with the real world. But this writer nevertheless wants to echo Lord Ouseley: Please make them stop.
3. Important choices: The two hot managers in English soccer last summer were Brendan Rodgers and Paul Lambert who had guided promoted clubs to mid-table finishes.
Liverpool had first dibs. It chose Rodgers, whose Swansea club had played pretty soccer. Aston Villa, picking second, plucked Lambert from plucky Norwich.
Both made sticky starts at their new clubs. The Liverpool job brings more pressure. But after his club won two games in a row, Rodgers this week talked of aiming for a top-two finish. Oops.
On Saturday, Liverpool dominated visiting Villa by every statistical measure except the one that counts. It had 62 percent of possession, spent almost half the game in the attacking third of the field and had 29 attempts on goal. But most of those attempts were quite harmless, and Villa won 3-1. Ignore the stats. Villa deserved the victory..
Rodgers has given a chance to some young players. Lambert, under less pressure to win at once, has gone much further. The team that started at Anfield was the youngest Villa has ever fielded in the Premier League, with an average age of 23 years and 308 days.
Most of the controversy has swirled around one of those youngsters. Lambert has preferred Christian Benteke, who has just turned 22, to Villa's record signing Darren Bent, a 28-year old who has scored 149 league goals. There have been cynical suggestions that Bent is sitting to stop him hitting the number of appearances that will trigger a further payment to his previous club, Sunderland. On Saturday, Benteke showed there are good soccer reasons why he is starting.
Bent has a big shot. He is more than capable of matching the long-range skipping stone with which Benteke gave Villa the lead. But Bent has the touch of a rhino. He probably couldn't manage the seeing-eye back heel across the penalty area that set up Andreas Weimann for the second. The third showed Benteke's full range of pace, power and skill. His side-step sent Martin Skrtel running off toward the Mersey. His strength brushed off Joe Allen. He then curled a shot into the net.
It's still not clear how many of the other Villa youngsters are going to be more than just disciplined workers. But on Saturday Lambert's team was playing the type of smart, passing soccer that Liverpool thought Rodgers would bring to Anfield.
4. Fellaini uses his head: Two of the Premier League's more functional teams have been improving their footballing image this season. The Blog has enjoyed watching Everton play pretty soccer, but remains sceptical of reports that Stoke players have been seen passing the ball along the ground. Nothing in the 1-1 draw between the two clubs on Saturday changed that view.
After the game, David Moyes made a reference to "good football" as he spoke to Sky Sports after the game. Then he added, "not much of it today."
Both goals came from high balls. Ryan Shawcross, a Stoke central defender, headed the ball into his own goal in the first half. Stoke leveled after Shawcross walloped the ball from inside his own half and Kenwyne Jones headed the ball past a hesitant Tim Howard.
As is so often the case in Stoke games, the penalty area became a battle ground at corners. Mark Halsey, the referee, delayed one Everton corner for over a minute as he tried to break up the skirmishing. When the corner was finally taken, Halsey did not spot Marouane Fellaini, Everton's strong man, back into Shawcross, throw an elbow and, finally, look the Stoke man calmly in the eye and butt him in the face. Shawcross went down but bounced up. Fellaini stayed on the field.
Moyes did not try to spin events. He said Fellaini and the club would accept any punishment the FA metes out when it watches the video. "I told him in the dressing room that it's not acceptable," Moyes said.
Tony Pulis, the Stoke manager, meanwhile whined about all the opponents who hadn't received red cards against Stoke this season. This is a bit rich from a man who sends Robert Huth out week after week to rough up opposing goalies. Pulis is clearly a smart manager. Stoke is only three points behind fourth-place Everton. But he, and his team, are difficult to like.
5. Victory at last: If you keep turning up for matches, there will be a day when tour opponent doesn't . Then you win.
After 16 games without a victory, Queen's Park Rangers finally broke through when it beat Fulham, 2-1.
It might be that this really was, as Harry Redknapp implied after the game, a result of masterful tactics: pressing Fulham, a team that likes to build from the back, and denying it time to play.
It certainly had something to do with a twinkling display by Adel Taarabt, a midfielder so volatile and unpredictable he makes mercury seem inert. Taarabt scored both QPR's goals, the second with a pretty side-foot finish. (Taarabt also gained his usual yellow card and was, perhaps, fortunate not to pick up a second for his celebration after the second goal.)
It had a lot to do with the fact that Fulham, pretty mercurial itself as team, came out flat away to one of its local rivals and failed to play for the first 85 minutes.
After Mladen Petric gave Fulham hope with a deflected shot in the 88th minute, there was still time for QPR to shoot itself in the foot once again. It didn't. It even climbed off the bottom of the standings overtaking a Reading team that is clearly out of its depth. There is a little hope.