Rafa Benitez can succeed with Chelsea if the fans give him a shot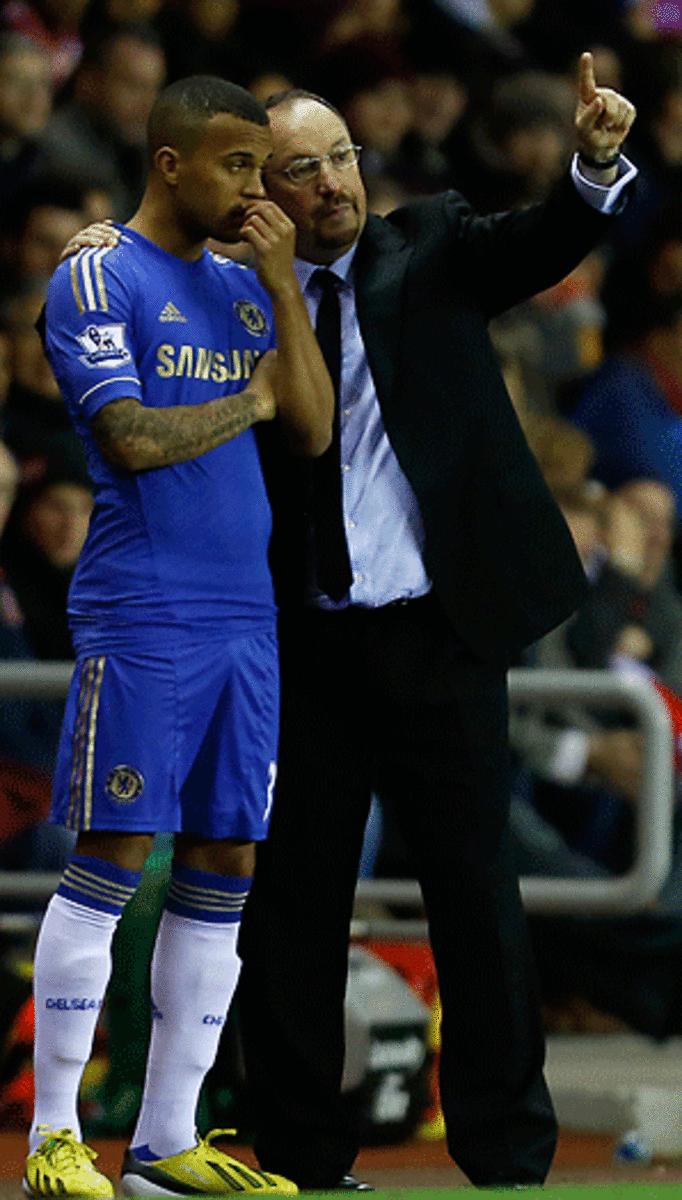 Something very strange happened last week, something so unusual it's tempting to think it unique: a football manager made a joke. It was proper joke. Not an anecdote, or something contrived and worked on days in advance, but a genuine, spontaneous quip that was genuinely amusing.
There is often laughter in press conferences but usually it's polite or sycophantic depending on your point of view; often, hearing a manager trying to be funny, you're put in mind of Dr. Johnson's line about the dog walking on its hind legs: it's not so much that it's done well but that it's done at all. But this was a proper gag. Odder yet, it was cracked by Rafa Benitez.
In the past Benitez has often seemed pleasant but serious, a man for whom football is so all-consuming that it would seem somehow disrespectful to be anything other than deadly earnest about it in his presence. At the moment, he is supposed to be under pressure, rejected by Chelsea fans before he began, and dealing with the fallout of losing to Corinthians in the final of the Club World Cup. But, asked what can be done to stop the grappling and wrestling in the box at corners, he gently replied, "They could try zonal marking."
It's a brilliant line, partly because it's true but mainly because it nods to the criticism Benitez has persistently received for favoring that style of defending from set plays. It somehow managed to be both humble and self-mocking while still suggesting he'd been right all along. It also hinted at the more human side of Benitez, something that has been far more evident since he took over at Chelsea than it was at Liverpool, particularly in those strained later days.
There is a wryness to the new Benitez; the prickly politicker may still lurk beneath the surface, but he is far better hidden than he was. The general perception is that the trip to Japan for the Club World Cup was a disaster and a Brazilian television station reported it overheard Oscar complaining about a supposed lack of commitment and spirit. But through it all, Benitez has been determined to stress the positives. "It was really positive because we had time to watch, talk and analyze things we can improve," he said. "It is difficult in the short-term but fantastic in the longer term."
He claims it acted as a bonding exercise. It's often surprising how little time players spend together off the training field but going to Tokyo for a week, Benitez says, helped them bond. Certainly footage of the squad bowling together suggested a basic enjoyment of each other's company.
"I won the bowling, but I'm not the best," he said. "To be fair, it wasn't too difficult in my lane." It's almost as though the short-term nature of his contract has brought out a playfulness: paradoxically it has decreased the pressure on him because he has nothing to lose; he doesn't have to worry about long-term strategy or signings for the future or the youth academy or contracts or anything like that. He can just get on with it.
Even the hostility of the fans seems to have been recast as an advantage. If he fails, nobody will doubt he inherited an impossible situation. A good few months at Chelsea would enhance his chances of landing the Real Madrid job in the summer if, as seems likely, Jose Mourinho leaves, but a poor few months would do little to harm his prospects.
That said, Benitez admitted to serious concerns before the Capital One Cup quarterfinal against Leeds, saying he had barely slept. That again suggests a greater vulnerability than he has exhibited before, hints that for all his confidence in his own method, he is not as impervious to doubt as he once seemed. And at halftime in that game, there was major cause for concern with Chelsea 1-0 down. Losing to Corinthians and Leeds in the space of four days might have been the point of no return. But Chelsea came out and scored five.
Perhaps even more significantly, Frank Lampard clasped Benitez's hands in front of the Chelsea fans as they celebrated at the final whistle, as though making a point that the time has come for reconciliation.
"The team went to thank the fans," Benitez said. "I went with them. We have to be together... I guarantee you a lot of fans are positive when I see them. I went to the staff party, I was there 15 minutes talking to people and they were very positive. Scoring a lot of goals will help."
It's a simple enough philosophy and, excluding the Club Word Cup. Chelsea has now scored 22 in their last four games. The eight it put past Aston Villa said virtually nothing about its chances of chasing down Manchester United -- which is 11 points clear of Chelsea having played a game more -- but it does speak of the sort of ruthlessness Chelsea showed in the title run-in under Carlo Ancelotti in 2010.
And it does, of course, keep the discontent of fans in check. It's pretty hard to be taken credibly as a voice of dissent as the goals are flying in. As Benitez said after his first game in charge, while some fans will remain implacably opposed to him, the mood at the stadium is essentially conditioned my results. After the Villa game, he repeated his line about just doing his best and not worrying about how anybody else but as he spoke of making "little improvements" and still seeing room for development and the team growing, he must have felt a quiet satisfaction at just how comprehensively he has pushed the dissenters into retreat.